Cafe Artiste
A Spring Lake, NJ Dining review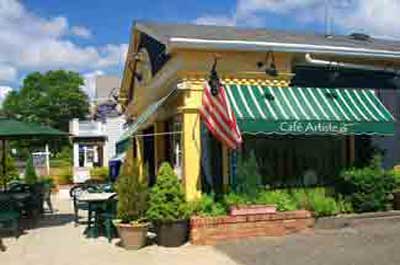 Cafe Artiste
306 Morris Avenue
Spring Lake, New Jersey
732) 221-9667
Face book page
Fare: Italian
Price: Moderate
Overall Rating: N/A= A casual dining eatery, not rated as a fine dining restaurant 
Note: Four star Rating System from no stars = poor to Four stars




= Best in Class
---

Excellent Value

Homemade pastas & desserts

No Menu - Price is established at check out

Cash only, credit cards not accepted
Value: Very good
Noise Level: Low - moderate
Dress: Casual

---

Recommended For: Diners who enjoy casual, European cafe style dining in an unpretentious atmosphere where your host serves a fixed menu.
Not Recommended For: Diners who prefer more traditional American fine dining with many amenities including an ala-carte menu.
Recommended dishes: When available; When available Tuscan Chicken in White Wine & Garlic with oven roasted potato and peppers; Spring Salad with shaved Parmesan cheese; an the Homemade pasta with wild mushrooms in a light cream sauce
Liquor: BYOB
Restaurant Review

Cafe Artiste is an authentic Italian, cafe style restaurant.
If you haven't traveled to Europe and enjoyed this type of dining you may be put off by the experience.
Otherwise, be prepared for a unique dining experience and open to being surprised at what you will eat for dinner. This is an unpretentious atmosphere where you surrender to your host and sit back prepared for a unique (by American standards) dining experience.
Co-owner & Chef Cosimo Maiolini is assisted by his son Max, also a cook, and his partner Dan Waters who have teamed up to bring very different style of dining to Spring Lake.
Cosimo is the main event with his slightly eccentric personality and colorful broken English accent.
He hails from the Puglia Region of Southern Italy where he honed his cooking skills from his mother in a family owned restaurant and later in Tuscany before emigrating to the US.
Dan is a graduate of the Cordon Bleu Culinary School and runs the restaurant for Breakfast & Lunch.
During the warmer months, there is outside seating on the sidewalk patio
.
Cafe Artiste bis open seven days/week, Dinner is served on four nights; Monday, Thursday, Saturday & Sundays, from 5pm - 10 pm
Hours are:
Monday: 7:00 am - 10:00 pm, Tuesday - Wednesday: 7:00 am - 5:00 pm, Thursday: 7:00 am - 10:00 pm, Friday: 7:00 am - 5:00 pm, Saturday & Sunday: 7:00 am - 10:00 pm
(updated: May, 2015)
How Do We Rate and Review Restaurants? 
New Jersey Leisure Guide contains the largest source of extensive and unbiased New Jersey restaurant reviews. Data is gathered from our viewers e-mail restaurant comments, Internet and print research, and professional restaurant critics. The data is analyzed and a review created. Staff personal visits are sometimes made to corroborate and/or tweak results.

Other New Jersey Resources