New Jersey Boat Tours and Cruises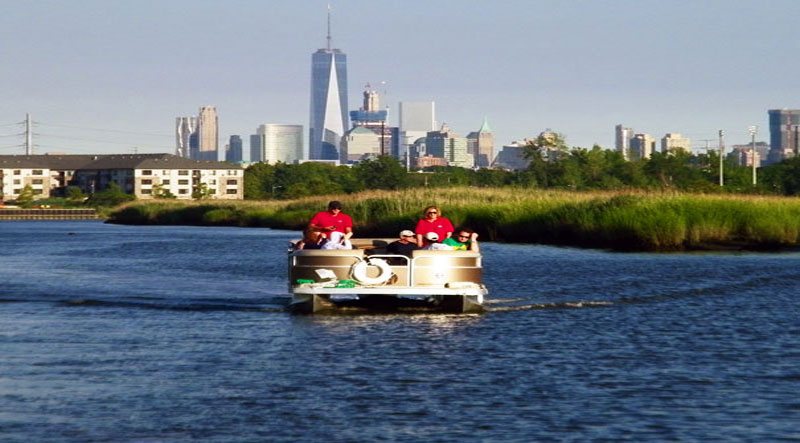 courtesy: Meadowlands Tours, The New Jersey Meadowlands Commission

New Jersey boat tours and cruises offer a wide variety of fun family experiences that are enjoyed by people looking to view nature and wildlife, or take in the majestic views of New York Harbor, or a casual boat tour through the inland waterways.

For the thrill seekers, there are speedboat tours that will rival an amusement park wild ride with all the added amenities of wildlife and scenic views.

Northern NJ Boat Tours and Cruises

Lake Hopatcong Boat Tours
The Jefferson House
139 Nolans Point Road
Lake Hopatcong, NJ 07849
(973) 663-3063
Website
They offer a narrated one hour scenic tour of New Jersey's largest lake that takes you past majestic homes and the Lake Hopatcong Yacht club, where you will learn about the history of the lake along with many of its landmarks and buildings.
Meadowlands Canoe and Pontoon Tours
The New Jersey Meadowlands Commission
(201) 460-4640
Website
The Meadowlands district with over 30 square miles along the along the Hackensack River is rich with, shore birds, salt marshes, and wild flowers.
Guided canoe tours
offer a more adventurous, view of the tidal creeks and marshes. The tours launch from the Mill Creek Point Park in Secaucus and Hudson County Park at Laurel Hill in Secaucus. They explore Mill Creek Marsh, the Sawmill Creek Wildlife Management Area, and more. They supply all equipment and provide helpful tips.
Guided pontoon boat tours
are staffed by experts on the natural and human history of the region and provide an excellent opportunity to learn about the regions shore birds, salt marshes, Lenni Lenape Indians, pirates, and history along the banks of the River. They offer two-hour evening tours departing from the River Barge Park and Marina in Carlstadt
Spirit Cruises

Lincoln Harbor
Weehawken, NJ
Website
866-483-3866
They offer a variety of cruises that take in the majestic views of New York Harbor. They cruises are offered year-round and depart from Lincoln Harbor in Weehawken, NJ. The cruises feature a variety of dining, dancing, and entertainment packages for lunch, brunch, dinner, cocktail, moonlight, and holidays.



Central NJ Boat Tours and Cruises
Cornucopia Cruises

401 Riverview Drive
Perth Amboy, NJ
732-697-9500
Website
Sailing from Hoboken and Perth Amboy. They offer Lunch, Brunch, and Dinner cruises including dining, dancing for two or more. The dining is more upscale and with a cash bar that has a full assortment of cordials, premium liquors, domestic / imported beers as well as a spectacular wine list. They operate during May to October from Wednesdays to Sunday, and on a limited schedule during the winter.
The Great Ga-Zee Boat
Oceanport Marina
River Street
Oceanport, NJ
732-780-4217
Website
Cruise the Shrewsbury & Navesink Rivers. The Great Ga-Zee Boat offers a complete selection of catered menus from May 15th til October 15th. This 48 passenger riverboat-style cruise ship is a uniquely designed vessel with an octagonal cabin with exceptional stability resembles a Victorian gazebo surrounding the aft portion of the lower deck. They specialize in private functions that enjoy dancing, food, drinks and all the trimmings for a private party. Typical cruises last three hours, though custom cruises can be arranged.
Lake Mercer
Mercer County Park Marina & Boathouse
334 South Post RD
West Windsor, NJ 08550
(609) 448-4004
Website
They offer 50 Minute guided pontoon boat (15 people max) lake tours with a county naturalist on Saturdays and Sundays from Memorial Day to Labor Day. Tours begin at: 1:00pm, 3:00pm and 5:00pm
River Lady
Toms River, NJ
732-349-8664
Website
(732) 349-8664
They feature The River Lady paddle boat, a 150 passenger, 85 foot reproduction of a 19th century Mississippi Paddle boat. The interior design of the lower deck is of the Victorian style The deck is completely enclosed and is climate controlled for year-round comfort. Passengers enjoy dining and dancing while cruising Toms River and Barnegat Bay passing by riverbanks that offer views of turn of the century homes surrounded by hills and beautifully manicured lawns and gardens. They operate from May to mid-October, Monday - Saturday, with a variety of daytime and evening packages.
The River Belle
47 Broadway
Point Pleasant Beach, NJ
(732) 892-3377
Website
They sail year year round offering a variety Sunday brunch, lunch, dinner, fireworks, sightseeing, murder mystery, and New Years Eve cruises. Enjoy the narrated cruises that take you to the sights and sounds of the Manasquan River, Point Pleasant Canal and Barnegat Bay. They have two departure locations on two of their sister crafts. The River Belle sails daily and is open to the public during the Summer Months and departs from Broadway Basin, Point Pleasant Beach. The River Queen departs from Bogan's Boat Basin, Brielle, and is is typically used for private events.
Southern NJ Boat Tours and Cruises
The Cape May Whale Watcher
1286 Wilson Drive
Cape May, NJ
(609) 898-0055
Website
Sailings from March to December.
Dolphin & Whale watching departures at 9:30 am & 1 pm
Junior Rates are for youngsters age 7 - 12, One child (Age 6 and under) with each paid adult.
In the event that no Marine Mammals are sighted, they offer another trip. Cruises take you into the Delaware Bay, and the Atlantic Ocean. Many of the sightings occur within the Delaware Bay or within ten miles of land. This allows for an awesome offshore experience for the family and something to do with the kids as well as seasoned adventurers and seafarers. The excursion is fully narrated by your Captain who will point out local history along with many types of marine life.
Cruise The Scenic Maurice River

29 Ware Avenue
Millville, NJ
856 327 1530
Website
The Maurice River has a rich maritime history built on oystering and other fisheries, and is an attractive place to experience the area's natural resources, including numerous threatened and endangered plant, animal, and bird species. Take a stroll along the river walk or enjoy a picnic in the Captain Buck Riverfront Park. There is convenient parking located in the one block that separates the downtown and the river. The Maurice River is part of the National Park Service.  The river has been declared "Wild and Scenic" which protects it from commercialism and development. On the cruise you will see gorgeous meadows, wild rice, lots of wildlife, and the only working diked farm left in New Jersey.
Delaware Bay NJ Lighthouse Adventure
1286 Wilson Drive
Cape May, NJ
(609) 898-0055
Website
Sailings during April, May, June, September October.
Tour seven NJj coastal lighthouses.
These lighthouses, constructed in the 19th Century and the early 20th Century, served an important function to aid ships sailing the treacherous mid-channel of Delaware Bay. Most of these lighthouses are still operating. All are automated.

Sail The Schooner A.J. Meerwald
Bayshore Center at Bivalve
2800 High Street
Port Norris, NJ 08349
(856) 785-2060
Website
NJ's official Tall Ship is a restored oyster dredging schooner. Launched in 1928, the A.J. Meerwald was one of hundreds of schooners built along South Jersey's Bayshore before the decline of the shipbuilding industry which coincided with the Great Depression.
They offer a variety of public and private education, lighthouse, and special interest sailing tours.

Skimmer - Salt Water Marsh Safari
113 Willow Drive
Cape May, NJ 08204
609-884-3100
Website
The Skimmer is a 40' twin hull pontoon that navigates the calm back bay waters. The cruises take place in calm waters averaging 2 feet deep and is ideal for those that suffer from sea sickness. They offer guided tours that cover the coastal salt marsh where you will discover the regions exotic wildlife and natural history. Trips sail from April to November, Rain or Shine. Trips operate from both the Dolphin Cove Marina in Cape May and the Wetlands Institute in Stone Harbor.

Silver Bullet Tours Dolphin Watch & Speedboat Tours
Wildwood Marina
Foot of the Bridge
Rio Grande and Susquehanna Aves. (Next to Boat House and Urie's Restaurant
Wildwood, NJ
609-522-6060
Website
The Silver Bullet's twin V-12 turbo-charged diesel engines will give you the experience and thrills of a Nascar Race Driver as it speeds up and down the oceanfront. On this thrill packed adventuresome journey you will experience 90 minutes of dolphin sightings and many other types of marine life. Be sure to wear casual clothing or bathing suits as the spray will cool and refresh you. They are also available for private charters.

"Stormin" A Speed Boat Ride
244 Bay Avenue (at 3rd Avenue)
Ocean City, NJ 08226
(609) 398-5800
Website
They offer an adventure packed 45 minute thrill ride aboard their 33 foot high powered custom designed offshore catamaran that seats up to 14 passengers. The fast moving adventure takes you along the shoreline of Ocean City where you will discover dolphins, birds, and scenic views along the sandy beach and back bay.
---