Blueberry Picking Farms in New Jersey
Blueberry picking --- a fun family activity and a great way
to get fully ripened, tasty, and healthy blueberries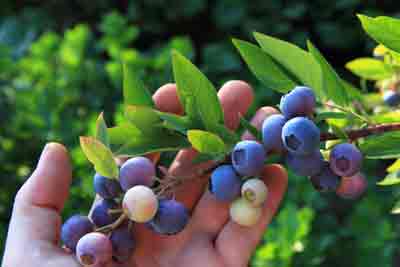 Blueberries are one of the healthiest foods are are rich in antioxidants.

The blueberry is also the official state fruit of New Jersey and is one of the top growers of blueberries in the country, and number 1 in farm market sales

Most of the best blueberry picking farms are located in southern NJ in the Pine Barrens region.

If you love blueberries, during the summer season, avoid buying them in the retail stores where blue berries are sold before they fully ripen. Instead take a trip to a nearby pick your own blueberry farm where you can enjoy fully ripened. tasty blueberries.

The New Jersey blueberry picking season begins in late June  and runs into late July, and sometimes early August, weather permitting.

When picking, select only fully ripened plump, gray-blue blueberries. Blueberries grow in clusters like grapes. Avoid picking unripened blueberries with a reddish, white, or greenish tint. Blueberries do not ripen after picking.
Popular New Jersey Blueberry Festivals
Annual Whitesbog Blueberry Festival
Last Saturday in June; 10:00 AM to 4:00 PM – rain or shine
Historic Whitesbog Village
120 W Whites Bogs Rd #34
Pemberton Township, NJ
This annual family event features a celebration of all things blueberry. The blueberry, the official state fruit of New Jersey has it's roots in New Jersey with the pioneering work of Whitesbog's Elizabeth C. White who domesticated the very first blueberry. The festival is fun and educational with traditional Pinelands musicians, artists and crafters, fantastic festival food, wagon tours, lectures, demonstrations and dozens of children's activities.

Website
---
Red White and Blueberry Festival
Last Sunday in June; 10 a.m. to 5 p.m.
Hammonton High School
Old Forks Rd.
Hammonton, NJ
609-561-9080
Nicknamed the "Blueberry Capital of the World", this annual festival features a celebration of blueberries with popular activities such as "pick your own"blueberries, for purchase, a traditional pie eating competition and plenty of blueberry food to purchase including blueberry dishes, desserts, and pies.
Other highlights include hundreds of vintage autos in the Cruisin' Classic car show, live music, craft vendors and carnival rides for the kids. Parking is also free, with shuttle service from designated lots at the Early Childhood Education Center and elementary school parking lots (601 N. 4th St.) and fields.

Website
---
Note: This information below is provided by blueberry farms as a free service to our viewers. Sometimes weather and growing conditions require cancellations or changes of dates, times and location which are not reflected in the original schedule. Before planning a trip to visit one of the listed farms, it is suggested that you call ahead to confirm current blueberry picking conditions and times.

Northern NJ Blueberry Picking Farms
Hillview Farms
223 Meyersville Rd
Gillette, NJ 07933
(908) 647-0957
July is their peak picking season for Blueberries

Website
---
Phillips Farms
290 Church Road
Milford, NJ 08848
908-995-0022
Their peak pick your own blueberry season is from the end of June through July. The Pick-Your-Own farm is closed on Tuesdays. Pick-Your-Own visitors should stop by the Phillips Farms Farm Stand FIRST to get containers for picking and directions to the various picking fields. The stand is open and staffed 7 days/week from May through October.

Website
---
Synder's Farm
586 South Middlebush Road
Somerset NJ 08873
732-496-0441
Over 80 acres of mostly preserved farm land with over 2,800 blueberry bushes in their fields. Their season for blueberry picking is late June - July.

Website
Central NJ Blueberry Picking Farms
Earth Friendly Organic Farm and Bed & Breakfast Inn
17 Olde Noah Hunt Road
Clarksburg, NJ
609-259-9744
This eight+ acre pick your own farm specializes in growing Blueberries. (June -August), Blackberries (August), and Rasberries (August & September). Over 1000 blueberry bushes surround the farm. This a is great place for a relaxing B & B getaway. They offer special Yoga weekend getaways.

Website
---
Happy Day Farm
77 Iron Ore Rd,
Manalapan Township, NJ 07726
(732) 977-3607
They have 8 acres of blueberries and 5 acres of raspberries for picking, from mid June to early August.

Website
---
Terhune Orchards
330 Cold Soil Road
Princeton, NJ 08540
609-924-2310
The Blue picking season runs from late June to late July. There is No Pick Your Own Blueberries on Mondays throughout the season.
Uses Integrated Pest Management (IPM) - an environmentally sensitive approach to pest management. In combination with available pest control methods, management of pest damage is achieved by the most economical means, and with the least possible hazard to people, property, and the environment. Wagon rides are also available during the season on Saturdays and Sundays, 9 am – 5pm

Website
Southern NJ Blueberry Picking Farms
B & B Farms
250 S Mannheim Ave
Egg Harbor City, NJ 08215
609-965-5558
The Blueberry season rus from mid-June through July, Mon-Sun, 8-4 (weather and blueberries permitting).
Uses natural growing practices

Website
---
DiMeo's Pick Your Own Blueberry Farms
3101 Nesco Road
Hammonton NJ
609-561-5905
Open 7 days. 10am to 5pm. Call to schedule appointment first.
DiMeo Farms sells blueberries, organic blueberry plants and large blueberry bushes for sale direct to the public at it's New Jersey blueberry farms in Hammonton.

Website
---
Emery's Blueberry Farm
346 Long Swamp Rd.
New Egypt, NJ 08533
(609) 758-8514
A 60 acre farm dedicated to growing  blueberries for sale at their Farm Market and U-pick in the fields. Call ahead for up to the day picking conditions

Website
---
Johnson's Corner Farm
133 Church Road
Medford, NJ 08055
609-654-8643
10 am - 4pm
During the Blueberry picking season on Saturdays and Sundays from 3 to 8pm, there's live music, burgers on the grill, strawberry shakes and extended hayride and picking hours. There is also a Discovery Barnyard play area (best for toddlers to 8 yr. olds) and an Animal Farm with sheep, pigs and chickens.

Website
---
Piper Blueberry Farm
Magnolia Road
Pemberton, NJ 08068
(609) 894-4287 or (609) 894-9227
Open Monday to Saturday 8 am to 5 pm, closed Sunday
Call ahead to confirm conditions

---
Tom Haines Berry Farm
98 Sheep Pen Hill Rd
Pemberton, NJ
(609) 894-8630
Late June until mid July. The offer a free round-trip hay ride to the field

Website
---