Best NJ Beer Festivals and Events
New Jersey beer festivals play host to well over 100 major breweries and micro breweries
NJ has made a mark in the beer brewing history of the United States. During the late 19th century, New Jersey was considered to be the nations hub of breweries and was home to some of the largest breweries in the United States.

With a large German immigrant population, there were many brew masters and owners who preserved the style of beer from their homelands. During the 1880s, there were no less than six breweries in Newark, NJ alone.

In 1935, the G. Krueger Brewing Company of Newark, New Jersey became the first brewer to market beer in steel cans. In that year, only about 25 percent of beer was packaged in bottles and cans -- the rest was kegged. Today, however, about 90 percent of America's beer production is consumed from bottles and cans.

Note: Sometimes conditions require cancellations or changes of dates, times and location which are not reflected in the original schedule. Before planning a trip to visit one of the listed events, it is suggested that you call the event sponsor to confirm the event schedule or for additional information on the event.

May 2022 New Jersey Beer Festivals
June 2022 New Jersey Beer Festivals
Atlantic City Beer and Music Festival
June 4, 5, 2022
Bader Field
545 Albany Ave
Atlantic City, NJ 08401
Tickets & Information
This event features a celebration of a decade of AC music, brews, breweries. Attendees will experience over 1,000 different beers from 150 breweries, the biggest music acts to date, interactive touch points such as life size beer pong and a pop-up jam band space, a state-of-the-art March Madness viewing area and culinary offerings from our favorite AC food and beverage joints.
Music by Alkaline Trio & New Found Glory
Two sessions:
Session 1: Saturday, 2:00 pm – 6:00 pm, & Session 2, Sunday, 12:00 pm – 4:00 pm
New Jersey Beer and Food Festival
Saturday, June 18, 2022 3pm - 7pm
The Festival Field at Grand Cascades Lodge
Crystal Springs Resort
3 Wild Turkey Way
Hamburg, NJ
855-452-1845
Information & Tickets
This event features the ultimate weekend for beer lovers! Don't miss the king of all NJ beer events where you can sample an array of craft beer, cider and traditional brews. Savor selections from over 200 brewers and enjoy an all-you-can-eat BBQ, sausages and other delicious seasonal bites. You'll also enjoy a range of entertainment, including fun outdoor games, premier golf and high energy live music.
Battleship New Jersey Craft Beer Festival
Saturday, June 25, 2022; 1pm - 5pm
100 Clinton St
Camden, NJ
Website/Tickets
Cost: General session,  $50 donation per adult,  will take place from 1pm to 5pm.  The VIP session, which gets guests aboard to enjoy samples an hour earlier at 12pm than the public session, is a $75 donation.
This event features beer tasting, live entertainment, and a free self-guided tour of the nation's most decorated ship — do this early upon arrival; sorry, but no tours once guests sample beer
July 2022 NJ Beer Festivals

Cape May Craft Beer, Music & Crab Festival
Saturday, July 23, 2022; 10AM – 5PM
The Emlen Physick Estate
1048 Washington St.
Cape May, NJ
Website
609-884-5404
Admission is free
This family event features hard shell crabs, craft beers, food trucks and vendors, crafters, family entertainment and back-to-back music on the outdoor stage at the Emlen Physick Estate. Bring a blanket or chair and relax in the shade near the outdoor stage. Well-behaved pets welcome!
Cheers in Chester Wine & Beer Festival
Saturday July 23, 2022; 3PM – 7PM
Municipal Field
134 Main St,
Chester, NJ
Website
Cost: $15 – $70
This event features over 100 styles of craft beer & wine, fantastic live music, delicious food & wonderful vendors. Plus it's a Benefit for the Chester First Aid Squad!
August 2022 New Jersey Beer Festivals

September 2022 New Jersey Beer Festivals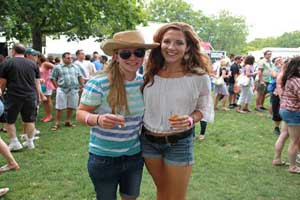 Monmouth Park Labor Day Weekend BBQ & Craft Beer Festival
September 3, 4, 5, 2022; 11:00am to 5:00pm
Monmouth Park Racetrack
Oceanport Avenue
Oceanport, NJ
Website
Cost: General admission tickets are available in advance as well for $5 or day-of $6.  All crafts will also be available at our craft beer bar for $6. - Parking is FREE!
This Labor Day weekend from 11am to 5pm join us for three days of delicious BBQ and a great selection of brews in our Craft Beer Garden. The perfect companion to delicious BBQ is an ice-cold beer! Our NJ Craft Beer Garden will feature over 40 craft beers to choose from – and for the first time, all beers will be brewed right here in the Garden State.  Enjoy live music from 12-4pm all three days!  After the Reign rocks out on Saturday followed by Chris Morrisy Sunday and Jessica Rose on Monday.
FREE Family Fun Day activities take place from 12-4pm on Saturday and Sunday featuring pony rides, clowns, face painters and a bounce house.

Burlington Hops & Rocks & 5K
September 17, 2022; 12PM – 5PM (rain or shine)
Riverfront Promenade
High St. & Pearl Blvd
Burlington, NJ
Website/Tickets
Cost: General Admission is from 1:00-5:00 VIP gets an additional hour with a 12:00 entry to the festival. Early Bird pricing is effective through May 31. Full pricing takes effect on June 1.
This event features live music, food trucks, breweries and more!
Your entry ticket will include unlimited tastings from all participating breweries. band, food trucks and breweries. New this year, they have partnered with Burlington Running Club, who will kick-off the event a 5K race just before the VIP session opens. There are ticket options for runners and their guests. If you are planning to run the race, you can purchase race + festival tickets here.
October 2022 New Jersey Beer Festivals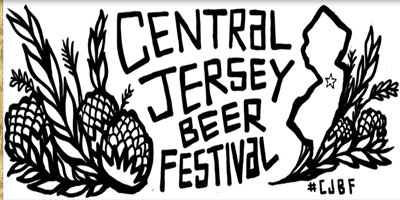 Central Jersey Beer Festival
Saturday, October 8, 2022; from 12:00 PM to 6:00 PM* (Rain or Shine, Tents will be used in case of inclement weather!)
Mercer County Park Festival Grounds.
1665 Mercerville-Edinburg Rd
West Windsor, NJ
Website & Tickets
VIP Entry & Tasting beginning at 12PM Food trucks and music until 6PM
This event features over 175 beers, live music, food, and 4 hours of Beer Tasting. Bring a picnic blanket or chairs and friends and spread out on the grass in the park.