August Events:
Our Top Picks To Plan Your Day Out in New Jersey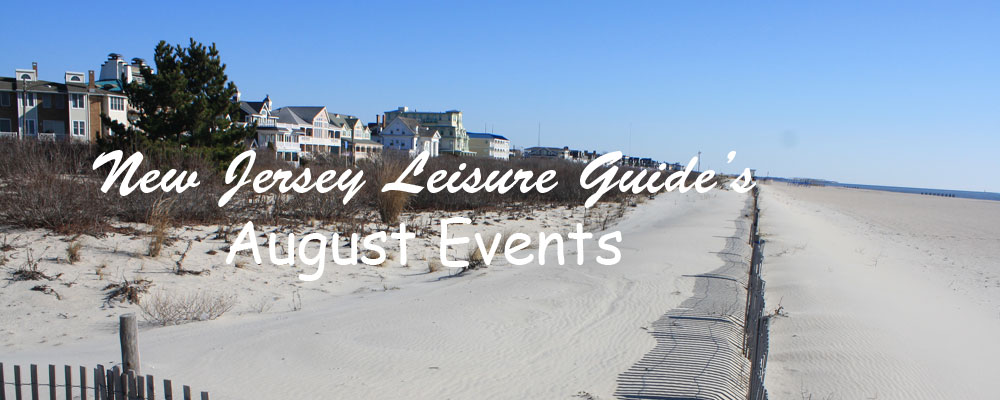 Discover New Jersey's Best August Events: Uncover The Month's Top seasonal attractions, popular events, and hidden gems

The month of August is the peak vacation month of the year with the Jersey Shore beaches, hotels, restaurants, nightlife, festivals, and events in full swing.

---
Note: Sometimes conditions require cancellations or changes of dates, times and location which are not reflected in the original schedule. Before planning a trip to visit one of the listed events, it is suggested that you call the event sponsor to confirm the event schedule or for additional information on the event.

---
Northern Jersey August 2022
Festivals and Themed Events
Warren County Farmers' Fair --- Hot Air Balloon Festival
July 30 — August 6, 2022
Warren County Farmers' Fairgrounds
1350 Strykers Rd.
Phillipsburg, NJ
Website
908-859-6563
[email protected]
Admission - Adults: $10, Ages 6-12: $5 Children 5 and Under Free Free Parking: Admission is for both the Farmers' Fair and the Balloon Festival
In addition to the Hot Air Balloon Festival, this event features live music, a Rodeo, with bull riding, barrel racing and horse racing, Truck Pulls, Tractor Pulls and Demolition Derbies, a Wrestling Clinic, children's activities, and more.
Hudson Restaurant Week
Monday, August 1 - Friday, August 12, 2022
Bi-annual celebration of dining in Hudson County with prix-fixe discounted menus.
For Information and participating restaurants
The New Jersey State Fair
August 5 - 13, 2022: Open rain or shine!
Sussex County Fairgrounds
37 Plains Road
Augusta, NJ
(973) 948-5500
Website
Parking is free!
Thias event features carnival rides, live entertainment, family attractions and events, a horse show, monster truck Rrdes, and More!
PuchiCon NJ 2022
August 6, 7, 2022
Marriot Glenpointe
100 Frank W Burr Blvd,
Teaneck NJ
Website/Tickets
Anime Convention features a video game & comic convention with fun panels, voice actors, well known cosplayers, and performers.
La Festa Itialiana
August 10-14. 2022; 5pm - 11pm
344 Sixth Street
Jersey City, NJ
201-795-0120
Website
La Festa Italiana celebrates Italian heritage, spirituality and is an evening of music, dance and authentic Italian foods. It's fun filled with games, an hourly 50/50, and terminates with the Super 50/50 raffle drawing. The festival will honor the Veneration of Our Lady of the Assumption and Saint Rocco. Each night Live Bands perform on the Mainstage. Perfect for grabbing a Sausage & Pepper Sandwich and a Beer and watching these great performances.
Passaic County Fair
August 11th-14th, 2022
Garret Mountain Reservation
8 Mountain Avenue
Woodland Park, NJ
Website
Cost: Entrance to the fair is free, parking at the Passaic County Fair is $5.00 per car.
The opening ceremony will be held on Friday, August 13th at 7:00PM.
This year's fair will feature four days of unique activities for all to enjoy from games and rides to art activities and environmental excursions. In addition, there will be pony rides, bounce houses for the kids, and more. The four-day celebration will also feature two fireworks displays on Friday and Saturday. The County Fair stage will feature an array of local musicians. Live music will be complimented with a beer garden and some of the best food from around Passaic County.
Celebrate the Meadowlands
Saturday, August 13, 2022; 10:00 AM – 4:00 PM ( Rain date is Saturday, September 24th)
Laurel Hill Park
Laurel Hill Road
Secaucus, NJ
Website
Cost: Free
This event features a celebration of the Meadowlands - its history, ecological significance, and natural beauty. Activities include free boat and paddling tours and a morning fishing clinic. Come learn about the Meadowlands, check out booths staffed by local environmental groups and vendors, and sample food from local food trucks. Remarks from RPA, Hackensack Riverkeeper, and stakeholders reflecting on the history and significance of the Meadowlands will be given around 12:00pm.
Canal Day Festival
August 20, 2022 (Rain or Shine)
Hugh Force Canal Park
180 West Central Ave.
Wharton, NJ
Admission is Free
An old time country fair that celebrates the Morris Canal and its contributions to the development of the communities along its banks. Come to a day of free family fun featuring a craft show, great food, educational events and enjoy a day of listening to a wide variety of musical entertainers. Musical performances from New Jersey's best artists will feature Rock, Blues, Country, Classical as well as traditional and contemporary Irish Folk Music. performing on two stages. Learn about local history by taking a guided Morris Canal walking tour provided by the Canal Society of NJ. Experience life on the Morris Canal first hand by traveling down the canal on a free boat ride or prove your prowess by paddling a kayak. Fireworks at dusk.
Dino & Dragon Stroll
August 20 & 21, 2022
Meadowlands Expo Center
355 Plaza Dr
Secaucus, NJ 07094
Website/Tickets
Cost: Kids & Adult tickets $24.99. Kids under 2 & military veterans free.
This family event features a walk-thru and get up close to life-like and life-size dinosaurs and dragons. The dinosaurs and dragons are massive, some standing over 28 feet tall and spanning over 60 feet long. The stroll is an interactive event allowing guests to walk thru this realistic and memorable indoor experience. While guests stroll at their own pace, they can get up close to dinosaurs throughout the exhibit, ranging from babies to life-like and life-size dinosaurs including encounters with a T-Rex, Velociraptor and Stegosaurus, just to name a few. Guests can also get up close and personal with a selection of large, serpentine, winged, horned and legendary fire breathing dragons, just as you imagined them.
Fiesta In America
Saturday, August 20, 2022 @ 10:30am - 7:30pm
Court A of American Dream Mall
1 American Dream Way
East Rutherford, NJ
Website
Free admission. Open to the public
This event features a free daylong concert starring Original Filipino Music legend Florante De Leon and singer-comic Fe De Los Reyes. Fe De Los Reyes will provide laugh-a-minute takes on immigrant life in the U.S., the mystique of Filipino femininity, and aging.
The 8 hour program will include the first Miss Phillippines tourism pageant, a musical show, arnis demenstrations (Filipino Martial Arts), coloful ethnic dances, and glimpses of Phillippine village life.
MAPSO Funk Fest
Saturday, August 28, 2022
Springfield Ave. Gazebo
1688 Springfield Ave.
Maplewood, NJ
Website
Free Event with optional items for purchase.
MAPSO Funk Fest is a carefully curated funk, house & soul music event that fosters community, bringing people together while spotlighting and supporting local restaurants, wellness businesses, artisans, and other creative talent. This is a highly inclusive event that supports businesses of all kinds. We've worked diligently to prioritize inclusion of Black, minority, women, and LGBTQ+ owned entities for optimal representation. After the past year, so many small brands have taken a huge hit. We want to take this opportunity to revive the flavor of our community, invigorate local hand-picked businesses, and remind people of the rich culture we're surrounded by.
Central Jersey August 2022
Festivals and Themed Events
Middlesex County Fair

Monday, August 1 thru Saturday, August 7, 2022
County Fairgrounds
655 Cranbury Road
East Brunswick, NJ
Website/Tickets
--- Tickets will be available on line and at the gate.
Free Parking
This annual event promises to be a week full of fun with live entertainment, carnival rides, local fair vendors, a variety of homemade, beginning with Fireworks on opening night August 1st (rain date August 2nd), and on closing night on August 7th. There will be a live band every night, with the featured performance, the Amish Outlaws, on August 3rd. There is no "typical" Amish Outlaws show. The Amish Outlaws constantly surprise the audience and keep them guessing as to what they could possibly play next, from Johnny Cash to Jay Z, Lady Gaga to Snoop Dogg and Dr. Dre, Pitbull to Elivs Presley, and more.


Highlands Annual Clam Festival
August 5, 6, 7, 2022
Huddy Park
Shore Drive
Highlands, NJ
Website
732-291-4713 
This three-day festival will feature seafood and other dishes from local restaurants, live entertainment, children's activities and specialty vendors.
Just Peachy Festival
August 6 & 7, 2022: 10am-5pm
Terhune Orchards
330 Cold Soil Road
Princeton, NJ
609.924.2310
Website
Admission fee $12 Online/$15 at Gate (children under 3 are free). Admission fee includes pedal tractors, barnyard of animals, music, play tractors, and children's games. (Additional activities available for additional cost.
This family event features a fun day at the farm with pony rides, games, barnyard tractors, and other interactive, hands-on fun including a scavenger hunt. Barn Door Cafe will be scooping up freshly made local peach ice cream!
Wine tasting: Adults can enjoy the taste of summer in a glass with their award-winning Just Peachy wine.

New Jersey Friends of Clearwater Music Festival
August 6, 7, 2022; Saturday: 11am - 7pm; Sunday: 11am - 7pm
Riverside Gardens Park
West Front Street
Red Bank, NJ
https://www.njclearwater.org/home.html
Free event
This annual music festival to promote environmental and social justice will fill 2-stages, for 2-days, with top-name national & local performers presenting the best of rock, folk, jazz, Latin, country, soul & other genres.
Proceeds from this event will benefit New Jersey Friends of Clearwater, a registered 501(C)3 Charitable Organization.


Butterfly Festival
Saturday, August 6, 2022; 10AM - 5PM
Stony Brook-Millstone Watershed Association
31 Titus Mill Road
Pennington NJ 08534
Website
Price: $10 per person or $25 per carload (up to six people)
Many of our treasured activities and events are in the offing! We will have our Insect Zoo, Butterfly and Bug Parade, and tours of the Kate Gorrie Butterfly House. There will be food trucks, live entertainment, live music, kids' games & crafts, and many vendors. Our Nature Shop will be stocked with everything your little butterfly or bug may need.
Proceeds from this event help sustain our work in environmental conservation, advocacy, science, and education. The Watershed Institute is a member-supported non-profit dedicated to protecting and restoring clean water and healthy environments in central New Jersey.
The Italian American Association of Ocean Township Annual Italian Festival
August 10th – 14th, 2022
Joe Palaia Park
corner of Deal and Whalepond Road
Ocean Township, NJ
[email protected]
908-902-8512
Website
Free admission
This four day Italian Festival annually attracts over 80,000 people with a taste for our traditional foods and wholesome family fun. Celebrating Italian heritage and culture!
There's something for everyone! From sampling the great taste of Italy's delicious food, rides, games, music, and more!
Day Out With Thomas
August 12,13,14, 2022
Delaware River Railroad Excursions
100 Elizabeth St
Phillipsburg, NJ
Website/Tickets
Cost: $22
This is a family event that offers children and their grownups the opportunity to ride with classic storybook friend Thomas the Tank Engine . Parents, grandparents and siblings join their aspiring engineers in the fun. The Day Out With Thomas experience will engineer miles of smiles for the whole family and introduce a new generation to the timeless excitement of railroading. The train pulled by Thomas leaves every hour on the hour, 10 am to 5 pm. You may also ride the River Train along the scenic Delaware River to Carperntersville, New Jersey ( an hour and fifteen minute round trip). For an added adventure take the River Train to the Susquehanna Mine, learn the History and learn how to pan for Gem Stones that you can take home! The trips pulled by Thomas take you along the beautiful Delaware River to North Carpentersville New Jersey, a 25 minute ride. The River Train follows the same route journeying further along the river to Edingers with a brief stop at the "Old Susquehanna" gem stone mine. At the mine you may get off , visit the mine and learn how to pan for gems.
Flemington's Corn, Tomato and Beer Festival
Saturday, August 13, 2022; 12:00 pm to 8:00 pm (Rain Date: Sunday, August 14th)
Stangl Road
Flemington, NJ
Website
Cost: Free to Attend - Free Parking
Held in Flemington's Artisan District, this foodie and beer-lovers event will feature an expansive micro-brewery beer garden, live music, great food, and family entertainment --- and of course, New Jersey's finest corn and tomatoes! This is a family friendly event for all ages with an expanded kids zone and free entertainment.

New Brunswick Heart Festival
August 13, 2022: @3pm
Downtown New Brunswick in front of the theaters at Monument Square
at 2 Livingston Ave.
New Brunswick, NJ
Website
Admission: Free
This outdoor family-friendly festival celebrates all of the vibrant arts and history that New Brunswick and the County of Middlesex has to offer
It will feature live music and dance performances; a visual Arts Market; craft and food vendors; interactive activities and games; fun giveaways; a Health & Wellness tent with Garden of Healing; readings of famous love letters by actors from Thinkery & Verse; and so much more! This festival will take place in Live performances include: music and social justice artist, Fyütch, who performs a blend of Hip-Hop, Soul, R&B, Pop and Reggae; Latin band Sonido Latino; tap dancer Omar Edwards Salsa dance lessons with Elvis Ruiz, a dance performance by Grupo de Danza Folklórica La Sagrada Familia the New Brunswick Brass Band; a dance performance by InSpira Performing Arts & Cultural Center, and more!
Hi-Tide Summer Holiday: Asbury Park

August 19, 20, 21,2022
Asbury Lanes & The Asbury Hotel
Asbury Park, NJ
Website (Line-up & tickets)
Attendees get to enjoy a weekend of Surf Music, Tiki Cocktails, Pool Parties, Record Hops,Seminars & more.
Edison's Food Wine & Beer Festival
Saturday Aug 20, 2022
4 PM - 10 PM
926 Amboy Avenue (under the Tent)
Edison, NJ
Website
[email protected]
732-738-9482
Cost: $5, Kids under 10 are Free
This annual family event features Wine & Craft Brewers including Edison's Cypress Brewery, face painting and activities for the kids, live entertainment, local vendors, artists, and more.
Long Branch Jazz and Blues Festival
Saturday, August 27, 2022 from 1 PM - 9 PM (Rain or Shine)
The Great Lawn on the Long Branch Promenade
Long Branch, NJ
Website/Line-up
This music festival features a mix of strong national and local musicians performing live Jazz and blues on stage. The grand finale will feature a fireworks display at dusk.
Southern Jersey August 2022
Festivals and Themed Events
Free Summer Concert Series at Cape May Ferry Park
1200 Lincoln Boulevard
North Cape May, NJ
609-551-4209
Website
Every Wednesday until August 31, 2022. Gates open at 4:30pm.
Line-up:
August 3 – Englishtown Project; August 10 – Fat Mezz; August 17 – Legacy Band; August 24 – Sensational Soul Cruisers; August 31 – HunkaJunk
The 13th Annual Elephant Talk Indie Music Festival
Friday, August 5th & Saturday, August 6th, 2022; 5 p.m. to midnight Friday, and 11 a.m. to midnight Saturday
The Watering Hole
6494 Weymouth Rd.
Mays Landing, NJ
Facebook
609-625-9300
Cost: $10/day, Can be paid upon entrance.
Held at the Watering Hole on 12 acres in the Pinelands, The (Elephants For Autism) Indie Music Festival will feature more than 60 bands, food and drink specials and raffle items, the Elephant Talk fest will rock . The indie music festival will feature original bands such as UGLI, The Blues Reincarnation Project, Loud Love, The Surf Jerkz and more. This festival is for all ages to enjoy, so bring the whole family along.
All proceeds go to Sprouting Opportunities to provide education and support to families, communities and individuals. Their goal is to create new job opportunities for young adults with autism and or special needs.
4th Annual ModelCon

Saturday, August 6th, 2022: 10am - 4pm
Battleship New Jersey
62 Battleship Place
Camden, NJ 08103
Website
Cost: $20 - $25
Experience plastic models of military ships, planes, vehicles and more. they'll also have the model makers onboard who will be building models and sharing tips on producing these miniature replicas. Win model kits and more! Free to experience with the purchase of a tour of the Battleship.
Manahopkin Craft Beer & Music Festival
August 6, 2022; noon to 4 p.m,. and 5 to 9 p.m
Manahawkin Lake Park
Route 9 and North Lakeshore Road
Manahawkin section
of Stafford, NJ; manahopkin.com.
Website/Tickets
Two tasting sessions: 12:00pm-4:00pm and 5:00pm-9:00pm.
Tickets cost $30 for attendees who will be sampling beer; admission is free for those who will not be drinking. Food prices will vary by vendor.
This event features beers from local breweries, food trucks, live music, craft vendors and activities for children.

Wildwoods Boardwalk Friday Night Fireworks
Every Friday until September 2, 2022.
on the Wildwoods Boardwalk
Pine Ave,
Wildwood, NJ
Website
(609) 523-1602
The fireworks will be launched from the beach on Pine Avenue and visible from anywhere on the Wildwoods Boardwalk.


Tropicana's Free Fireworks Series
Every Saturday night until Labor Day Weekend, Saturday, September 3, 2022
Tropicana Casino & Resort
2831 Boardwalk
Atlantic City, NJ
Website

609-340-4000
Free Event
Fireworks are launched from the beachfront and can be viewed all along the beaches or boardwalk of Atlantic City.
Wildwoods Concerts Under the Stars Series
August 4, 6, 11, 13, 18, 20, 25, 28, 2022 Beginning at 8pm
The Lou Booth Amphitheatre
2nd & Ocean Avenues
North Wildwood, NJ
Website/Schedule
609.522.7722
This event features Free live entertainment
Cape May Lighthouse Full Moon Climb
August 11, 2022; 8-10 PM
Cape May Point State Park
215 Lighthouse Ave.
Cape May Point, NJ
Website
Admission for night time climbs is $20 for adults and $8 for children (ages 3-12)
Climb the 199 steps to the Watch Gallery at the top of the Cape May Lighthouse, to enjoy the grand vista of the evening sky and the full moon from atop this majestic beacon at nighttime.
Atlantic County 4-H Fair
August 12, 13, 2022
Atlantic County 4-H Fairgrounds
3210 Rt. 50
Mays Landing, NJ
609-625-0056
Website
This fun family event features rides, animals, horse shows, exhibits, demonstrations, entertainment, antique engines, car show, food, and much more!
Tidalwave Music Festival
August 12, 13, 14, 2022
on the Atlantic City Beach
One Atlantic Ocean
Atlantic City, NJ
This event features 3 days, 2 stages & over 30 artists with headliners Luke Bryan, Morgan Wallen, Hardy, Riley Green, Chase Rice, and many more this summer on the Atlantic City Beach!


Wildwood Tattoo Beach Bash

August 12, 13, 14, 2022
Wildwoods Convention Center
4501 Boardwalk
Wildwood, NJ
609-972-6671
Website/Tickets
Cost: $20 Day / $40 3-Day Pass
This event features Special guest artists, Vendors, Entertainment, Seminars, Miss Salt Water Sweetie pin-up contest, and more. Retro attire encouraged.
Burlington County Restaurant Week
Sunday August 14 - Saturday, August 20, 2022
More than 35 restaurants will be participating all over the region, from Bordentown to Medford.
For Information and participating restaurants.

Atlantic City Airshow
Wednesday, August 24, 2022 @11am
Boardwalk
Atlantic City, NJ
Free event
This popular FREE annual family event features the world's premier midweek beachfront airshow, drawing more than 500,000 spectators annually. Acts are comprised of multiple military and civilian high-performance aircraft and helicopters from across the country.

Swedesboro Food Truck Festival & Dancing in the Park
August, 25, 2022
Swedesboro Auction Park
101 Leahy Ave.
Swedesboro, NJ
Website
Dancing in the Park will be held in conjunction with Food Truck Thursdays. Enjoy some tasty food and drink from a variety of area food trucks and vendors! This is a family friendly foodie event! There will be some games and background music to enjoy as you dig in and enjoy the music! Food Truck Festivals & Dancing in the Park.
Music Lineup:
August 25th – THE BRECK BAND

The Beach Boys in Concert – Last Days of Summer Celebration
August 27, 2022: @ 7pm
Wildwoods Convention Center
609-729-4000.
Tickets start at $35 and are available only through Ticketmaster.
Tickets
The Beach Boys mark 60 years of making music and the group continues to ride the crest of a wave unequalled in America's musical history. The Beach Boys have become synonymous with the California lifestyle and have become an American icon to fans around the world. Come see them live in concert inside the Prior to the concert don't miss out on beach activities that include yoga on the beach, a surfing contest, beach games and activities, and DJ music.

Seafarer's Weekend
Saturday & Sunday, August 27th & 28th 2022; 11:00am-4:00pm
Historic Cold Spring Village
720 US 9
Cape May, NJ
609-898-2300
Website
This event will feature pirates, music, and family fun. The Village buildings will be open, featuring historically clothed interpreters who will demonstrate the trades, crafts, and lifestyles of Early America. Kaptain Kristian and Red will be present to tickle your funny bone.





Upcoming New Jersey Ticketed Events