August Events:
Our Top Picks To Plan Your Day Out in New Jersey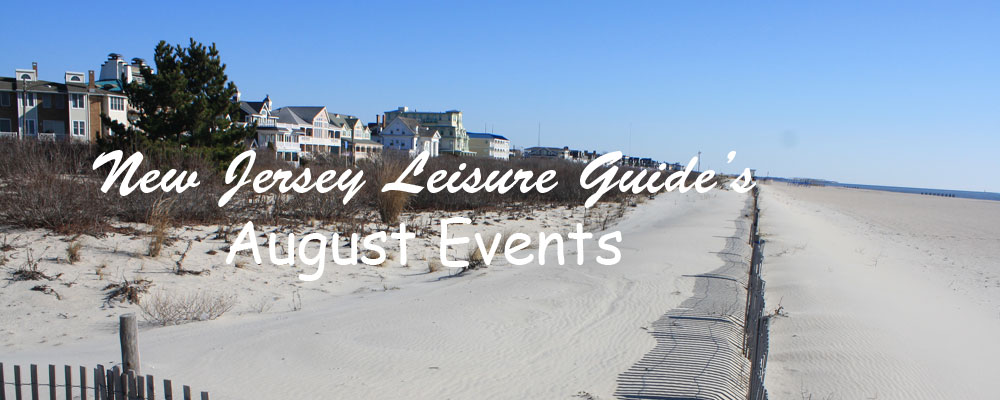 Discover New Jersey's Best August Events: Uncover The Month's Top seasonal attractions, popular events, and hidden gems

The month of August is the peak vacation month of the year with the Jersey Shore beaches, hotels, restaurants, nightlife, festivals, and events in full swing.
---
NJ COVID 19 Update:
At this this time, New Jersey has lifted all COVID-19 Restrictions.
We  continue to recommend viewers contact the event sponsors before heading out to a listed event to confirm their status.
---
Northern Jersey August 2021 Festivals and Themed Events
The New Jersey State Fair
August 7 - 14, 2021 Open rain or shine!
Sussex County Fairgrounds
37 Plains Road
Augusta, NJ
(973) 948-5500
Website
Cost:Adults - $14.00, Veterans/Active Military - $7.00 (50% off admission), Child (6-12) - $6.00, Seniors (60+) - $10.00, Parking is free!
Thias event features carnival rides, live entertainment, family attractions and events, a horse show, monster truck Rrdes, and More!
La Festa Itialiana
August 11-15. 2021
344 Sixth Street
Jersey City, NJ
201-795-0120
Website
La Festa Italiana celebrates Italian heritage, spirituality and is an evening of music, dance and authentic Italian foods. It's fun filled with games, an hourly 50/50, and terminates with the Super 50/50 raffle drawing. The festival will honor the Veneration of Our Lady of the Assumption and Saint Rocco. Each night at 7:00 p.m. Live Bands perform on the Mainstage. Perfect for grabbing a Sausage & Pepper Sandwich and a Beer and watching these great performances.
Passaic County Fair
August 12th-15th, 2021
Garret Mountain Reservation
8 Mountain Avenue
Woodland Park, NJ
Website
Cost: Entrance to the fair is free, parking at the Passaic County Fair is $5.00 per car.
The opening ceremony will be held on Friday, August 13th at 7:00PM.
This year's fair will feature four days of unique activities for all to enjoy from games and rides to art activities and environmental excursions. In addition, there will be pony rides, bounce houses for the kids, and more. "Family Night" is on Thursday, August 12th, where patrons can purchase a $20.00 wristband for unlimited fair rides The four-day celebration will also feature two fireworks displays on Friday, August 13th and Saturday, August 14th. The County Fair stage will feature an array of local musicians. Some of the bands on this year's slate are Craig Redmond and C-Dreams, Grand Theft Audio, Naughty Humphrey, and The Kootz. Live music will be complimented with a beer garden and some of the best food from around Passaic County.
Canal Day Music & Craft Festival
August 21, 2021 (Rain or Shine) @ 10am
Hugh Force Canal Park
170 West Central Ave.
Wharton, NJ

Website
Admission is Free
An old time country fair that celebrates the Morris Canal and its contributions to the development of the communities along its banks. Come to a day of free family fun featuring a craft show, great food, educational events and enjoy a day of listening to a wide variety of musical entertainers. Musical performances from New Jersey's best artists will feature Rock, Blues, Country, Classical as well as traditional and contemporary Irish Folk Music. performing on two stages. Learn about local history by taking a guided Morris Canal walking tour provided by the Canal Society of NJ. Experience life on the Morris Canal first hand by traveling down the canal on a free boat ride or prove your prowess by paddling a kayak. Fireworks at Dusk .
Long Valley Fireworks Festival
August 21, 2021; 6pm. fireworks @8:45 p.m.
Long Valley Middle School 
51 West Mill Road
Long Valley, NJ
Facebook page
Cost: $7/car donation
The festival fun kicks off at 6 p.m. with live music, food trucks, a beer garden, and Green Festival.The grand finale is the fireworks at dusk
Hot 97 Summer Jam
Sunday, August 22, 2021
MetLife Stadium
East Rutherford, NJ
Tickets
Enjoy two stages of the hottest artists in music, iconic sets from HOT 97's legendary DJs, and the biggest surprises at the greatest Hip Hop event of the year.
Michael Arnone's Crawfish Fest
Canceled ---August 27-29, 2021
The Sussex County Fairgrounds
Rt. 206 to Plains Road
Frankford, NJ
Website/Tickets
On-site Camping and camping hook-ups.
3 day New Orleans Style Music, Food, and Camping Festival. Featuring the best Music and Food that Louisiana and New Orleans has to offer. Cajun, Zydeco, Delta Blues, New Orleans R&B, Brass, Gospel and Jazz on 3 Stages. To really enjoy the "nor-leans" experience, you can try a taste of fresh Boiled Louisiana Crawfish trucked in alive, Crawfish Bread, Shrimp Creole, Crawfish Bread, Crawfish Pie, Alligator Sausage, Crawfish Po-boys, Jambalaya, Southern Fried Chicken and the other great dishes with a menu price of $12.00 or less per dish.

MAPSO Funk Fest
Saturday, August 28, 2021
Springfield Ave. Gazebo
1688 Springfield Ave.
Maplewood, NJ
Website
Free Event with optional items for purchase.
MAPSO Funk Fest is a carefully curated funk, house & soul music event that fosters community, bringing people together while spotlighting and supporting local restaurants, wellness businesses, artisans, and other creative talent. This is a highly inclusive event that supports businesses of all kinds. We've worked diligently to prioritize inclusion of Black, minority, women, and LGBTQ+ owned entities for optimal representation. After the past year, so many small brands have taken a huge hit. We want to take this opportunity to revive the flavor of our community, invigorate local hand-picked businesses, and remind people of the rich culture we're surrounded by.






Central Jersey August 2021 Festivals and Themed Events
Basie Center's Concerts On the Green

Outdoor concerts throughout the summer, lasting until Saturday, September 11, 2021
Historic Suneagles Golf Club
Tinton Avenue
Fort Monmouth
Eatontown, NJ
Schedule & Tickets
Price: $39–$89
Southern Jersey August 2021 Festivals and Themed Events
Middlesex County Fair

August 2 thru 8, 2021; ( Monday-Friday: 5:00pm - 11:00pm; Saturday: 11:00am - 11:00pm ; Sunday: 11:00am - 10:00pm)
County Fairgrounds
655 Cranbury Road
East Brunswick, NJ
Website/Tickets
--- Tickets will be available on line and at the gate.
Cost: $10 for adults, $4 for seniors over the age of 65, $4 for children between the ages of 3 and 10, and Free for children under 2. Free Parking
This annual event promises to be a week full of fun with live entertainment, carnival rides, local fair vendors, a variety of homemade, beginning with Fireworks on pening night August 2 (rain date August 3), There will be a live band every night, with the featured performance, the Amish Outlaws, on August 4th. There is no "typical" Amish Outlaws show. The Amish Outlaws constantly surprise the audience and keep them guessing as to what they could possibly play next, from Johnny Cash to Jay Z, Lady Gaga to Snoop Dogg and Dr. Dre, Pitbull to Elivs Presley, and more.
Highlands 26th annual Clam Festival
August 6, 7, 8, 2021
Huddy Park
Shore Drive
Highlands, NJ
Website
732-291-4713 
This three-day festival will feature seafood and other dishes from local restaurants, live entertainment, children's activities and specialty vendors.
Butterfly Festival
Saturday, August 7, 2021; 10AM - 4PM
Stony Brook-Millstone Watershed Association
31 Titus Mill Road
Pennington NJ 08534
Website
Price: $10 per person or $25 per carload (up to six people)
The event will feature tours of the Kate Gorrie Butterfly House, and the Insect Zoo. Enjoy music and live entertainment by the Trenton Circus Squad and Eyes of the Wild (a live exotic rescue animal show). Young children will delight in being a part of the famous "Butterfly and Bug Parade" led by Lady Monarch, Ms. Allison.
Adults and older children can learn about watersheds and the need to protect our rivers, lakes and streams through educational hands-on exhibits. Food and drink will be available for sale and you can purchase butterfly wings, and other fun items at the Watershed Nature Shop.
Proceeds from this event help sustain our work in environmental conservation, advocacy, science, and education. The Watershed Institute is a member-supported non-profit dedicated to protecting and restoring clean water and healthy environments in central New Jersey.
Hops at the Hangar

August 7, 2021; 3PM – 7PM
Central Jersey Regional Airport
1034 Millstone River Rd
Hillsborough, NJ
Website/Registration
Cost: $15 – $70
A rain or shine event. Pets Welcome.
This event features 30+ breweries, including your favorite local and domestic breweries. Each attendee will receive a souvenir tasting glass and have the opportunity to sample many unique and popular craft beers. Enjoy live music from Stereo Junkies Band. Delicious food available for purchase from Food trucks, great vendors, games & merchandise. Proceeds from this event will benefit the Rotary Club of Branchburg

The Italian American Association of Ocean Township Annual Italian Festival
August 11th – 15th, 2021
Joe Palaia Park
corner of Deal and Whalepond Road
Ocean Township, NJ
732-517-1040
Website
This four day Italian Festival annually attracts over 80,000 people with a taste for our traditional foods and wholesome family fun. Celebrating Italian heritage and culture! * * FREE ADMISSION * *
There's something for everyone! From sampling the great taste of Italy's delicious food, rides, games, music, and fireworks display on Friday at 9 pm. This year's festival promises 5 fun filled days of entertainment for the entire family.
St Gregory Carnival
August 16 - 21. 2021
4620 Nottingham Way
Hamilton Square, NJ
609-587-4877
Website
This family fun event features carnival games & rides, food, fun attractions, and fireworks shows on Tueday & Saturday evenings
Jersey Shore Jazz and Blues Festival
Saturday, August 28, 2021 from 3 PM - 9 PM (Rain or Shine)
The Great Lawn on the Long Branch Promenade
Long Branch, NJ
Website
This music festival features a mix of strong national and local musicians performing live Jazz and blues on stage.
Southern Jersey August 2021 Festivals and Themed Events
Tropicana's Weekly "Summer Celebration" fireworks

south of Tropicana Casino and Resort
2831 Boardwalk
Atlantic City, NJ
Every Saturday night in the summer at 10 PM until Labor Day.
Fireworks are shot off on the beach just south of the beachfront in front of the Tropicana.
The show lasts ten minutes.
Website
Wildwoods Friday Night Fireworks on the Beach
Beginning July 7th through September 3rd, 2021: at 10pm
On the Rio Grande Avenue beach
Wildwood, NJ
Website
609.523.1602
Kick off the weekend every Friday on the Wildwoods Boardwalk with Friday night fireworks at 10:00 pm! The fireworks will be launched from the beach on Pine Avenue and visible from anywhere on the Wildwoods Boardwalk! Rain date is Sunday at 10 p.m.
Atlantic County 4-H Fair
August 6 - 7, 2021
Atlantic County 4-H Fairgrounds
3210 Rt. 50
Mays Landing, NJ
Website/Activity Schedule
609-625-0056
Admission is Free, but there is a $4 parking fee.
This event features activities where visitors can see and interact with animals, watch shows, demonstrations, musical acts, and amusement rides. They can take part in Saturday's public events – the Baby Parade, Tractor Pull, and Pet Parade – and each of the three days of Fair talk to members and volunteers.


Craft Beer, Music & Crab Festival
August 14 & 15, 2021
The Physick Estate
1048 Washington Street.
Cape May, NJ
Website
Located on the beautiful grounds of the Emlen Physick Estate for a two-day festival featuring local and regional craft beers to wash down favorite summer food, live music, and kids activities. There wqill be steamed crabs, pulled pork, crab cakes, shrimp and hot dogs, as well as food from regional vendors.
This event is FREE to attend. Varying costs for food, beer, and crafts vendors.
The 2021 Atlantic City Airshow
August 18, 2021
Boardwalk
Atlantic City, NJ
609-345-4524
Website
free event
This event dubbed "A Salute to Those Who Serve," will feature the U.S. Air Force Thunderbirds in their F-16 Fighting Falcons as the headlining act for the 18th annual show. The Air Force is also sending its F-22 Raptor Demonstration Team to show off the awesome power of this fifth generation fighter aircraft. In addition there will be the U.S. Army's Golden Knights parachute team and The Skytypers fly six World War II-era aircraft.
Atlantic City's free beaches and Boardwalk have great views of the Airshow. Ocean-facing hotel rooms and outdoor venues will also have views of the show.
Barefoot Country Music Fest

August 19 - 22, 2021 (rain or shine)
On the beach between the famous Morey's Piers
Wildwood, NJ
Website / Tickets
This is the Northeast's largest outdoor country music festival hosting a unique blend of country music's top artists and up-and-comers on multiple stages including Carrie Underwood, Zac Brown Band, Dan + Shay, Lynyrd Skynyrd, Billy Currington, Jimmie Allen, Jon Pardi, Chris Lane, and 30+ more performers. With the combination of country music and the scenic Wildwood's backdrop, this family-friendly, three-day festival is a summer vacation destination
Cape May Lighthouse Full Moon Climb
Sunday, August 22, 2021
Cape May Point State Park
215 Lighthouse Ave.
Cape May Point, NJ
Website
Admission for night time climbs is $20 for adults and $10 for children (ages 3-12)
Climb the 199 steps to the Watch Gallery at the top of the Cape May Lighthouse, to enjoy the grand vista of the evening sky and the full moon from atop this majestic beacon at nighttime.
PuchiCon AC 2021
August 28-29, 2021
Showboat
Atlantic City, NJ
Website/Tickets
Anime Convention features a video game & comic convention with fun panels, voice actors, well known cosplayers, and performers.
Seafarer's Weekend
Saturday & Sunday, August 28th & 29th 2021; 11:00am-4:00pm
Historic Cold Spring Village
720 US 9
Cape May, NJ
609-898-2300
Website
This event will feature pirates, music, and family fun. The Village buildings will be open, featuring historically clothed interpreters who will demonstrate the trades, crafts, and lifestyles of Early America. Kaptain Kristian and Red will be present to tickle your funny bone.
August 2021  New Jersey Ticketed Events