August Events:
Our Top Picks To Plan Your Day Out in New Jersey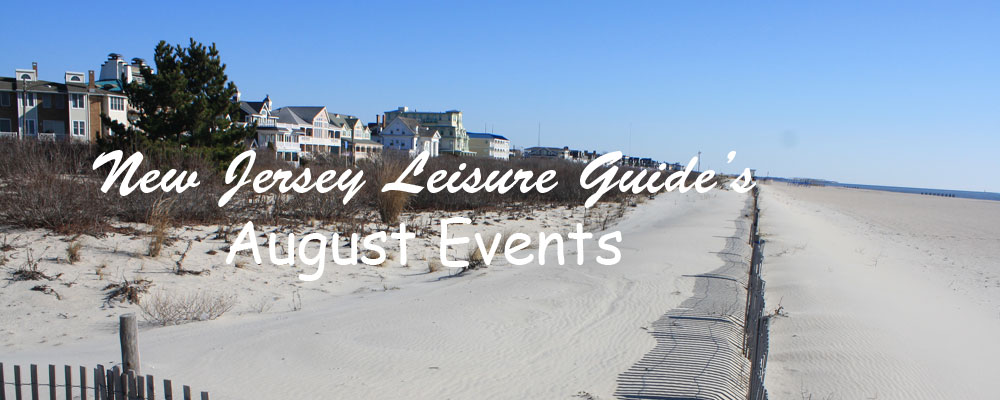 Discover New Jersey's Best August Events: Uncover The Month's Top seasonal attractions, popular events, and hidden gems

The month of August is the peak vacation month of the year with the Jersey Shore beaches, hotels, restaurants, nightlife, festivals, and events in full swing.
---
Note: Sometimes conditions require cancellations or changes of dates, times and location which are not reflected in the original schedule. Before planning a trip to visit one of the listed events, it is suggested that you call the event sponsor to confirm the event schedule or for additional information on the event.

---

Northern Jersey August 2023
Festivals and Themed Events
Warren County Farmers' Fair --- Hot Air Balloon Festival
July 29 - August 5, 2023
Warren County Farmers' Fairgrounds
1350 Strykers Rd.
Phillipsburg, NJ
Website
908-859-6563
[email protected]
Admission - Adults: $10, Ages 6-12: $5, Children 5 and Under Free Free Parking: Admission is for both the Farmers' Fair and the Balloon Festival
In addition to the Hot Air Balloon Festival, this event features Traditional Arts Expo, Kids' Corral, 4-H shows and competitions, more free concerts highlighting local bands, Garden Tractor Pulls, the Rafter Z Rodeo, demolition derb, and rafter z rodeo. A beer garden this year will feature Czig Meister, Invertase and Buttzville Breweries.
The New Jersey State Fair
Friday thru Saturday, August 4 - 12, 2023: Open rain or shine!
Sussex County Fairgrounds
37 Plains Road
Augusta, NJ
(973) 948-5500
Website
Parking is free!
Thias event features carnival rides, live entertainment, family attractions and events, a horse show, monster truck Rrdes, and More!
La Festa Itialiana
August 9-13. 2023; 5pm - 11pm
344 Sixth Street
Jersey City, NJ
201-795-0120
Website
La Festa Italiana celebrates Italian heritage, spirituality and is an evening of music, dance and authentic Italian foods. It's fun filled with games, an hourly 50/50, and terminates with the Super 50/50 raffle drawing. The festival will honor the Veneration of Our Lady of the Assumption and Saint Rocco. Each night Live Bands perform on the Mainstage. Perfect for grabbing a Sausage & Pepper Sandwich and a Beer and watching these great performances.
Passaic County Fair
August 10th-13th, 2023
Garret Mountain Reservation
8 Mountain Avenue
Woodland Park, NJ
Website
Cost: Entrance to the fair is free, parking at the Passaic County Fair is $5.00 per car.
This year's fair will feature four days of unique activities for all to enjoy from games and rides to art activities and environmental excursions. In addition, there will be pony rides, bounce houses for the kids, and more. The four-day celebration will also feature three fireworks displays on Thursday, Friday and Saturday. The County Fair stage will feature an array of local musicians. Live music will be complimented with a beer garden and some of the best food from around Passaic County.
Canal Day Festival
Saturday, August 19, 2023 (Rain or Shine)
Hugh Force Canal Park
180 West Central Ave.
Wharton, NJ
Admission is Free
An old time country fair that celebrates the Morris Canal and its contributions to the development of the communities along its banks. Come to a day of free family fun featuring a craft show, great food, educational events and enjoy a day of listening to a wide variety of musical entertainers. Musical performances from New Jersey's best artists will feature Rock, Blues, Country, Classical as well as traditional and contemporary Irish Folk Music. performing on two stages. Learn about local history by taking a guided Morris Canal walking tour provided by the Canal Society of NJ. Experience life on the Morris Canal first hand by traveling down the canal on a free boat ride or prove your prowess by paddling a kayak. Fireworks at dusk.

Fiesta In America
Saturday, August 19, 2023 @ 10:00am - 7:30pm
Court A of American Dream Mall
1 American Dream Way
East Rutherford, NJ
Website
Free admission. Open to the public
The largest Philipine indoor event on the east coast. This event features free daylong events of Latino concerts, entertainment, multi-cultural dancers, philipine food and products.
The 8 hour program will also include arnis demenstrations (Filipino Martial Arts), coloful ethnic dances, and glimpses of Phillippine village life.

Long Valley Fireworks Festival
August 26, 2023; 5pm - 9pm
Long Valley Middle School
51 West Mill Road
Long Valley, NJ
Facebook page
Cost: $10/car donation
The festival fun kicks off with live music, food trucks, a beer garden, and Green Festival.The grand finale is the fireworks at dusk.





Central Jersey August 2023
Festivals and Themed Events
Argos Farm Sunflower Festival
August 4 - 20, 2023; 3pm - 8pm
Argos Farm
1250 Lacey Road
Forked River, NJ
Website/Tickets
609 - 693 - 3513
This annual Sunflower Festival features live music, delicious blueberry treats, Summer photo ops, and of more!
Admission Ticket Includes: LIVE MUSIC entry into activity area with unlimited access- Double Hay Slide, Bee Zip Line, Jumbo Jumper Air Pillow, Gauntlet Obstacle Course, Cow Train Rides, Peddle Carts, Ball Zone, Wall Ball, Checkers, Corn Hole, Tractor Slide, Big Chair, and Photo Ops.
Highlands Annual Clam Festival
August 4, 5, 2023; Friday,6:00 - 11:00PM, Saturday, 12-11PM. (rain or shine)
Huddy Park
Bay & Waterwitch Avenues
Highlands, NJ
Website
732-291-4713آ
Admission and parking are free. rain or shine.
This two-day festival will feature seafood and other dishes from local restaurants, live entertainment, a Beer, Wine, and Sangria Garden. Portions of Waterwitch and Bay Avenues closed to street traffic to accommodate rides, games, children's activities, specialty vendors and food trucks.
There will be live entertainment by the Sensational Soul Cruisers with a Fireworks Display on Saturday at 10PM at Snug Harbor Beach.
Butterfly Festival

Saturday, August 5, 2023; 10AM - 5PM
Stony Brook-Millstone Watershed Association
31 Titus Mill Road
Pennington NJ 08534
Website
Price: $10 per person or $25 per carload (up to six people)
Many of our treasured activities and events are in the offing! We will have our Insect Zoo, Butterfly and Bug Parade, and tours of the Kate Gorrie Butterfly House. There will be food trucks, live entertainment, live music, kids' games & crafts, and many vendors. Our Nature Shop will be stocked with everything your little butterfly or bug may need.
Proceeds from this event help sustain our work in environmental conservation, advocacy, science, and education. The Watershed Institute is a member-supported non-profit dedicated to protecting and restoring clean water and healthy environments in central New Jersey.
Just Peachy Festival
August 5, 6, 2023: 10am-5pm
Terhune Orchards
330 Cold Soil Road
Princeton, NJ
609.924.2310
Website/Tickets
General Admission $15 In Advance ($18 Day Of). (children under 3 are free). Admission fee includes pedal tractors, barnyard of animals, music, play tractors, and children's games. (Additional activities available for additional cost.
This family event features a fun day at the farm with pony rides, games, barnyard tractors, and other interactive, hands-on fun including a scavenger hunt. Barn Door Cafe will be scooping up freshly made local peach ice cream!
Wine tasting: Adults can enjoy the taste of summer in a glass with their award-winning Just Peachy wine.
Outlaw Music Festival: Willie Nelson & Family Sunday August 6, 2023 PNC Bank Arts Center, Holmdel, NJ - Ticketmaster
Country music legend Willie Nelson will head on the road again with the Outlaw Music Festival Tour. The new tour is in celebration of Nelson's 90th birthday year and considered one of his largest-ever Outlaw Tours to date. Some of the artists joining Willie Nelson & Family include Robert Plant & Alison Krauss, The Avett Brothers, John Fogerty, Nathaniel Rateliff & The Night Sweats and more.
Luau Food Truck Festival at Laurita Winery
August 5, 6, 2023
Laurita Winery
19/85 Archertown Road
New Egypt NJ 08533
Website/Tickets
Cost: Tickets online in advance $13. Tickets at gate $15. Everyone UNDER 21 is FREE!
This family fun filled day of relaxing takes place on the grounds of Laurita Winery ق│╜ a great place to enjoy outstanding wines with friends and family. Pair their delicious wines with the many delicious food offerings available from onsite food trucks. Wine and dine while listening to top live musical artists. A gift from us! Each visitor will be given a unique souvenir Laurita wine glass.
Other treats include: There will be Hawaiian DJ segments between each live show, with fantastic fireworks (Saturday evening) and access to many unique and popular food trucks.

Middlesex County Fair
Monday, August 7 thru Sunday, August 13, 2023
County Fairgrounds
655آCranbury Road
East Brunswick, NJ
Website/Tickets --- Tickets will be available on line and at the gate.
Free Parking
This annual event promises to be a week full of fun with live entertainment, carnival rides, local fair vendors, a variety of homemade, beginning with Fireworks on opening night August 7th, and on closing night on August 13th. There will be a live band every night.

The Italian American Association of Ocean Township Annual Italian Festival
August 9th - 13th, 2023
Joe Palaia Park
corner of Deal and Whalepond Road
Oakhurst, NJ
908-902-8512
Website
Free admission
This four day Italian Festival annually attracts over 80,000 people with a taste for our traditional foods and wholesome family fun. Celebrating Italian heritage and culture!
There's something for everyone! From sampling the great taste of Italy's delicious food, rides, games, music, Galbani Live Cooking Seminar, fireworks on Friday evening, and more.

Day Out With Thomas
August 11, 12,13, 2023
Delaware River Railroad Excursions
100 Elizabeth St
Phillipsburg, NJ
Website/Tickets
Cost: $22 (all ages)
This is a family event that offers children and their grownups the opportunity to ride with classic storybook friend Thomas the Tank Engine . Parents, grandparents and siblings join their aspiring engineers in the fun. The Day Out With Thomas experience will engineer miles of smiles for the whole family and introduce a new generation to the timeless excitement of railroading. The train pulled by Thomas leaves every hour on the hour, 10 am to 5 pm. You may also ride the River Train along the scenic Delaware River to Carperntersville, New Jersey ( an hour and fifteen minute round trip). For an added adventure take the River Train to the Susquehanna Mine, learn the History and learn how to pan for Gem Stones that you can take home! The trips pulled by Thomas take you along the beautiful Delaware River to North Carpentersville New Jersey, a 25 minute ride. The River Train follows the same route journeying further along the river to Edingers with a brief stop at the "Old Susquehanna" gem stone mine. At the mine you may get off , visit the mine and learn how to pan for gems.

Flemington's Corn, Tomato and Beer Festival
Saturday, August 12, 2023; 12:00 pm to 8:00 pm
Stangl Road
Flemington, NJ
Website
Cost: Free to Attend - Free Parking
Held in Flemington's Artisan District, this foodie and beer-lovers event will feature an expansive micro-brewery beer garden, live music, great food, and family entertainment --- and of course, New Jersey's finest corn and tomatoes!
Flemington restaurants will celebrate the local harvest and gear up for the festival by featuring creative corn and tomato dishes for our Corn, Tomato, and Beer.
This is a family friendly event for all ages with an expanded kids zone and free entertainment.

New Brunswick Heart Festival
August 12, 2023: 3pm - 6pm
Downtown New Brunswick in front of the theaters at Monument Square
at 2 Livingston Ave.
New Brunswick, NJ
Website
Admission: Free
This outdoor family-friendly festival celebrates all of the vibrant arts and history that New Brunswick and the County of Middlesex has to offer.
The festival features live music and dance performances, dance classes for kids and adults, an Arts Market, craft vendors, free balloon animals and face painting, a health & wellness tent, a history corner featuring historical interpreters, arts & crafts activities, games, free Henna and caricatures, giveaways, and more.
The featured performer will be award-winning, multicultural family music band, Hot Peas 'n Butter!

Light the Bay
Thursday, August 17th, 2023; 6pm - 9pm (rain date August 31st)
Keyport Waterfront Park
American Legion Drive
Keyport, NJ
Website
Cost: Free
Come in color and your 90s attire to party with Nine Deeez Nite all night starting at 6PM in the Gazebo. Bring your chairs, blankets, flashlights and more as we party on the grass around the Gazebo in Keyport Waterfront Park. There will be Mini Cruises on the lit-up Keyport Princess around Keyport Harbor including the Light the Bay extravaganza at the Keyport Yacht Club.
$10 tickets for the Mini Cruise purchased directly the night of the event at the Keyport Princess dock.
Keyport's favorite Giant Great White "Sharky" will be doing photo opts accompanied by a visit from Baby Shark & his family from 6PM-9PM.

Hi-Tide Summer Holiday: Asbury Park
August 18, 19, 20, 2023
Asbury Lanes & The Asbury Hotel
Asbury Park, NJ
Website (Line-up & tickets)
Attendees get to enjoy a weekend of Surf Music, Tiki Cocktails, Pool Parties, Record Hops,Seminars & more.
This years line-up features: The Ventures, The 5.6.7.8s, Messer Chups, The Surfrajettes, Los Tiki Phantoms, Televisionaries & Les

Edison's Food Wine & Beer Festival
Saturday, August 19, 2023; 4 PM - 10 PM
926 Amboy Avenue (under the Tent)
Edison, NJ
Website
[email protected]
732-738-9482
Cost: $5, Kids under 10 are Free
This annual family event features Wine & Craft Brewers including Edison's Cypress Brewery, face painting and activities for the kids, live entertainment, local vendors, artists, and more. Greene, Super Joe, Ichi-Bons Slowey and The Boats.

Eric Church: The Outsiders Revival Tour Friday August 25, 2023 PNC Bank Arts Center, Holmdel, NJ - Ticketmaster
It's a rite of passage for any music fan, seeing "The Chief" live in concert. Known for his marathon sets, the 2022 Billboard Music Awards' Top Country Tour honoree Eric Church brings his critically acclaimed live show to new audiences in new ways this year.
Long Branch Jazz and Blues Festival
Saturday, August 26, 2023; from 1 PM - 9:30 PM (Rain or Shine)
The Great Lawn on the Long Branch Promenade
Boardwalk at 10 Ocean Blvd
Long Branch, NJ
Website/Line-up
This music festival features a mix of strong national and local musicians performing live Jazz and blues on stage.





Southern Jersey August 2023
Festivals and Themed Events
Cape May Lighthouse Full Moon Climb
August 1 & 30: 8-10PM
Cape May Point State Park
215 Lighthouse Ave.
Cape May Point, NJ
Website
Purchase tickets from the Lighthouse Keeper the evening of the event.
Climb the 199 steps to the Watch Gallery at the top of the Cape May Lighthouse, to enjoy the grand vista of the evening sky and the full moon from atop this majestic beacon at nighttime.

Wednesday Night Concert Series at Cape May Ferry Park
1200 Lincoln Boulevard
North Cape May, NJ
609-551-4209
Website
Every Wednesday night in August, 2023: 5:30pm - 8:30pm
Performers schedule
BYOC - Bring Your Own Chair/Blanket to sit on. This is an open field so remember sunscreen and a hat!
Manahopkin Craft Beer & Music Festival
Saturday, August 5, 2023; noon to 4 p.m, and 5 to 9 p.m
Manahawkin Lake Park
Route 9 and North Lakeshore Road
Manahawkin section
of Stafford, NJ; manahopkin.com.
Website/Tickets
Two tasting sessions: 12:00pm-4:00pm and 5:00pm-9:00pm.
Tickets cost $30 for attendees who will be sampling beer; admission is free for those who will not be drinking. Food prices will vary by vendor.
This event features beers from local breweries, food trucks, live music, craft vendors and activities for children.
Wildwoods Boardwalk Friday Night Fireworks
Every Friday in August, 2023: (Rain Date is Sunday at 10 pm.)
on the Wildwoods Boardwalk
Pine Ave,
Wildwood, NJ
Website
(609) 523-1602
The fireworks will be launched from the beach on Pine Avenue and visible from anywhere on the Wildwoods Boardwalk. Enjoy a nighttime display of fireworks exploding to a musical score that is played all along the Boardwalk and is simulcast on 98.7 The Coast.
Tropicana's Free Fireworks Series
Tropicana Atlantic City lights up the sky every Saturday in August, 2023.
Tropicana Casino & Resort
2831 Boardwalk
Atlantic City, NJ
Website

609-340-4000
Free Event
Fireworks are launched from the beachfront and can be viewed all along the beaches or boardwalk of Atlantic City.
Salem County Fair
August 8 - 11, 2023
Salem County Fairgrounds
735 Rt. 40
Woodstown, NJ
856-769-3494
Website
No Admission Fee! Parking Fee - $10.00 per vehicle for all 4 days
This "old Fashioned" country fair with features livestock shows and events and a large farm machinery display. A BBQ dinner is offered nightly along with many other food vendors. There are tractor and truck pulls, a ranch sorting, and Thursday evening fireworks.
Atlantic County 4-H Fair
August 11, 12, 2023
Atlantic County 4-H Fairgrounds
3210 Rt. 50
Mays Landing, NJ
609-625-0056
Website
This fun family event features rides, animals, horse shows, exhibits, demonstrations, entertainment, antique engines, car show, food, and much more!
Festival Playero
Friday, Saturday, August 11, 12, 2023: Rain or Shine
On the Beach
Between Morey's & Adventure Pier (W. Spencer & Spicer Ave
Wildwood, NJ
Website/Tickets
Cost: $60-$120
This event is Wildwood's biggest Latin Music Festival.
It features a concert on the beach with performances by headliners Brenda K. Starr, Raul Acosta, and salsa orchestra band El Gran Combo de Puerto Rico. The event will also include Latin food and a cash bar for purchasing beer and wine. The celebration starts with a kick-off party on August 11 with live music, appetizers, cash bar, and fireworks.
New Jersey Fringe Festival
August 18 - 20, 2023
Eagle Theatre
208 Vine Street
Hammonton, NJ
Tickets
Cost: All Access Weekend Pass $39. Day Pass $24. Individual performances $15.00
This festival features 3-days of live theater performance, music, art vendors, food, craft brews and wine, plus outdoor yoga for the whole family.
Talented artists and performers from all over come to showcase their work in multiple hand-picked venues throughout the downtown area. As you explore the festival, you'll discover art around every corner and shows for every taste. Between performances, head over to "The Hub" and indulge in the Beer and Wine Garden, delicious foods from the food trucks, dance to the music of live bands.آ
Nerd Fest
Sunday, August 27th, 2023; 10am to 4pm
1 Pureland Drive
Swedesboro, NJ
Tickets
Cost: Admission is $10 Kids 12 and under are FREE with a paying adult
This event features special guests, artists, cosplay, writers/creators, vendors, and gaming for all ages.There will be gaming with video games for attendees to enjoy and cosplay groups for some great photo opportunities. In addition there will be a professional photographer on hand for cosplayers wishing to have photo's taken and families as well for memories of the Fest. There will be a cosplay contest at 3pm so come on out dressed as your favorite super hero, villain, or comic character! آWe'll have some super prizes for the winners. آThere is an Adult division and Kids.

Tidalwave Music Festival
August 11, 12, 13, 2023
on the Atlantic City Beach
One Atlantic Ocean
Atlantic City, NJ
Web page/Tickets
This event features 3 days, 2 stages & over 30 artists with headliners THOMAS RHETT, COLE SWINDELL, JO DEE MESSINA, NATE SMITH, CHASE MCDANIEL, many more this summer on the Atlantic City Beach!
Wildwood Tattoo Beach Bash

August 11, 12, 13, 2023
Wildwoods Convention Center
4501 Boardwalk
Wildwood, NJ
609-972-6671
Website/Tickets
Cost: $20 Day / $40 3-Day Pass
This event features Special guest artists, Vendors, Entertainment, Seminars, Miss Salt Water Sweetie pin-up contest, and more. Retro attire encouraged.
Atlantic City Airshow
(Practice Day) Tuesday, August 15, 2023
(Show Day) Wednesday, August 16, 2023; Start Time: 11 AM
Boardwalk
Atlantic City, NJ
609-345-4524
Website
Free event
This year the Air Force wil be sending their Full Throttle Formation Team, The Thunderbirds. In addition there will be the U.S. Army's Golden Knights parachute team and other airshow performers.
Atlantic City's free beaches and Boardwalk have great views of the Airshow. Ocean-facing hotel rooms and outdoor venues will also have views of the show.
Our Lady Star of the East 11th Annual Lebanese Festival
August 18 - 20, 2023
25 W Black Horse Pike
Pike Pleasantville, NJ
Website
This festival features a celebration of the diverse aspects of Lebanon's rich cultural heritage through food, music, raffles, and games. Immerse yourself in the rich tapestry of Lebanese culture as you indulge in delectable culinary delights, sway to the rhythmic beats of traditional music, and marvel at the mesmerizing performances. Experience the warmth and hospitality of Lebanon's vibrant community, where every moment is filled with joy and celebration. Join in for a memorable gathering of Music, Dance, and Culinary Treasures. Yalla 3l Dabke !!
Collingswood Crafts and Fine Art Festival
Saturday, Sunday, August 19, 20, 2023
Haddon Avenue
Collingswood, NJ
Website
This event features 150+ juried craft and fine artists. Expect to see handcrafted pottery, blown and stained glass, fine and fashion jewelry, leather, wooden utensils and furniture, unique clothing, garden embellishments, handsome home decor, paintings, photographs, pet specialties, gourmet delights, candles, soaps, scents, the Emerging Artist Alley with live musicians playing throughout the Festival, Family Fun Art Activities, and much more.
Seafarer's Weekend
Saturday & Sunday, August 19th & 20th 2023; 11:00am-4:00pm
Historic Cold Spring Village
720 US 9
Cape May, NJ
609-898-2300
Website
This event will feature pirates, music, and family fun. The Village buildings will be open, featuring historically clothed interpreters who will demonstrate the trades, crafts, and lifestyles of Early America. Kaptain KristianآandآRedآwill be present to tickle your funny bone.
Burlington County Restaurant Week
Sunday, August 20 to Saturday, August 26, 2023
More than 50 restaurants will be participating all over the region, from Bordentown to Medford.
For Information and participating restaurants.

Free Concerts at Gardner's Basin, Atlantic City
Offers two concerts on August 22nd and 29th, 2023
Historic Gardner's Basin
800 New Hampshire Ave.
Atlantic City, NJ
Website/performers
The free concerts feature an all-star lineup of some of the most soulful entertainers of the 70's and 80's. The festivities include local food and merchandise vendors and will be hosted by Maurice "The Voice" Watts and Bowlegged Lou.
Bring your lawn chairs, umbrellas & coolers.






Upcoming New Jersey Ticketed Events