2018 August Events: New Jersey
Concerts, Festivals, Sports, and More

Schedule and Tickets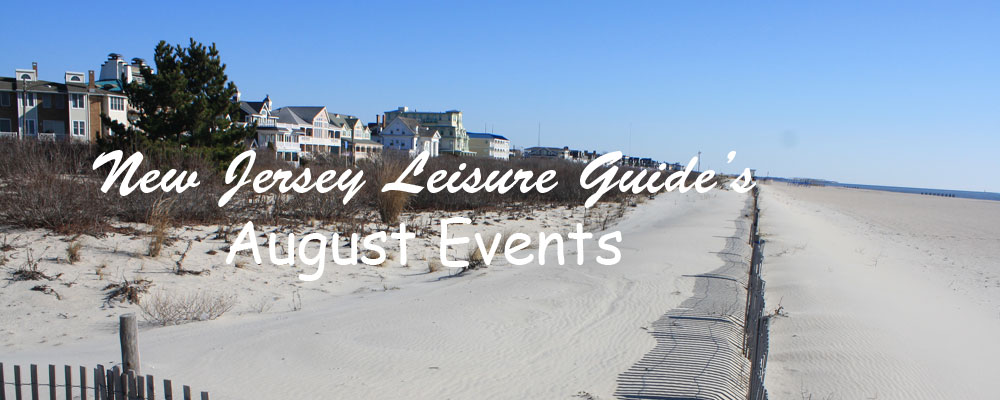 The month of August is the peak vacation month of the year with the Jersey Shore beaches, hotels, restaurants, nightlife, festivals, and events in full swing.
Note:  Sometimes conditions require cancellations or changes of dates, times and location which are not reflected in the original schedule. Before planning a trip to visit one of the listed events, it is suggested that you call the event sponsor to confirm the event schedule or for additional information on the event.

August 2018 Concerts, Performing Arts, Theatre, Comedy, etc.
Bush, STP & The Cult

Wed Aug 1, 2017; 6:30PM
Mark G. Etess Arena at Hard Rock Hotel & Casino
Atlantic City, NJ
Tickets


Chicago & REO Speedwagon

Wed Aug 1, 2018; 7:30PM
BB&T Pavilion
Camden, NJ
Tickets
Smashing Pumpkins
Thu Aug 2, 2018: 7:00PM
PNC Bank Arts Center
Holmdel, NJ
Tickets
On The Run II: Beyonce & Jay-Z
Thu Aug 2, 3, 2018; 7:30PM
MetLife Stadium
East Rutherford, NJ
Tickets
Greg Hahn
Thu Aug 2, 2018: 8:00PM
The Theater at Hard Rock Hotel & Casino
Atlantic City, NJ
Tickets
Keith Urban & Kelsea Ballerini
Fri Aug 3, 2018; 7:30PM
BB&T Pavilion
Camden, NJ
Tickets

Wiz Khalifa & Rae Sremmurd

Sat Aug 4, 2018' 6:00PM
PNC Bank Arts Center
Holmdel, NJ
Tickets


Jeff Beck, Paul Rodgers & Ann Wilson

Sat Aug 4, 2018; 7:00PM
BB&T Pavilion
Camden, NJ
Tickets


Rod Stewart & Cyndi Lauper

Sat Aug 4, 2018; 7:30PM
Boardwalk Hall Arena
Atlantic City, NJ
Tickets


Todd Rundgren's Utopia

Sat Aug 4, 2018; 9:00PM
Golden Nugget
Atlantic City, NJ
Tickets


Rise Against, AFI & Anti-Flag

Sun Aug 5, 2018: 5:00PM
Stone Pony Summer Stage
Asbury Park, NJ
Tickets


Dion

Event Date Sun Aug 5, 2018; 6:30PM
Paramount Theatre at Asbury Park Convention Hall
Asbury Park, NJ
Tickets


Phish

Tue Aug 7, 8, 2018
BB&T Pavilion
Camden, NJ
Tickets


Lauryn Hill

Wed Aug 8, 2018; 7:00PM
PNC Bank Arts Center
Holmdel, NJ
Tickets


Lyle Lovett and His Large Band

Wed Aug 8, 2018; 8:00PM
Paramount Theatre at Asbury Park Convention Hall,
Asbury Park, NJ
Tickets


Rob Zombie & Marilyn Manson

Thu Aug 9, 2018; 7:00PM
BB&T Pavilion
Camden, NJ
Tickets

Lindsey Stirling & Evanescence
Fri Aug 10, 2018; 7:00PM
PNC Bank Arts Center
Holmdel, NJ
Tickets

Counting Crows & Live - Band
Sat Aug 11, 2018; 6:30PM
BB&T Pavilion
Camden, NJ
Tickets

3 Doors Down & Collective Soul
Sat Aug 11, 2018; 7:00PM
PNC Bank Arts Center
Holmdel, NJ
Tickets

Jeff Beck, Paul Rodgers & Ann Wilson
Sun Aug 12, 2018; 7:00PM
PNC Bank Arts Center
Holmdel, NJ
Tickets

Pentatonix
Tue Aug 14, 2018; 8:00PM
BB&T Pavilion
Camden, NJ
Tickets

Five Finger Death Punch, Breaking Benjamin, Nothing More & Bad Wolves
Wed Aug 15, 2018; 6:00PM
BB&T Pavilion
Camden, NJ
Tickets

Cher
Aug 17, 18, 2018; 8:00PM
Borgata Events Center
Atlantic City, NJ
Tickets

Kenny Chesney, Thomas Rhett, Old Dominion & Brandon Lay
Sat Aug 18, 2018; 5:00PM
MetLife Stadium
East Rutherford, NJ
Tickets

Miranda Lambert & Little Big Town
Sat Aug 18, 2018; 7:00PM
BB&T Pavilion
Camden, NJ
Tickets

The Platters & The Drifters
Sat Aug 18, 2018; 9:00PM
Golden Nugget
Atlantic City, NJ
Tickets

Bad Bunny
Sat Aug 18, 2018; 8:00PM
Prudential Center
Newark, NJ
Tickets

Blake Shelton
Sat Aug 18, 2018; 8:00PM
Mark G. Etess Arena at Hard Rock Hotel & Casino
Atlantic City, NJ
Tickets

3 Doors Down & Collective Soul
Sun Aug 19, 2018; 8:00PM
Borgata Events Center
Atlantic City, NJ
Tickets

Bob Zany
Aug 21, 22, 20188:00PM
The Theater at Hard Rock Hotel & Casino
Atlantic City, NJ
Tickets

Vincent Talarico
Wed Aug 22, 2018; 3:30PM
Resorts Atlantic City - Superstar Theater
Atlantic City, NJ
Tickets

Counting Crows
Thu Aug 23, 2018; 8:00PM
Mark G. Etess Arena at Hard Rock Hotel & Casino
Atlantic City, NJ
Tickets

Alejandro Fernandez & Los Tigres Del Norte
Thu Aug 23, 2018; 8:00PM
Prudential Center
Newark, NJ
Tickets

I Love The 90s: Salt N Pepa, Coolio, Biz Markie, Rob Base & 2 Live Crew
Fri Aug 24, 2018; 7:30PM
BB&T Pavilion
Camden, NJ
Tickets

Jason Aldean, Luke Combs & Lauren Alaina
Sat Aug 25, 2018; 7:30PM
BB&T Pavilion
Camden, NJ
Tickets

Five Finger Death Punch, Breaking Benjamin, Nothing More & Bad Wolves
Sat Aug 25, 2018; 6:00PM
PNC Bank Arts Center
Holmdel, NJ
Tickets

Stevie Wonder
Aug 25, 26, 2018; 8:00PM
Borgata Events Center
Atlantic City, NJ
Tickets

Nick Cannon's Wild 'N Out Live
Sat Aug 25, 2018; 8:00PM
Prudential Center
Newark, NJ
Tickets

Shinedown & Godsmack
Sun Aug 26, 2018; 7:00PM
BB&T Pavilion
Camden, NJ
Tickets

Toby Keith Mark
Sun Aug 26, 2018; 8:00PM
G. Etess Arena at Hard Rock Hotel & Casino
Atlantic City, NJ
Tickets

A Midsummer's Night Dream Ballet Live On Stage
August 29, 2018; 8:00 PM
Axelrod Performing Arts Center
100 Grant Ave
Deal, NJ 07723
Tickets


Brad Paisley, Dan Tyminski & Kane Brown
Thu Aug 30, 201`8; 7:30PM
PNC Bank Arts Center
Holmdel, NJ
Tickets




August 2018 Festivals and Themed Events
Cape May Craft Beer & Crab Festival
Saturday, August 4, 2018: 11am-6pm (Food served 11am-6pm)
The Emlen Physick Estate
1048 Washington St.
Cape May, NJ
Facebook page
609-884-5404
This family event features live entertainment, some favorite NJ summer foods, local craft beers, and some fun for the kids. All-day music on outdoor stage. An old-fashioned Victorian circus with jugglers and acrobats from the The Give & Take Jugglers Little Circus Crafts and collectibles show Craft beers and other spirits Admission to the grounds is free. There will be a charge for food, beverages and some activities. Commemorative T-shirts will be available.

Corn, Tomato and Beer Festival
Saturday, August 4, 2018; from 12 noon to 8pm (rain date August 5th)
Stangl Road
Flemington, NJ
Website
Cost: Free to Attend
Held in Flemington's Artisan District, this foodie and beer-lovers event will feature an expansive micro-brewery beer garden, live music, great food, and family entertainment --- and of course, New Jersey's finest corn and tomatoes! This is a family friendly event for all ages with an expanded kids zone and free entertainment.

Asbury Park Surf Music Festival
Saturday, August 18, 2018, @ 12:00pm ( Rain or Shine, moves inside of Convention Hall in the event of inclement weather)
The Anchor's Bend & Grand Arcade at Convention Hall
Asbury Park, NJ
Website (Line-up & tickets)
Attendees get to enjoy live surf music, Tiki drinks, classic cars, and food vendors with ocean views. This years lineup includes Satan's Pilgrims, The Madeira Surfer Joe (IT), The Volcanics, Frankie & The Pool Boys, Black Flamingos, Les Agamemnonz , (FR) The Men In Gray Suits (CA, Great White Caps. and host Professor Ouch & DJ Suffering Bastard

Canal Day Festival
August 18, 2018 (Rain or Shine)
Hugh Force Canal Park
170 West Central Ave.
Wharton, NJ
Website
Admission is Free
An old time country fair that celebrates the Morris Canal and its contributions to the development of the communities along its banks. Come to a day of free family fun featuring a craft show, great food, educational events and enjoy a day of listening to a wide variety of musical entertainers. Musical performances from New Jersey's best artists will feature Rock, Blues, Country, Classical as well as traditional and contemporary Irish Folk Music. performing on two stages. Fireworks festivities & display at Robert Street Park beginning at 7:00 PM.

One Love: Caribbean Music Festival
Saturday, August 18, 2018: 1:00 PM to 9:00 PM
Military Park
51 Park Place
Newark, NJ 07102
Website/Tickets
Event Cost: Free - $40
This annual music festival aims to promote the Caribbean Culture in New Jersey. Caribbean culture with unique heritage together with music, dance, food, carnival costumes and activities. Usually celebrated in August to raise awareness about Black Business Month. The fest aims to tie up closely with Non-Profit Organizations and small businesses that share the same goals and interests.
Festival will have 3 stages with the following names and genres playing on each: Bless Up Stage - Reggae/Dancehall To Mi Heart Stage-- Soca /Calypso/Afrobeats Wavy Stage - Hip-Hop & R&B.
Additionally there will be 50+ vendors selling food, beverages, or arts/crafts/Caribbean merchandise at their booths/tents.


Asbury Park Surf Music Festival
Saturday, August 18, 2018, @ 12:00pm ( Rain or Shine, moves inside of Convention Hall in the event of inclement weather)
The Anchor's Bend & Grand Arcade at Convention Hall
Asbury Park, NJ
Website (Line-up & tickets)
Attendees get to enjoy live surf music, Tiki drinks, classic cars, and food vendors with ocean views. This years lineup includes Satan's Pilgrims, The Madeira Surfer Joe (IT), The Volcanics, Frankie & The Pool Boys, Black Flamingos, Les Agamemnonz , (FR) The Men In Gray Suits (CA, Great White Caps. and host Professor Ouch & DJ Suffering Bastard


August 2018 Sports and Expositions

New York Red Bulls vs. Los Angeles FC
Sun Aug 5, 2018; 6:00PM
Red Bull Arena
Harrison, NJ
Tickets

ICC - International Champions Cup: Real Madrid CF vs. AS Roma
Tue Aug 7, 2018; 8:05PM
MetLife Stadium
East Rutherford, NJ
Tickets

NFL Preseason: New York Jets vs. New York Giants
Fri Aug 24, 2018; 7:30PM
MetLife Stadium
East Rutherford, NJ
Tickets




---