ATV Trails and Parks in New Jersey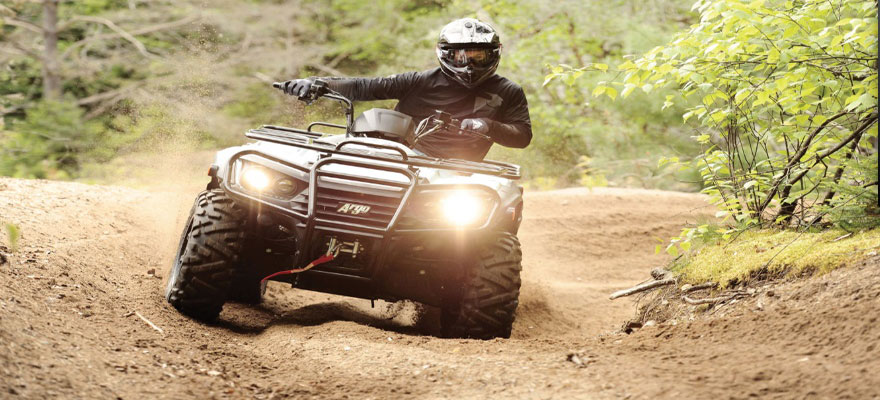 Photo Courtesy ARGO USA

Your Guide To ATV Trails, Parks, Clubs, and New Jersey ATV Use Restrictions

Public ATV trails are currently limited with most New Jersey ATV being privately managed parks that offer programs and events for ATV riders, some requiring membership.

These privately run and licensed parks have programs for training and the safe use of ATVs. Parents are urged to provide their children who are beginning ATV riders with instruction and training even though they do not need to legally possess a license to operate an ATV.

ATV riding is popular in New Jersey with many ATV riders finding their way to an illegal "undocumented off road riding trail".

This comes as a result of a large underground network of ATV riders that have identified Illegal "undocumented off road riding trails" and share this information informally among communities of ATV riders.

Most of these trails are on private property and riders are advised to inquire and ask permission before using them. Use of "undocumented" trails without permission is done at your own risk. Some of the risks include injuries from private property owners stringing wire across their property, injuries from un-groomed trails, and the risk of having local police issue tickets.

In New Jersey ATVs and motorcycles under 90 ccs are considered "non-conventional" vehicles and are required to be registered, though a title is not issued. The registration process is similar to registering a car or motorcycle. When you register a new or used ATV with the DMV, it becomes street-legal and insurance is required. You are advised to check with local DMV or insurance agent for insurance requirements for street legal ATVs.
Note: Sometimes conditions require cancellations or changes of dates, times and location which are not reflected in the original schedule. Before planning a trip to visit one of the listed venues, it is suggested that you call the sponsor to confirm availability or for additional information.

New Jersey ATV Trails, Parks, and Clubs

Mount Pleasant OHV Park
2651 Petersburg Road
Woodbine, NJ
Website
Open Saturdays & Sundays (weather permitting)
Free Admission
The terrain and course at this park is ideal for beginner and intermediate-level off road vehicle users.
Operated by the State of New Jersey, ATV's, dirt bikes, and snowmobiles are permitted.
The park features a motorcross track bordered by pine trees with wooded trails and play pits
Validation of identification and current registration issued by the Motor Vehicle Commission in addition to proof of insurance is required. Non-residents must comply with registration and licensing laws of their state or county of residence and conspicuously display the number issued by the state or county of residence.
New Jersey Motocross Park Field of Dreams
1951 Buckshutem Road
Millville, NJ
856-765-3799
Website
Open five days/week: Wednesday-Friday from Noon-Dusk; Saturday-Sunday....9:30 AM - 5 PM
This is a privately owned, members only, commercial venue for MX and ATV riders, from pee wees to veteran riders.
They offer a variety of tracks including;
3.5 Miles of trails in our woods, with multiple trail links that add up to 25 minutes of riding enjoyment. They also offer a separate Mini trail track for beginning riders. These trails are perfect for woods riders, ATVs, and Side-by-Sides! There is a seperate Pee Wee trail track for beginning riders 
ATV rentals are also available
Ready To Ride
2594 Tilten Rd.
Egg Harbor Township, NJ 08234
609-645-8413
Website
Sponsored by the Egg Harbor Township Police Athletic League, this is a family oriented ATV, dirt bike and go-kart club. The 30 acre riding area is open daily from 10 am to 6 p.m.
They feature a half mile long beginners loop for parent viewing, a 3 mile intermediate skill level loop, and a 2 mile long experienced riders loop, and a go-kart and moto-cross track.
Membership is required and open to riders 6 years and older. All riders must provide their own ATV's.. The club provides safety training and environmental education to all of its members.
LBI ATV Riding Club

Website

609-848-2881
They are an exclusive ATV riding club at The Jersey Shore, a few miles inland of Long Beach Island NJ. They are close to New York, Philadelphia and Atlantic City.
Their ATV's are registeedr, insured and plated. They mainly ride on their own properties as well as friends and other club members properties. Riding locations vary daily
The rides are chaperoned/ (tour leader) with a member or two to ensure you have a great time, as well as staying on the trails and away from areas you should not be in
They have 10 plus miles of different terrain trails which includes atv race tracks plus whoops, also jumps, sand pits, craters, walls, hills, straight aways etc.
Note: 90% of their guests have never riden an ATV before. 70% are female. The oldest rider to date was 73.
NJATV Rentals
Raceway Park
230 Pension Road
Englishtown, NJ
Website
They offer ATV tours to riders ages 8 and up. Their ATV's are of the latest models and are very easy to control with a simple: Forward, Neutral, and Reverse gearing. Once in gear, a simple push of the thumb throttle will propel you for the thrill you have been waiting for!
Regardless of whether you have experience or not, their team and educated staff will assist you with learning the fundamentals and proper control to ensure having the utmost of fun in a safe environment. If you can drive a car or ride a bike, they can teach you to ride an ATV!
They also offer ATV birthday parties, bachelor parties, corporate events, team building events, and more.