Atlantic City, New Jersey - A Visitors Guide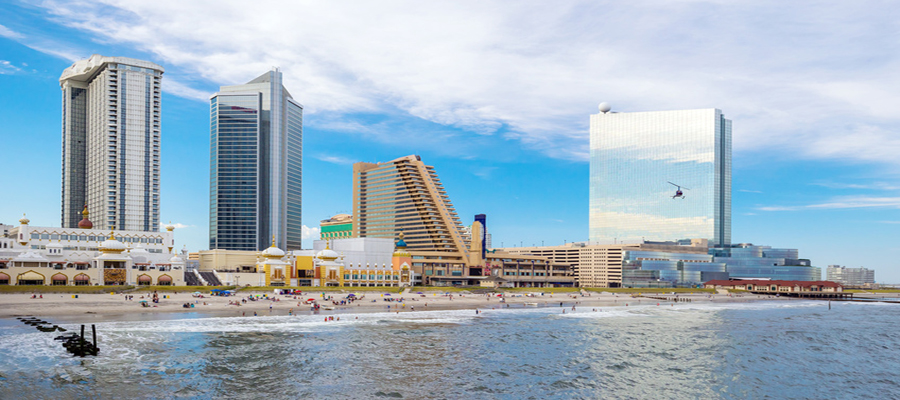 Atlantic City is better than ever! This fun filled destination, famous for gambling and ritzy casinos, offers great entertainment, plenty activities, good restaurants, shopping, relaxing on the beach, and more.

While casino gambling continues to be the main Atlantic City attraction, this Jersey Shore resort destination is becoming increasingly popular with the multi-night getaway tourists and less as a destination for day trippers who find the Philly, Poconos, and New York casinos more to their liking. The city is intent on becoming a destination that offers fun and excitement for the entire family.

Atlantic City has a long and fascinating history
During prohibition and the depression, this Jersey shore tourist attraction was a center for bootlegging, smuggling, speakeasies and illegal gambling. The mafia found Atlantic City to be a good place for profitable "black market" business operations and vacationing. The nearby Pine Barrens were convenient and well suited for the mafia's activities. Because of its seclusion and forest cover, and close proximity to Atlantic City (as well as New York and Philadelphia where many mafia resided), the Pine Barrens proved to be ideal for distilling, bootlegging, and body disposal. |

It was here where the Mafia established itself as a national organization. Fearing the end of prohibition and the loss of profitable bootlegging operations, Mafia leaders from the Midwest and East Coast, --- Al Capone Frank Costello, Meyer Lansky, and Lucky Luciano --- held their first national conference in 1929 at the President Hotel. At this conference they were able to develop a system of arbitration and solidify networks made through bootlegging to become a national organization with an interest in developing other "black market" operations to replace bootlegging.

Atlantic City is also known as the real-life model for the board game Monopoly, the nation's first Boardwalk, the world's first big Ferris wheel, the first color postcards, and the home of the first Miss America Beauty Pageant.

What can family's who do not gamble do?

AC provides lots of entertainment beyond the casinos. Stroll the famous Boardwalk, six miles long and 60 feet wide, paralleling the ocean, it is the largest of New Jersey's boardwalks. It's free! Hop on a historic rolling wicker chair and ride in style. The Boardwalk is the place to see and be seen. Forget the calories and indulge in a juicy hot dog with all the trimmings, chewy saltwater taffy and filmy cotton candy.

In the mood for some shopping? Try the Outlets - The Walk. It's an outlet mecca offering very good shopping from children's clothing to home decor and jewelry, to quality clothing including Coach, Banana Republic, and Brooks Brothers. Enjoy the many restaurants and clubs located within this complex.

Try the Quarter at the Tropicana, where the streets of Havana come alive, with many unique shops and restaurants, from a burger with the kids to fine dining. During the summer from Memorial Day Weekend until Labor Day, be sure to visit Tropicana's Multimedia Light and Sound Show . This Free event is not to be missed, and best viewed multiple times and from multiple vantage points.

Tropicana has partnered with the world famous Moment Factory who has created world class events for Walt Disney, Madonna and Microsoft and others. This recurring daily event is an inspirational themed Multimedia Light and Sound Show choreographed to music. The daily show can be seen as far away as Arkansas Ave. and the City of Ventnor.

Atlantic City boasts the best concentration of first class restaurants in the state, as well as outstanding Philly cheese steak sandwiches, pizza, and family restaurants.

Enjoy a day at the beaches or on the water with a dolphin/whale-watching cruise, paras-ailing, or a fishing expedition. This destination also offers great ocean fishing and depending on the time of the year, you might catch Marlin, Shark or Tuna.

Check out the Atlantic City Aquarium located in the Historic Gardner's Basin. It offers a fun and educational look into more than 100 varieties of fish and marine animals.

For golf enthusiasts, there are several championship golf courses nearby, including Blue Heron Pines East and West, The Links at Brigantine Beach, Harbor Pines, Mays Landing Golf and Country Club, Sand Barrens Golf Club, Shore Gate Golf Club and Twisted Dune Golf Club.

If you'd like to learn more about the city in its glory days, visit the Atlantic City Art Center (New Jersey Avenue & Boardwalk). Its one of Atlantic City's secret treasures. It showcases the work of noted national and regional artists with the beautiful Atlantic Ocean as a backdrop for the past 40 years.

The Ripley's Believe It or Not! Museum (New York Ave & Boardwalk) offers many attractions including the world's only wood-carved medieval castle, a roulette wheel made entirely of jellybeans, and a gallery dedicated to disasters and human survival stories.

The Absecon Lighthouse, built in 1857 at 171 feet, is the tallest lighthouse in New Jersey. You can climb 228 steps for an unbeatable view of the casinos, boardwalk and shoreline.

More Atlantic City Tourism Information