Your Guide To The Best Apple Picking Farms In New Jersey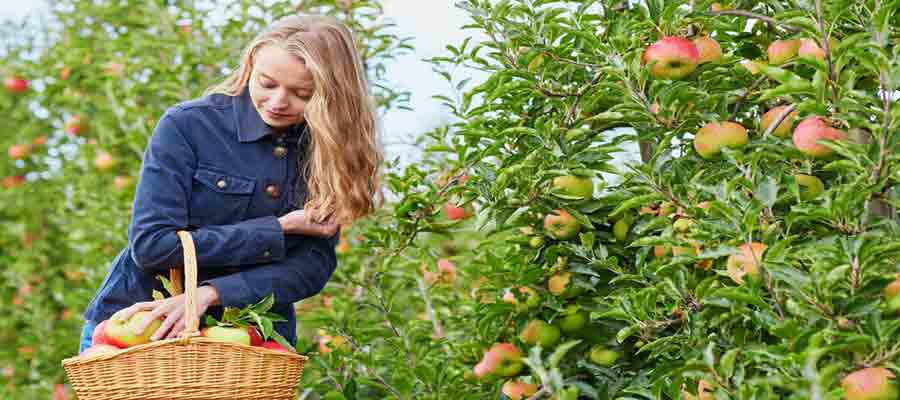 Discover New Jersey's Best Pick Your Own Apple Picking Farms: A great Family Activity

The apple picking season in New Jersey runs from late August to October 31st, with peak picking times from September 1 to October 15th.

Note:  As weather conditions dictate the apple growing seasons and picking times, it is suggested that you call the farms to confirm the picking schedule and special events or for additional information on their activities.

Northern NJ Apple Picking Farms
Alstede Farms
84 Route 513 (Old Route 24)
Chester, New Jersey
Website
In addition to apple picking, they offer Fall Family Fun Days Features scenic hay wagon rides to pumpkin patch
Two corn mazes. Both mazes feature corn stalks that are over 10 feet tall with pathways carved through the immense plants. The adult maze is many acres in size and contains lots of turns and intersections. The children's maze is only one acre is size and is much easier to transverse through.
Demarest Farms
244 Wierimus Road
Hillsdale, NJ 07642
Website
In addition to apple picking, they offer pre picked produce, gift shop, snacks and refreshment stand, rest rooms, picnic area, face painting, birthday parties, school tours.
Hillview Farms
223 Meyersville Road
Gillette, NJ
(908) 647-0957
Website
A family owned and operated 53-acre farm. They offer a tractor ride to and from the apple orchard. Tractor starts around 10:00 and ends between 4:00-5:00.
Mackey's Orchards
284 Route 519
Belvidere, NJ
Website
Varieties include MacIntosh, Red Delicious, Golden Delicious, Winesap, Granny Smith, Ida Red, Cortland, and dozens more.. Central NJ Apple Picking Farms
Melick's Orchards
472 Route 513
Califon, NJ
Website
Pick your own Fuji, Honey Crisp and Gala apples as well as Asian pears every day 9-5
Phillips Farms
Milford, NJ
908-995-0022
Website
A family-owned farm situated along the scenic Delaware River in the rolling countryside of Holland Township; offers pick your own apple and peach picking.
Riamede Farm
122 Oakdale Road
Chester, N.J. 07930
Website
Open daily in September and October; 9:00 am to 4:30 pm
They have 34 varieties of apples ranging from traditional classics to heirloom specialties to modern favorites. The early apple varieties begin to ripen the first week of September when we open for our pick your own apple season. Pick your own apples in a scenic old orchard.  Take a free haywagon ride on weekends through the orchards out to the patch.  Find a new apple favorite amongst our 34 varieties of traditional, heirloom and modern apple varieties, sold by the pound.  Be tempted by fresh pressed cider, local honey, old fashioned jams, and warm cider donuts.  Take home some gourds and Indian corn.  And mostly, enjoy a country day and the fall colors at our 68 acre 250 year old farm, kept simple, authentic and without the carnival.
Ripple Hill Farm
181 Mountain Rd
Basking Ridge, NJ
(908) 647-1300
Website
Starting in early September, they are open to the public on Sundays from 12-4pm for pick-your-own apples as well as a farm stand with fresh, picked-that-morning produce. They offer varieties of apples including Macintosh and Gala, while Granny Smith and Stayman Winesaps are available later in the season. Please check their website to confirm dates & times.
Stony Hill Farm Market & Gardens
15 North Road 8 Route 24
Chester, NJ 07930
Website
Saturdays & Sundays 10AM-5PM
In addition to apple picking, they offer a Maze Fun Park and lots of activities for kids, families, and groups.
Sun High Orchard
19 Canfield Avenue
Randolph, NJ 07869
973-584-4734
Website
In addition to apple picking they offer a "Kiddie Corn Pit Play Area" - a giant corn filled sand box for ages 1-6, and other children's activities including a Rope Maze, a Tile Maze, a Pipe Maze, and a Kiddie Hay Maze. and their friendly animals. Their alpaca "Jersey Gold" and mini donkey "Jessica" are always looking to make new friends. Please call ahead to confirm picking times & dates
Tree-Licious Orchards
135 Karrville Road
Port Murray, NJ
Website
Featuring over 130 acres of fresh fruits, pumpkin picking, berry picking, apple picking, peach picking, private tours, corporate events, farm wedding, farm to table dinners and fun for the whole family. Moreover, the property where Treelicious Orchard resides has been an operating farm for more than 200 years.
Wrightman's Farms
1111 Mt. Kemble Avenue
Morristown, NJ 07960
(973) 425-9819
Website
They are open for picking on Fridays , Saturdays, and Sundays
Central NJ Apple Picking Farms

Battleview Orchards
91 Wemrock Rd
Freehold, NJ 07728
Website
Pick your own family farm with a country store and excellent bake goods.
Bonacorsi Family Farm
1137 Croton Road
Flemington, NJ
Website
They offer over 60 varieties of apples. Please visit their website to confirm fall apple picking dates.
Eastmont Orchards

169 County Rd E.
Route 537, 1 mile E of Route 34
Colts Neck, NJ
Website
Apple Picking Schedule
Early-September Honeycrisp, McIntosh; Mid-September to Mid-October Cameo, Cortland, Crispin, Empire, Golden Delicious, Idared, Jonathan, McCoun, Red Delicious, Spartan; Mid-October to Closing Arkansas Black, Braeburn, Fuji, Granny Smith, Red Rome, Stayman Winesap, Yellow Newtown Pippen
Giamarese Farm
155 Fresh Ponds Road
East Brunswick, NJ 08816J
732-821-9494
Website
Open early July to September, for pick your own apples, nectarines and peaches.
Krowicki's Farm Market
862 Route 539
New Egypt, NJ 08533
609-752-5591
Website
Open for business every day of the week. In addition to apple picking, during the fall, from the end of September through October, they operate a corn maze and pumpkin patch that keeps people entertained and nourished.
Lee Turkey Farm
201 Hickory Corner Rd.
East Windsor, NJ
609-448-0629
Website
54 acres nestled in the arms of suburbia. Hundreds of fruit trees and acres of vegetables all yours for the picking.
The picking/market hours are from 9:00am till 6:00pm begonning about the 2nd week in July. You must be at the farm no later than 5:15pm to enter the fields and orchards.
Offers pick your own Apples, Peaches, and pumpkins
Terhune Orchards
13 Van Kirk Road
Princeton, NJ 08540
Website
Fall Family Fun Weekends Enjoy a day of family fun on the farm! What better way to celebrate fall than with Pick-Your-Own Apples! Enjoy pony rides, wagon rides, visit the Corn Stalk Maze, the Barn of Legends and Lore, and our barnyard of farm animals. Don't worry about lunch, there's lots of food available – soup, chili, hot dogs, pies, apple cider donuts, apple cider, and more! Terhune Orchards features live music played by some of our best local talent, (between noon and 4pm). No admission. Parking is at the farm.
Von Thun's Country Farm Market
519 Ridge Road
Monmouth Junction, NJ 08852
732.329.8656
Website
A family owned farm. They offer U-pick Strawberries, blueberries, blackberries, apples, and pumpkins. U-pick strawberries start the berry picking in late May. Blueberry picking traditionally starts in late June, followed by blackberries later in the summer. Apples and pumpkins are available for picking from mid-September through October.
Southern NJ Apple Picking Farms
Haynicz's Orchardview Farm
corner of Buck and Elk road (Rt 553 and Rt 538)
Monroeville, New Jersey
856-881-1004
Facebook
Theyhave pick your own strawberries, peaches,
apples
, collards and pumpkins in season.


Hill Creek Farms

1631 Route 45
Mullica Hill, NJ 08062
Website
They grow three varieties on dwarfing rootstock including; Cameo, Jonagold, and The Autumn Rose Fuji apples. In addition to apple picking they offer a snack and refreshment stand, picnic area, face painting, pony rides, and school tours.
Johnson's Corner Farm
133 Church Rd.
Medford, NJ
609-654-8643
Website
Offers pick ypur own apples, peaches and pumpkin picking.
Visit their Animal Farm, which now includes an obstacle course. The Animal Farm is bursting with many animals to feed along with a pipe slide, wacky bridge, rope maze, balance beam, and tire climb! Enjoy our furry animals in a picturesque farm setting with utilities to feed them safely through our feeding tubes and to wash-up afterwards at our hand washing stations. There is also the Discovery Barnyard This is a Fun-filled and secure area designed for Families with young children. The Discovery Barnyard is brimming with age appropriate climbing structures, shaded eating area, small animal barnyard, and our very popular pedal go-carts. Click this link for a full explanation, and check out our photo gallery of fun! On those hot summer days, cool off at our farm market with a delicious Ice Cream cone, thick Milkshake, or refreshing Italian Ice, and enjoy it while sitting under the shade of our sycamore trees or our tented picnic area.
Mood's Farm Market
901 Bridgeton Pike (Route 77)
Mullica Hill, NJ
Website
They also have an Apple Festival on Saturday, September 11, 2010 10:00am - 4:00pm. The festival kicks off with the interactive story of Johnny Appleseed at 10:00. The Donut Eating Contests will follow at 10:30. The winner receives a cash prize and a bag of donuts. There is one adult contest and two kids contests.
Strawberry Hill Farm
Corner of Waln & Ellisdale Road
Chesterfield, NJ 08620
Website
Golden Delicious, Gala, Empire, and Macintosh apples available