The Best South Jersey Fireworks Displays
2016 Year Round Fireworks at festivals, concerts and events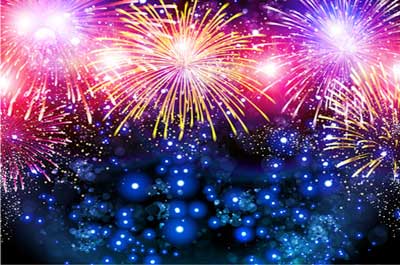 Year round South Jersey Fireworks cover a range of awesome displays and rank amongst the best in the world. 

While pyrotechnic displays are often associated with Independence Day - July 4th celebrations, and New Years Eve, many of the fireworks displays accompany a popular event to either kick it off, such as the beginning of the New Year, or as a finale such as a festival or a minor league baseball game.
Note: This information is provided by event sponsors as a free service to our viewers. Sometimes conditions require cancellations or changes of dates, times and location which are not reflected in the original schedule. Before planning a trip to visit one of the listed events, it is suggested that you call the event sponsor to confirm the event schedule or for additional information on the event.

2016 South Jersey Fireworks Events

(listed by earliest date)
New Year's Eve Fireworks on the Atlantic City Boardwalk

December 31, 2016; 9pm - Midnight
Website
A spectacular fireworks display accompanied by a live broadcast of the Times Square Countdown.
Fireworks can best be viewed along the Boardwalk for four miles to the city limit, and for an additional one and a half miles extending into Ventnor City. The fireworks show is provided by Fireworks by Grucci.


Haddonfield, NJ First Night
December 31, 2016
Haddonfield NJ 08033
Website
A family-oriented, alcohol-free celebration of the arts, held in Haddonfield each New Year's Eve. Festivities begin at 6:00pm. The stages are set in more than 15 different venues along Historic Haddonfield's Kings Highway in the most stunning and historic buildings and churches in downtown Haddonfield.
This family-oriented, alcohol-free New Year's Eve festival featuring stimulating entertainment including magic, music, comedy, dance and theater for audiences of all ages from children and families to teens and seniors. Special entertainment and activities for kids 9 and under at Haddonfield's Central/Middle School Gym and All-Purpose room from 6:00pm – 8:30pm.
The grand finale features Fireworks at Midnight
as thousands of revelers magically come together on Kings Highway to celebrate the end of the 2016 and welcome the New Year.
First Night Ocean City
December 31, 2016
Ocean City, NJ 08226
609-525-9300
Website
The non-alcoholic, family friendly event features live entertainment with the rides open at Wonderland Pier, always a popular feature of First Night and of course
there will be fireworks at midnight.
Rides at Gillian's Wonderland Pier will be Open.
Seaside Heights - First Night
December 31, 2016
On the boardwalk
1-800-732-7467
Website
Enjoy a day filled with entertainment and begin a lasting family tradition. Starting at 12 noon until 5 PM
with a Fireworks Display at 5pm

Overnight Encampment on New Year's Eve On The Battleship New Jersey

Battleship New Jersey Museum and Memorial
62 Battleship Place
Camden, NJ 08103
Facebook page
The New Year's Eve Overnight is $79 per person. To make your reservations, call 866-877-6262 ext. 203.
This is a family-only event. Families can spend the First Night of 2017 overnight on the Battleship! Enjoy dinner and breakfast at the chowline, tour the ship, ride the flight simulator and sleep in the bunks that the crew of the USS New Jersey once did. aboard our nation's most decorated battleship. Plus, experience
the best view of the midnight fireworks over the Delaware River!
Atlantic City New Years Eve Fireworks
December 31, 2016; Midnight
Boardwalk
Atlantic City, NJ
The midnight fireworks
can best be viewed along Boardwalk, which runs along the beach for four miles to the city limit.
The fireworks display will be provided by Grucci and will be a free 10 minutes pyrotechnic display over the boardwalk.
Fire & Ice Food Trucks & Fireworks 2017
January 1, 2017: 2 noon to 6:00 pm
Tuckerton Seaport
120 West Main Street
Tuckerton, NJ
Website
Free admission
A great start for the New Year with lots of Family fun. The event features live music, craft beer, food trucks and family activities. Explore the historic Captain's House, take a hayride through the frozen woods.
The fireworks display will take place at 6:00 pm over the lake.
Check Out The Best 2016 North & Central Jersey Fireworks Events

North Jersey Fireworks

Year round North Jersey Fireworks displays cover a range of awesome displays including the popular State Fair at the Meadowlands, the Hoboken Italian Festival, and the Morris County First Night New Years Eve celebration.
Learn more

Central Jersey Fireworks

Year round Central Jersey Fireworks displays cover a range of awesome displays including the popular New Jersey Festival of Ballooning, the Long Branch Jazz & Blues Festival, and the New Years Eve Fireworks in New Brunswick.
Learn more

---