The Buttered Biscuit
A Bradley Beach, NJ Restaurant Review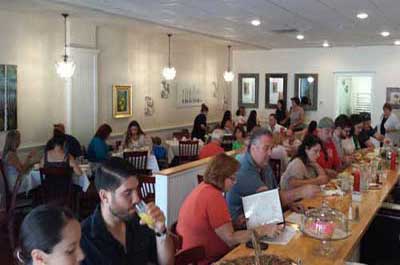 The Buttered Biscuit
700 Main Street
Bradley Beach, NJ
Website
Fare: American
Price: In-expensive- Moderate

No Rating : N/A - A casual breakfast/lunch eatery, not rated as a fine, high end dining restaurant.
No Rating : N/A - A casual dining eatery, not rated as a fine, high end dining restaurant.
---
One of the best places for breakfast on the Northern Jersey Shore.

A destination restaurant serving creative, well prepared breakfast & lunch using fresh, low in fat ingredients
Long wait for breakfast on busy weekends, especially for Sunday Brunch during the summer.
Value: Excellent
Noise Level: Moderate
Dress: Very casual

Recommended For: Diners who enjoy creative, healthy breakfasts/lunches made with fresh, non-greasy ingredients.
Not Recommended For: Diners who prefer traditional food served in large portions made with packaged, greasy ingredients to enhance the taste.
Recommended dishes: When available;For breakfast, the  Copenhagen Benedict with fresh caper cream cheese, paper-thin red onion, smoked salmon, wilted baby spinach and poached eggs topped with homemade hollandaise sauce, and the Cinnamon, honey pecan stuffed cream cheese stuffed French toast.  For lunch,  Dave's homemade corned beef hash.
Liquor: BYOB
Restaurant Review


The Buttered Biscuit is one of the top Northern Jersey Shore Breakfast//lunch Restaurants.
This storefront café is owned and operated by the talented husband and wife team, Dave and Liz McAllister who were the past owners of the Honeysuckle Café in Bradley Beach.
The success of the Buttered Biscuit is in the food prepared with freshest quality ingredients without the user of fat or greasy substances to enhance the flavor. Packaged foods and ingredients are also avoided.
The interior is attractive and comfortable with the service being friendly and attentive.
 In the warmer months there is outside dining, though being located on Main Street, you would have to contend with noise and exhaust from passing cars.
The Buttered Biscuit is open seven days/ week from 8am-3pm.
(updated: January, 2015)
How Do We Rate and Review Restaurants?
New Jersey Leisure Guide contains the largest source of extensive and unbiased New Jersey restaurant reviews. Data is gathered from our viewers e-mail restaurant comments, Internet and print research, and professional restaurant critics. The data is analyzed and a review created. Staff personal visits are sometimes made to corroborate and/or tweak results.

Other New Jersey Resources