The Best South Jersey Music Festivals
2016 Blue Grass, Country, Rock, Jazz, and Folk Festivals
The 2016 South Jersey music festivals typically appear at large, destination venues, mostly outdoors. Music enthusiasts of all ages and interests can enjoy outdoor music festivals including blue grass, country, rock, jazz, folk, contemporary, and many other types of music.

The festivals range from jam sessions to multi-stage performances and can feature any where from up-coming, new breed artists to established, well known performers.
Note: This information is provided by event sponsors as a free service to our viewers. Sometimes conditions require cancellations or changes of dates, times and location which are not reflected in the original schedule. Before planning a trip to visit one of the listed events, it is suggested that you call the event sponsor to confirm the event schedule or for additional information on the event.


The Best 2016 South Jersey Music Festivals
September 2016 South Jersey Music Festivals & Events
The 45th Annual Delaware Valley Bluegrass Festival
September 2 - 4, 2016; noon to 11pm
Salem County Fairgrounds
725 Route 40
Pilesgrove Township, NJ
Website
(Line-up, schedule, and Tickets)
This family music festival features southern Appalachian old-time and bluegrass and related music styles. The festival site has plenty of room for camping for tenters as well as RVers, and unlike many other festivals, they do not charge extra for camping. Weekend ticket holders may camp on the grounds at no charge, but camping is available only to weekend ticket holders - daily ticket holders may not bring vehicles or camping gear into the campground.
Annual Wildwood Block Party and Music Festival
Sunday, September 4, 2016, noon - midnight
Fox Park
(across from the Wildwoods Convention Center on Ocean Avenue between Burk and Montgomery Avenues)
Wildwood, NJ
609.522.2444
Beginning at noon, the family festival event will feature free live entertainment, craft and food vendors and many entertainers. Admission to the block party and concert is FREE.
43rd Annual Ocean County Bluegrass Music Festival
Sunday, September 11, 2016, Doors Open at 11:00am Live Music Noon to 5:00pm
Albert Music Hall
131 Wells Mill Road (Rt. 532)
Waretown, NJ
Website and Tickets

Program Features a Live Stage Concert of Bluegrass Music. Refer to the website for events schedule. Proceeds from the festival benefit the Pinelands Cultural Society and the Albert Music Hall Scholarship Fund







Electric Adventure Bloom - Music Festival

Saturday, September 24th & Sunday, September 25th, 2016
Atlantic City Oceanfront
Boardwalk at North Albany Avenue
Atlantic city, NJ
Website
(Line-up, schedule, and Tickets)
An outdoor music festival, on four acres of the beach in front of the now-defunct Atlantic Club at Boardwalk and North Albany Avenue. Bloom will feature more than 100 performers on multiple stages. Listeners will hear mainstream Electronic Dance Music, commonly known as EDM, along with hip-hop, house, trance and other music genres.
October 2016 South Jersey Music Festivals & Events

38th Annual Deerfield Township Harvest Festival
October 6, 7, 8, 9, 2016 12:00 PM until 10:00 PM
Rosenhayn Fire and Rescue and Frank LoBiondo, Sr. Park
656 Morton Avenue
Bridgeton, NJ
Website

This event pays tribute to local farmers and salutes Country Stars & Stripes. The festival's outstanding entertainment lineup features local and regional entertainers coupled with established and rising national performers. It also includes a parade, arts & crafts show, mascot mania, amusement rides and games, a Songfest competition, dessert baking challenge, multi-cultural food court and fireworks on Sunday @ 9pm.
Annual Seafood & Music Festival

Saturday, October 8, 2016; 10 a.m. - 8 p.m.
Atlantic Avenue
between Wildwood and Schellenger Avenues
Wildwood, NJ
609-729-4000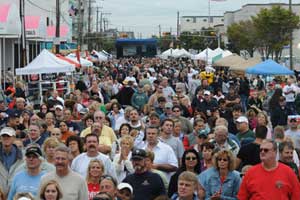 This family event features a full day of eating, dancing and all-out fun. The festival will include live music, delicious food vendors, messy pie eating contests, a clam chowder contest, craft vendors and much more. The festival will provide fun for the kids with a"Kids Korner," open from noon- 4 p.m., featuring pumpkin painting, face painting, and inflatable bouncers. Admission is Free
Annual Pine Barrens Jamboree
Saturday, October 8, 2016: 10:30 a.m. to 4:00 p.m
Wells Mills County Park
Route 532,
Waretown, NJ
609-971-3085
Website
FREE!
Music Under the Jamboree Tent - Featuring the sounds of the Jersey Pines, traditional crafts of the Pines, nature and history programs, kids' programs and Piney Vittles! This is the perfect venue for a taste of "Piney" culture, from the day-long music, to the many artists, crafter's, cooks, farmers and more that display and sell their product at this great event. The line up features: "Homemade Jam", "Custom Blend", "Park Announcements", "Saturday ight Express", "Sweet Country Pine", "Cedar Creek" featuring "Smokey-The Bear", "Timber Creek", "Bluegrass Road", and "J&E Company"
Annual Exit Zero Jazz Festival

November 11th - 13th, 2016
Schmidtchen Theate
687 Route 9
And other venues in
Cape May, NJ
609-849-9202
Website
(Tickets)
Cape may comes alive this weekend with more than 40 jazz performances taking place in a three day multi-venue festival staged in the 1,177 seat Schmidtchen Theater, the 750 seat Cape May Convention Hall, and in the clubs of Cape May. Headliners Wynton Marsalis and Cecile Mclorin Salvant other performers including Squirrel Nut Zippers, Jane Bunnett & Maqueque, Frank Bey Blues Revue, Pat Martino Organ Trio + Horns, The Jōst Project, Jamison Ross, Red Baraat, High & Mighty Brass Band, Davis, New Orleans Swamp Donkeys, Omar Sosa JOG Trio, Jon Regen, Philadelphia Funk Authority.
Check Out The Best 2016 North Jersey & Central Jersey Music Festivals

North Jersey Music Festivals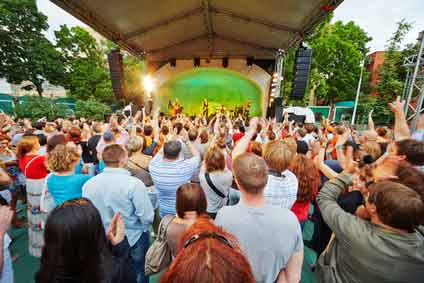 The best North Jersey music festivals for music enthusiasts of all ages and interests. Includes many outdoor music festivals featuring blue grass, country, rock, jazz, folk, contemporary, and more.
Learn more
Central Jersey Music Festivals

The best Central Jersey music festivals for music enthusiasts of all ages and interests. Includes many outdoor music festivals featuring blue grass, country, rock, jazz, folk, contemporary, and more.
Learn more

---