Sam Vera Restaurant
A Marlboro, NJ Dining Review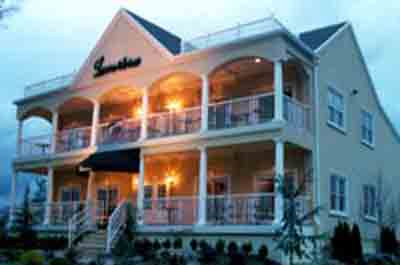 Sam Vera Restaurant
476 Route 520
Marlboro, NJ
732-834-9889
Website
Fare: Italian

Price: Very - Expensive
Food Quality:
Service:
Decor:
Overall Rating:
Note: Four star Rating System from no stars = poor to Four stars
= Best in Class
---
The best Italian restaurant in Western Monmouth County
Professional, well trained, attentive service.
Excellent preparation of Northern Italian dishes.
Value: Good

Noise Level: Moderate
Dress: Upscale Casual

Recommended For: Diners who enjoy well prepared food with excellent fine dining amenities and "Old World" ambiance.
Not Recommended For: Budget conscious diners who prefer a lower priced traditional Italian menu with heavy red sauces.
Recommended dishes: When available, Branzini; Grilled Salmon; and the Broiled Lamb Chops. For dessert, the Ricotta Italian Cheesecake
Liquor: Full service bar with a good selection of wines and specialty cocktails.
Restaurant Review
Sam Vera restaurant in Marlboro is an Italian fine dining restaurant relatively unknown to diners outside of Western Monmouth County. Set in a Victorian house, it consistently serves excellent Northern Italian food.
It's the best fine dining Italian experience with "Old World" amenities in Western Monmouth County.
It's a good place to go if you are looking for excellent Italian food, excellent service, a full service bar, and tables spaced apart for quiet conversation.
It's also a popular dining spot for the high income Marlboro residents. If you enjoy people watching, ask to be seated in the small dining area adjacent to the bar area. The trade off is that it's noisier than the other two dining areas and the service is less attentive than the main dining room.
Set on two levels, the lower level is the preferred seating. The upstairs is less attractive and you run the risk of being seated near large parties. Tables are set with white linen, candlelight, and fresh flowers.
The service is friendly, professional, well trained and knowledgeable about their daily specialties and standard menu items. As just one example of their attention to great service, just drop your napkin and within ten seconds some one will come to your table with a fresh napkin to replace it.
When available, try the Branzini. The Mediterranean sea bass is flown in overnight from Italy and prepared fresh .
At Sam Vera's, they will cook it and bring it to your table and ask if you prefer to have it served European style with it's head and tail still intact, or have it served American style with the head, tail, and bones removed. While it's more expensive than at other Monmouth County restaurants, it is considered by many Branzini lovers to be best Branzini in the Monmouth County area, and possible all of New Jersey.

(update May, 2015)
How Do We Rate and Review Restaurants?
New Jersey Leisure Guide contains the largest source of extensive and unbiased New Jersey restaurant reviews. Data is gathered from our viewers e-mail restaurant comments, Internet and print research, and professional restaurant critics. The data is analyzed and a review created. Staff personal visits are sometimes made to corroborate and/or tweak results.

Other New Jersey Resources