Roots Steakhouse
A Ridgewood, NJ Dining Review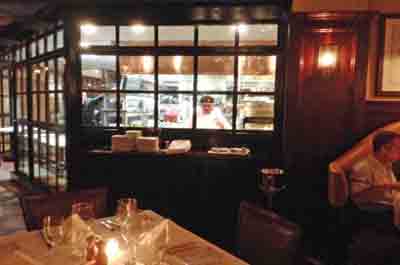 Roots Steakhouse
7 Chestnut St
Ridgewood, NJ
(201) 444-1922
Website
Fare: American Steakhouse
Price: Expensive
Food Quality:
Service:
Decor:
Overall Rating:
Note: Four star Rating System from no stars = poor to Four stars
= Best in Class
---
Attractive, clubby ambiance
Does not serve USDA Prime beef
On busy weekend evenings, valet car service can be slow, taking as long as 10 minutes or more to retrieve your car.
Value: Good

Noise Level: Moderate - High

Dress: Upscale Casual

Recommended For: Diners who enjoy steakhouse food and clubby ambiance with a well stocked, full service bar.

Not Recommended For: Diners who enjoy top tier steakhouse ambiance, food quality, and USDA Prime cuts of beef.
Recommended dishes: When available,The Dry Aged Porterhouse Steak; The Spice Crusted Yellow fin Tuna; and The Domestic Double Cut Lamb Chops.
Liquor: Full bar service with wine list of over 140 bottles --- largely California reds.
Restaurant Review


Roots steakhouse is one of the most luxurious restaurants in Ridgewood, popular with steak and seafood lovers who enjoy being served an alcoholic beverage either before or during dinner.
Roots Steakhouse gives off a typical steakhouse clubby ambiance with a masculine feel. The interior decor is attractively done up with dark wood paneling, large leather booths, coffered ceilings, and walls adorned with hand-painted murals.
There is an attractive bar area with three additional dining rooms. There is an open  kitchen visible from the front dining room and bar. The bar area has a few high-backed booths for two, along with two large tables at the front windows. There are no TV's in the bar area. The third dining room is available for private parties.
The kitchen is run by executive chef Michael Pereira who comes with a steakhouse resume including serving as a regional corporate chef for the Ruth's Chris chain, and Chef at Roots Steakhouse in Morristown.
Roots Steakhouse falls below the top tier steakhouses such as Morton's and Ruth's Chris who use USDA Prime beef. Only USDA choice, a grade down from USDA Prime, is served at Roots Steakhouse.
Note: USDA Prime is the superior grade with exceptional tenderness, juiciness, flavor and fine texture. It has the highest degree of fat marbling and is derived from younger beef. That's why Prime is generally featured at the most exclusive upscale steakhouse restaurants.
USDA Choice is the second highest graded beef. It has less fat marbling than Prime. Generally USDA Choice will be less tender, juicy and flavorful with a slightly more coarse texture than Prime.
Service is attentive and professional with servers wearing jackets.
Roots Steakhouse is open seven days /week for dinner nightly, and for lunch Monday-Saturday, and for Brunch on Sunday
(updated: July, 2015)
How Do We Rate and Review Restaurants?
New Jersey Leisure Guide contains the largest source of extensive and unbiased New Jersey restaurant reviews. Data is gathered from our viewers e-mail restaurant comments, Internet and print research, and professional restaurant critics. The data is analyzed and a review created. Staff personal visits are sometimes made to corroborate and/or tweak results.

You might be also interested in ....