The Jersey Diner
A must for a true Jersey experience,
but don't wait too long, it's changing
The Jersey Diner is going the way of many traditional institutions with changes to keep pace with the times. If you have not yet eaten at a Jersey diner, do it now before it becomes a lost opportunity.


New Jersey, often referred to as the "diner capital of the world", with more than 500 diners, has the largest concentration of diners in the United States.
For a true New Jersey experience, eating at a diner is a must. They have a beloved "Joizy" ambiance, family friendly, in-expensive, offer a huge variety of food, and are usually open when other eateries are closed.
The Jersey Diner is Changing
The Jersey diner ranges from the shiny chrome rail-like cars with neon signs and lighting to the more modern stonewalled structures that are replacing the rail-like car, brightly lit buildings. Many of the original diners were long and narrow, one room eateries with a long counter and booths with juke boxes on the tables.
Today they are giving way to multi-room structures with multiple dining areas with some large enough to host a private party or banquet.
The ownership of diners is also undergoing change. Anyone who has eaten in a diner associates the ownership with first generation Greek immigrants.
Today, many of the children of the Greek immigrant diner owners have been through college and have become non-restaurant professionals and are not interested in the long workdays and limited vacations. With this, the Greek owners with no children to pass their business to, are selling out to other immigrants, mostly Asian, who are willing to endure the sacrifices of time.

Another change in the traditional diner is the hours of operation. In the past many diners in New Jersey were open 24 hours a day and now there are no more than a dozen diners in NJ open 24 hours a day.
The New Definition of the Jersey Diner


There is considerable debate on what the definition of a diner is.
The most popular view of the definition of a diner is a place where you can get cheap eats, with a very large menu, and open 7 days a week with late evening hours for breakfast, lunch, and dinner. They also have at least one room with a long counter and booths. Refrigerated glass displays with dessert trays are usually located at the entrance. The variety of food offered and the size of the menu is gigantic. They serve up almost all of the basic traditional meal items from the usual breakfast pancakes, eggs, waffles, etc., to sandwiches, burgers, fries, and traditional American hot dishes and soups.
That being said, New Jersey still has some olde time small classic railroad car style diners with as few as eight seats at a counter. These diners have survived as a result offering a limited menu of exceptional signature items such as burgers, hot dogs, etc.
Favorite Jersey Diner's
Northern New Jersey Favorite Diners
Clinton Station Diner
Clinton, NJ
The Clinton Station Diner is a popular place for families with kids.
The diner sets itself apart from other modern American diners with it's throwback circa 1927, railroad car attached to the main building for an olde time dining experience. Kids will get to enjoy the model railroad running along the tracks suspended from the ceiling and the large tropical fish tank.
Tops Diner
East Newark, NJ
Tops diner is a high end diner, a departure from the classic pre-70's, small railroad car size classic New Jersey diner. However, the atmosphere complete with a bright lit, shiny chrome exterior, still maintains a tinge of a charming, art deco past era. This is a destination dining experience that many will bypass their local neighborhood diner to travel to Tops Diner.
Summit Diner
Summit, NJ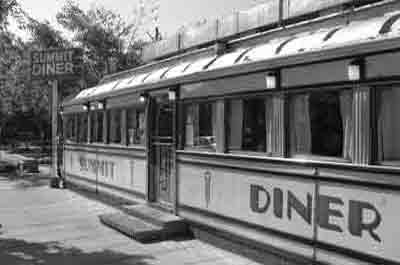 An old time Jersey diner that was a converted railroad car, with authentic, classic Jersey diner atmosphere to match.
White Manna
Hackensack, NJ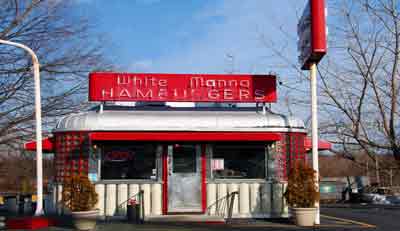 White Manna's has become a legend in New Jersey for tasty hamburgers. You don't come to this diner for their decor (it's grimy, basic, and old time diner style) or their large selection of deli sandwiches, and certainly not for the diet conscious. You come here for their burgers and fries period!
White Rose Diner
Linden, NJ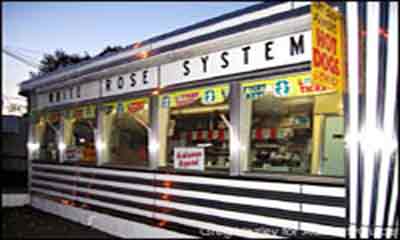 A 60's era diner that has retained it old Jersey diner charm with it's original railroad car look. Serves some of the best burgers and Taylor ham in northern NJ.
Central New Jersey Favorite Diners
JB's Diner
Freehold, NJ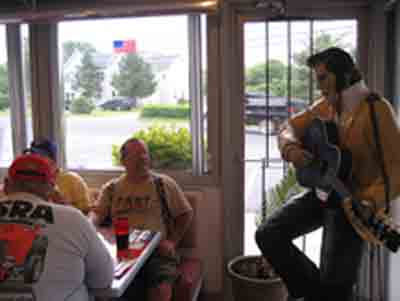 A 50's themed diner with good food and friendly service, one of the most unique diners in central Jersey.
Closed
Sadly, on May 24, 2016, this popular Freehold Diner was was lost to a massive fire. Now closed, the owner plans to rebuild.
Tony's Freehold Grill
Downtown, Freehold, NJ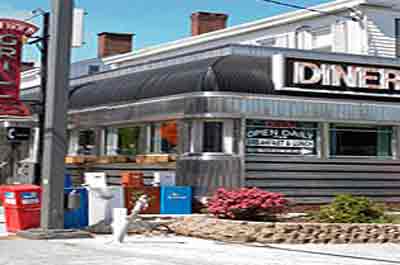 A 50's style classic metal sided railroad car diner built in 1947. with "Olde Jersey diner" ambiance. Except for two flat screen TV's, the diner has preserved it's original look. The interior with it's 50's look still has the small table juke boxes ( they haven't worked in years), white Formica tables, and upholstered orange booths
Southern New Jersey Favorite Diners
New Berlin Dinner
Berlin, NJ
The New Berlin Diner, bu has maintained it's classic diner charm with a 50's Jersey diner atmosphere, standing out with an exterior of chrome and red vinyl, characteristic of that era.
Mastoris
Bordentown, NJ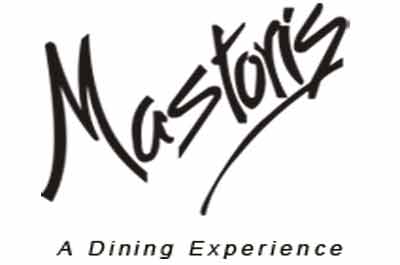 Mastoris is a modern version of a diner with many dining rooms and includes the serving of alcohol. Huge menu.
Vincentown Diner
Vincentown, NJ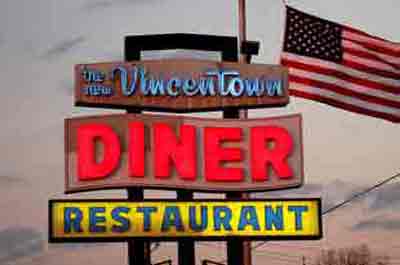 Not your typical diner. They serve up a quality menu with ingredients that emphasizes local and organic products including organic eggs from free-range chickens, local, grass-fed beef , local farm to table produce, cooking oils that contain no trans fats, and house coffee using premium Arabic Beans roasted locally and ground fresh.


Other New Jersey Resources