2016 New Jersey Halloween Events
Choose your scary and not so scary 2016 Halloween Event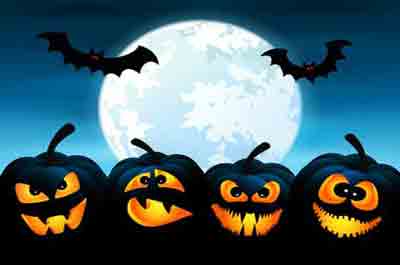 Halloween in New Jersey is a time for many scary, not so scary, frightful shows, events, attractions, and parades that can be enjoyed by the whole family.

We have put on our costumes and headed into the dark of night with a full moon to search haunted houses, cemeteries, and pumpkin patches for ghosts, goblins, and skeletons to come up with the best Halloween events for families with kids. Caution: many of these events are Soooo scary that they are not recommended for children under 8. Suggest you call ahead to confirm age appropriateness.
Note: This information is provided by event sponsors as a free service to our viewers. Sometimes conditions require cancellations or changes of dates, times and location which are not reflected in the original schedule. Before planning a trip to visit one of the listed events, it is suggested that you call the event sponsor to confirm the event schedule or for additional information on the event.

 New Jersey 2016 Halloween Events
Stay tuned --- we will be updating this list as the event sponsors confirm this year's events.

North Jersey 2016 Halloween Events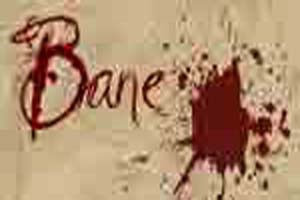 Bane Haunted House
September 23, until October 31, 2016
630 W Mount Pleasant Ave
Livingston, NJ
Website
The Bane's are a family of four when one morning Mr. Bane decides to check in on his animals in the family barn and he notices that all of their cages have been opened and some of the animals have been torn to shreds. He thinks to himself that either a bear or wolves from the woods must have entered the barn at night and killed the animals, until he notices his beautiful daughter Jennifer hiding under one of his lab tables. Mr. Bane reaches out to her only to notice that half of her face is missing and she's sitting in a pool of blood. To his surprise, Jennifer has been feeding on his test animals. As Mr. Bane tries to coax Jennifer out of her hiding place, she lunges at him and begins to feed on his body. Tickets can be purchased in advance on-line.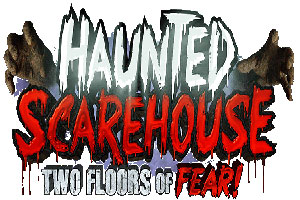 Haunted Scarehouse
Beginning Friday, September 23 and ending on October 31, 2016
105 West Dewey Ave,
Wharton NJ 07885
(732) 485-2653
Website
The Haunted Scarehouse, including the waiting area, is indoors and is not weather dependent. Haunted Scare house consists of Two Terrifying Attractions, The House of Nightmares and the Attic, spread over Two Floors of Fear.
Brighton Asylum
Beginning Friday, September 23 and ending on October 31, 2016
2 Brighton Ave
Passaic, NJ
Website
This horror show takes place in a 4,000 sq.ft complex that housed the sick and mentally disabled back in the mid 1940's. After years of harsh living conditions and grotesque medical experiments, the patients eventually over-ran the facility. Closed in 1952, there are reports that on foggy nights, patients and staff can still be seen wandering in and out of the complex. This event is 100% on foot through an interactive indoor haunted house designed to put you into another world. You will experience phobias, fears, humor, and gross outs! All that fun stuff! Those brave enough to enter the abandoned asylum are never seen nor heard from again. You will enter the holding center where you are free to enjoy refreshments, tour "The Horror Museum", and interact with the Brighton Asylum minimum security patients before you are called to enter the maximum security asylum.
Tickets can be purchased online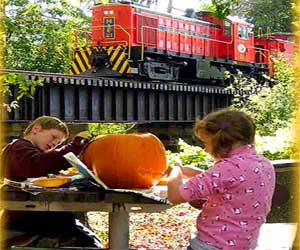 16th Annual Pumpkin Festival
Sunday, October 2, 2016; 12:30 - 5:30 PM
Whippany Railway Museum
1 Railroad Plaza
Whippany, NJ
Special "Pumpkinliner" caboose trains make frequent departures from the Museum site throughout the day. Take a nostalgic 30-minute trip into the past on board the "Pumpkinliner". The enjoyable excursion follows the route of the Historic "Whippanong Trail", and will feature ANTIQUE CABOOSES you can ride in. Trains depart at 12:30; 1:15; 2:00; 2:45; 3:30; 4:15 and 5:00PM, rain or shine! Walk among the Pumpkins, Corn Shocks, and Grinning Scarecrows as you enjoy the wares of local crafts merchants and railroad memorabilia dealers at our popular pumpkin crafts fair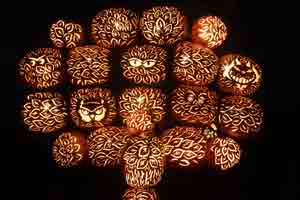 Brite Nites Haunted House
October 14, 15, 21, 22, 28, 29 and 30, 2016: Entry times are from 6:45 PM to 8:00 PM.
Wagner Farm Arboretum
197 Mountain Ave.
Warren Twp, NJ 07059.
Britenites@wfafnj.org
908-656-1402.
Website
This annual Halloween-themed family event brings a spectacular display of intricately and creatively hand-carved and lighted pumpkins. As you walk the path that winds around the Arboretum gardens you will come across large and impressive sculptures as well as fun and surprising images. The pumpkin carvings tell many stories, bring you back in time, or show a recognizable face – it's all amazing. Mt Rushmore is so realistic, it's like you're there. The Garden scene is a place of beauty with a life-sized peacock intricately carved from pumpkins. Sit on a bench with famous people – at least their carved images! There are lots of pumpkin carvings to see. Then at the end of the Path, go through the arbor to the Haunted Garden, if you dare. In the darkness, behind the shrubs and trees lurks a scary surprise or two. You've never seen the Arboretum garden this way before. If you don't like the scary, pop over to the Black Hat Café for seasonal refreshments like cider, hot cocoa, fabulous cupcakes or cookies. Wandering entertainers like a magician, musicians, or dancers will keep you entertained on this night the whole family will remember.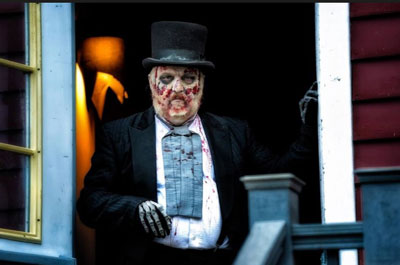 Haunted Village
Friday and Saturday, October 14, 15; Friday and Saturday, October 21, 22; Friday and Saturday, October 28, 29, 2016; Events begin @ Nightfall (usually 7 p.m.)
Red Mill Museum Village
56 Main Street
Clinton, New Jersey 08809
Website
The historic Red Mill comes alive with the eerie sights and sounds of Halloween. Hayride and Terror Trail. The biggest, safest and best haunted event in the area. Doors open 6:00 p.m. General admission tickets are available for pre-purchase at the Red Mill Museum Office from 9:30 am to 4:00 pm daily. Pre-purchase of tickets is available. The ticket window will also be open on performance nights at 5:00 pm and will close at 10pm.
Fright Light Laser concert
Saturdays, October 22 & 29, 2016; @8 pm
Raritan Valley Community College
118 Lamington Road
Branchburg, NJ
908-231-8805
Website
Not for young viewers or those easily scared!
Features songs including Alive by Meatloaf, Thriller by Michael Jackson, and The Night Santa Went Crazy by Weird Al. (Recommended for ages 13 to adult)
All Hallows' Evenings at the Stickley Museum
Friday, October 28 and Saturday, October 29, 2016; @ 5:30 p.m.
The Stickley Museum at Craftsman Farms
2352 Route 10 West
Morris Plains, NJ 07950
973-540-0311
info@stickleymuseum.org
Website
This Halloween, celebrate like it's 1913 with an after-hours tour of Gustav Stickley's Log House, and learn about Victorian-era Halloween customs.
By 1913, Halloween was being celebrated by people across America as a night for amusement and superstition, mischief and fortune telling. Revelers spent Halloween night fluttering between fits of laughter and screams of pretend fright as games of divination predicted their fortunes in life and in love.
Our tour begins as night falls. But there's no need to be frightened! By the 1910s, Halloween, not yet a holiday for children, was a night for amusement and superstition, mischief and fortune telling. Victorian era sensibilities had transformed traditional macabre customs associated with the night into playful parlor games and tricks, which provided a clever guise for match-making and romance at society parties. Light refreshments will follow to keep your spirits up!
$5 Members; $12 Non Members
Space is limited. Advance registration required; purchase tickets online or call 973.540.0311.
Suitable for adults and teens; not recommended for children under age 12.
Central Jersey 2016 Halloween Events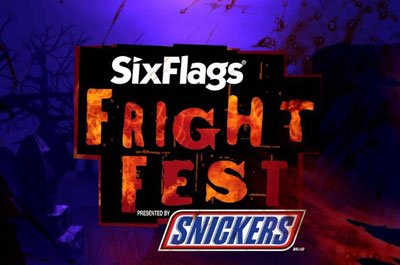 Fright Fest
On 24 select days from September 16 until October 31, 2016
Six Flags Great Adventure
1 Six Flags Boulevard
Jackson, NJ 08527
Website
(Check calander for dates and times)
Caution:
The park is family-friendly by day, but they turn up the terror at dusk! Fright Fest at night is not recommended for children under 13 or anyone who scares easily.
This Halloween celebration at the huge Six Flags theme park has a large variety of trails, each with a different theme. They range from the not so scary to the extreme, very scary.The characters are live and will agree to stop and take pictures with you if you ask. Park Maps are provided to provide a guide and information on the shows and trails.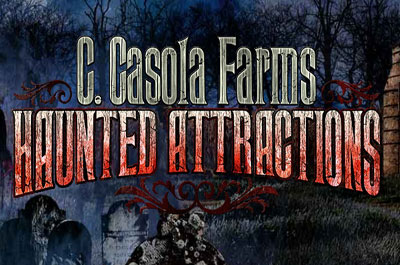 Annual haunted Attractions

Saturday, September 23 until Sunday, October 30, 2016, Every Friday, Saturday and Sunday evening; 7 p.m. and 11
Casola Farms
131 South Main Street
Marlboro, NJ
 732-946-8885
Website
The farm offers a variety of haunted options for horror lovers: a hayride, barn, wooded trail and maze are all haunted. Unique to the farms is The Marlboro Zombie Breakout. The attraction is based upon the real-life Marlboro Psychiatric Facility, which closed in 1998 and was demolished in 2015. For 67 years, mentally ill patients sought treatment at the hospital, and it was plagued with reports of patients committing suicide or simply leaving. This attraction is based on a deranged doctor who accidentally turned patients into zombies, who are now terrorizing C. Casola Farms. Those brave enough to face the zombies can ride through the haunted offering, targeting the zombies with paintball guns. For those who get a little hungry after being terrorized, general festival-type food will be available for purchase.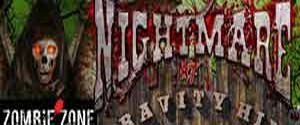 Nightmare at Gravity Hill
Fridays, Saturdays & Sundays from September 16th until October 30, 2016
Cicconi Farms
1005 Farmingdale Road
Jackson, NJ
Website
Located on five acres of farmland, there are over a dozen scary scenes & settings. Expect a 35 minute walk amongst chilling, haunted trails with creepy themes and adventures.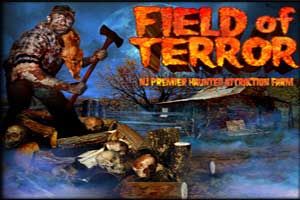 Field Of Terror
Open weekends beginning on Friday September 23 and ending on Sunday, October 31, 2016, with additional Thursday openings on October 20nd and 27th.
831 Windsor Perrineville Rd
East Windsor, NJ
Website
Choose from 4 terror filled events or try out our "safe" area featuring straw bale maze and our Family Friendly flashlight corn maze for those who are less brave. Also has a nighttime hayride and pumpkin picking to the patch, food, DJ and dancing, concessions, a bonfire and fireworks on Sunday, October 9th @8:30pm. Fireworks shows are FREE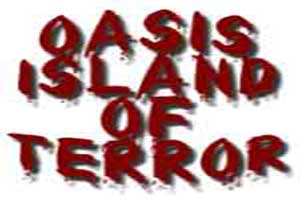 Oasis Island of Terror
September 23, 24 30, October 1, 7, 8, 9 14, 15, 21, 22, 28, 29, 30, 2016
3 Circle Drive
Robbinsville, NJ
609-259-7300
Website
The evening attractions include ;
A Walk through the Back Woods Bayou where you experience where reality ends and fiction begins. You may squeeze through rat tunnels or hog traps just to escape.
The Turnpike Apocalypse where it begins at exit 7A off the turnpike. We were told not to text and drive. This one mistake caused a major accident into a local bayou grave yard. The toxins from the vehicles and the mangled bodies may be the least of the problems for the rescuers.| The Woods Have Eyes: The myths are real. There is no explanation. Bodies have been found, camp sites have been destroyed, parks have been closed. But people just won't stay away!
During the daytime, the attractions include:
U-pick your own pumpkins, Fall sand art, Haunted (decorated) Fun Zone, Haunted Gem Mine, and the Fossil Adventure.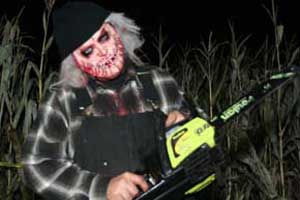 Schaefer's Frightfest

Saturday September 24th (closed the 25th). Then open Friday, September 30th and running every Friday, Saturday and Sunday night in October, 2016.
Schaefer Farms
1051 County Route 523
Flemington, NJ.
Website
Enjoy their 45 minute scary hayride through 200 acres of fright. Mass-Acre Maize: a casual run for your life! Carnival of Chaos: A walk through our nightmare. Treacherous trek through the Trail of Terror! A 45 minute hair raising hayride through 200 acres of fright. Mass-Acre Maize: a casual run for your life! Carnival of Chaos: A walk through our nightmare. We'll scare the yell out of you! Not recommended for children under 8.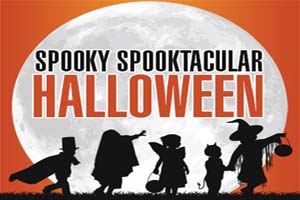 Spooky Spooktacular Halloween
September 30th – October 31st, 2016
iPlay America
Route 9 at 110 Schanck Road
Freehold, New Jersey
This Halloween celebration offers family fun for all ages including not so scary fun for the little ones. iPlay America will transform to Spooky Spooktacular Halloween this October! All month long, experience a Halloween event like no other in Central NJ. This family friendly event. This family friendly event features a live Magic Show and kids entertainment every weekend, a Trick-or-Treat trail, spooktacular décor, photo opportunities with Danny iPlay in his costume and other free Halloween themed activities.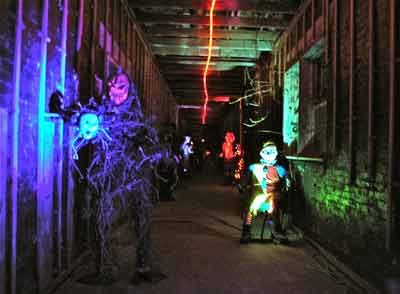 Camp Evans Base of Terror
Every Friday and Saturday in October, 2016, from 7PM - 11PM, weather permitting
Opening Night, Friday, September 30, 2016
InfoAge Science History Museum and Learning Center
2201 Marconi Road
Wall Township, NJ
Website
732-280-3000
Wall Township, NJ. Experience the 100-year-old Army Base on a most terrifying and disturbing 1/2 mile-long journey. The true and weird New Jersey history of this National Historic Landmark includes a century of top-secret and experimental research in radar, radio, satellites, radioactive materials and much more that has yet to be declassified. Camp Evans Base of Terror is an all-volunteer effort to raise money for the operation of The Info Age Science History Learning Center and Museum and preserve the grounds of a National Historic Landmark Camp Evans Base.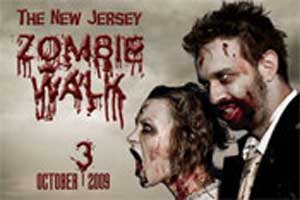 New Jersey Zombie Walk and Undead Festival!

October 1, 2106
Asbury Park Convention Hall
Asbury Park, NJ
Facebook
info@njzombiewalk.com
The New Jersey Zombie Walk at the Convention Hall and the Outdoor Festival in Downtown Asbury Park is dedicated to all things horror and zombie. The undead outbreak was born in Asbury Park in 2008, and every year since the zombie horde has tripled in size, rocketing the event further and further towards a total citywide takeover. On two occasions, in 2010 and 2013, the event broke the Guinness record for "largest gathering of zombies" with nearly 10,000 faux undead turning up for the pre-Halloween warmup.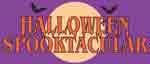 Halloween Spooktacular
October 2, 13, 22 and 30th, 2016
Downtown, Freehold, NJ
Website
A multi-day seres of different family events including Window Painting, Haunted Hayride, Jack-O-Lantern Judging, Halloween Costume Judging and Parade.
The GLOW: A Jack O' Lantern Experience
Every Friday, Saturday & Sunday during October: 7, 8, 9, 14, 15, 16, 21, 22, 23, 28, 29, 30, 2016;
Friday & Saturday 6:30pm-10:30pm, Sunday: 6:30pm-9:30pm
Monmouth Park Racetrack
175 Oceanport Avenue
Oceanport, NJ
Website
203) 308-5515
info@theglowjackolantern.com
Tickets starting at $16; Advance tickets required This Halloween event features an unforgettable quarter mile walk-through more than 5,000 hand-carved, illuminated Jack O' Lanterns of Jersey landmarks, celebrities, gangsters and political figures are just some of the icons-turned-squash that you'll get to enjoy. You will also get to experience the ghostly pirate ship Revenge, led by Captain Jack and his band of marauders and wander into Prehistoric Park where you'll stare up into the golden eyes of our sixteen-foot tall dinosaurs. Food and beverage vendors will be on site and parking is free. Children 2 & under are free. VIP Tickets available.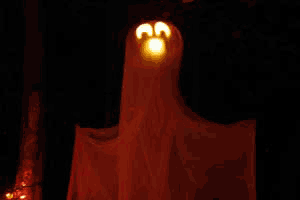 Haunted Woods
Saturday, October 15th Sunday, October 16th Friday, October 22nd Saturday, October 23rd Sunday, October 24th Friday, October 28th Saturday, October 29th Sunday, October 30th 2016: --- Hours: Fridays & Saturdays 7:00 pm - 10:00 pm or later? Sundays 7:00 pm – 9:30pm
75 Springhill Rd (off Cottrell Rd.  near Rt 34.)
Oldbridge, New Jersey.
Website
Walk through our haunted woods filled with displays, lights, sound, and live actors lurking about. The Scouts from Pack 67. Troop 167 along with friends and family run the event and help populate the woods. Come join us and be prepared to be scared. Please bring a non perishable food item for the Old bridge food bank (please check expiration dates). We will also be happy to accept donations to the Old bridge animal shelter. The scouts will also host a bake sale with delicious homemade baked goods as well as hot chocolate, hot cider and other beverages. Proceeds from the bake sale benefit the Troop and Pack.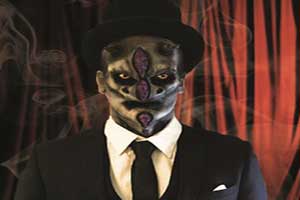 Brookdale Haunted Theater
October 14, 15, 16,, 21, 22, 23, 28, 29, 30, 2016; 7pm-10:30pm
Child friendly tours on October 22, 23, 29, 30 2016; 2pm-4pm
Brookdale Community College Performing Arts Center
765 Newman Springs Rd.
Lincroft, NJ 07738
732-224-2411
Website
brookdalehauntedtheater@gmail.com
Brookdale's annual Haunted Theater - designed, built and run by current and former students - is a delightfully tormented trip through evil creatures, ghouls and ghosts, bloody body parts, and more. The popular Haunted Theater redefines "stage fright" for its many visitors during the walking tour of a maze of blood-chilling rooms.
Boo at the Boardwalk
October 15, 16, 22, 23, 2016; Noon - 4pm
Jenkinson's Boardwalk
Point Pleasant, NJ
Website
This family event with activities for young kids features attendees dressing up in costumes , trick or treating, free face painting and crafts, stilt walkers, pumpkin patches, a beach maze, and underwater pumpkin carving in the Aquarium (Four Shows!) Underwater Pumpkin Carving in the Aquarium: Saturdays, October 15th & 22nd 12:30-1pm and 3- 3:30pm Perky's Pumpkin Derby: Saturday, October 22nd at 2pm (Rain Date Oct 23rd)
Ocean Grove Halloween Parade
October 29, 2016
Fireman's Park
Ocean Grove
(732) 774-1391
Prizes for best-dressed pets. Parade starts at Noon followed by trick or treating downtown.


Bradley Beach
Halloween Parade
Sunday, October 30, 2016 5 @6pm ( Rain date  Oct 31st)
Riley Park
Bradley Beach, NJ
732-776-2999
19th Century All Hallow's Eve

October 30, 2016 @ 11:00 am - 4:00 pm
The Historic Village at Allaire
4263 Atlantic Avenue
Farmingdale, NJ
Website
Come out to the beautiful Historic Village to celebrate the fall and the early traditions of Halloween. All Hallow's Eve is a time of year when the boundaries between teh supernatural world and the human world are at their thinnest. Its a time for magical creatures to roam about and people can see into the past and future. Traditionally, it was a time for young people to try and use divination to identify their future spouse. There will be pumpkin picking (limited quantity), tractor and wagon rides, historic games, storytelling, and a costume parade and contest for children 12 years and younger.
$5 admission for adults and $3 for children under 12 years of age.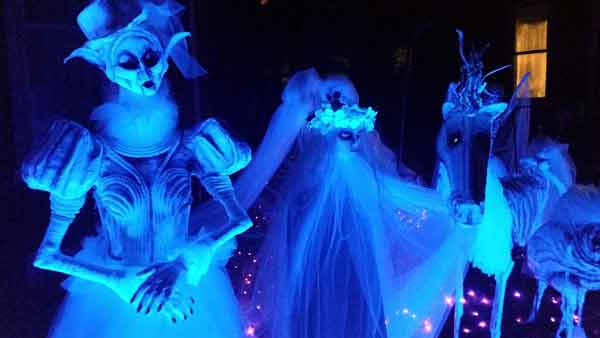 Lambertville Halloween Parade
Sunday, October 30, 2016
Downtown Lambertville, NJ
Website
Halloween enthusiasts will not have seen it all unless you attend the annual Halloween Parade. This event is so popular that it often attracts filmmakers, including three who shot a documentary dubbed "Halloween ville." On Halloween night, it's like Times Square, total chaos!
Just don't wait until the parade. Come anytime in October when it is less crowded and see creative decorations throughout Lambertville. The most and best can be seen on North Union and Buttonwood streets.
The parade will assemble on York Street by Mary Sheridan Park at 2:45 p.m. and step off promptly at 3 p.m. The parade will proceed north on Union Street to Perry Street, and east on Perry Street to the Little League Field where the judging will be held.
South Jersey 2016 Halloween Events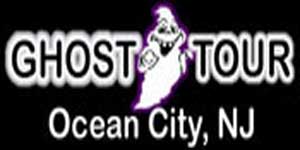 Ghost Tours of Ocean City

Fall 2016 weekends, the tour is scheduled weekends at 8:00 pm.
Tours depart from the corner of 9th St & Asbury Avenue.
Ocean City, NJ
Website
A candlelight walking tour where that turns into "FEAR IN THE DARK"! It combines history, folklore, and ghost stories for a night of eerie fun in Ocean City's historic downtown. Tours last approximately 90 minutes. Recommend purchasing tickets by 6 pm to ensure your spot on the tour.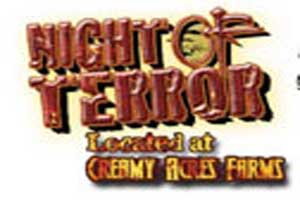 Night of Terror
Beginning September 23 and ending on October 29, 2016, every Friday & Saturday with some additional dates on Wednesday & Thursdays,
Creamy Acres Farm
448 Lincoln Mill Rd
Mullica Hill, NJ
Website
A spook filled event featuring very scary attractions including; The ride of Terror, the Home of the Demented and Dead, the dreaded Corn Maze, and a 3-D hall of terror.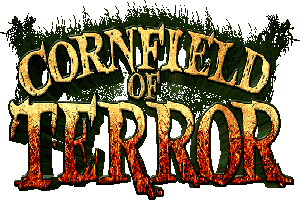 Cornfield of Terror
Friday, Saturday, and Sunday beginning September 30th and ending Sunday, October 30, 2016; Dusk -10pm
723 W. Herschel St.
Galloway Twp., NJ
Website
Corn maze, hayrides to the pumpkin patch, farm stand, face painting, pony rides, rope maze and a hay pit. After getting scared to death in the cornfield of terror grab some munchies and sit and watch free movies on outdoor movie screen. Movies Under the Stars Every Friday, Saturday and Sunday evening on their blow up movie screen. Enjoy munchies from their snack shack.
Giant Pumpkin Carve & Pumpkin Pageant

Saturday, September 24, 2016, 4:00pm until 9:00pm
Salem County Fair Grounds
Route 40
Pilesgrove Township, NJ
Website
The annual autumn event is fun family to welcome fall, celebrate the agricultural richness of Salem County and, at the same time, offer a unique venue for local artists to display their work. Musical entertainment, free hay rides, a variety of new children's activities such as Trunk-R-Treat for kids 12 and under in costume, straw maze, crowning of the Pumpkin Princess and more will be available when the fair grounds open at 5 pm. The Pumpkin Bake-Off offers prizes and proceeds from the sale of baked goods benefits Meals on Wheels.
Blood Shed Farms Fear Fest
Fridays & Saturdays beginning October 1st and ending October 30th, 2016
2919 Route 206
Columbus, NJ
Website
This attraction features one of the longest walking outdoor traisl of Terror that will take you on a journey full of unimaginable horrors and bone-chilling frights. Several Halloween themed attractions at one location Including: The Fun house of fear, The HellsGate Prison (based on the former Burlington County Prison with dungeons, gallows and old cells decorated with mannequins and artifacts), The Necropolis Cemetery and the Trail of Terror.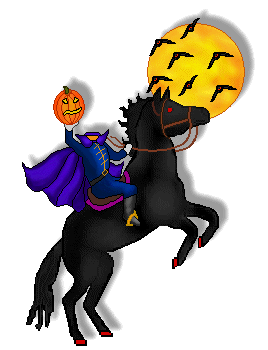 The 13th annual South Jersey Pumpkin Show
October 7, 8, 9, 2016
Salem County Fairgrounds
Woodstown, NJ
Website
856-765-0118
The event features a giant pumpkin pyramid, a Big Pumpkin Weigh-Off, pumpkin wine sampling, pumpkin foods, dessert contest, pumpkin themed pageant, pumpkin contests and so much more. Thousands of families from many states show up year after year in support of the South Jersey Pumpkin Show. The giant pumpkin pyramid will be showcased as the center piece of the festival and kids under ten will enjoy a free, friendly boo barn, pumpkins, craft making and free pumpkins. Families visiting the festival can enjoy wine sampling, pumpkin desserts, rows and rows of craftsmen, Fall Home & Living Expo, fun contests, scarecrows, amusement rides, give-a-ways, Adult only pumpkin toss, live bands, festival food court, camping, NJ Largest Baked Pumpkin Pie, colorful pumpkins, pumpkins and so much more!
The South Jersey Pumpkin Show is a completely self-supporting festival made possible by the sponsors, exhibitors. Admission is free, parking $5.00 a carload and free shopping bags for visitors.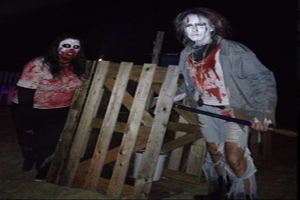 Walk of Fear
October 7th & 8th ​14th & 15th ​ 21st & 22nd, 28th, 29th & 30th, 2016
Bamboo Gardens
134 Landing Street
Vincetown, NJ
Website
10 themed areas interconnect by bamboo trails. A 30 to 40 minute Bone Chilling Walk in a Unique Atmosphere. FX Lighting, Foggers, Strobes, Loud Scary Music throughout entire Haunt. Actors Lurking everywhere Cross Blood Beach Enter The Black Light Forest Roam The Bone Yard Escape The Asylum. Admission $25/person.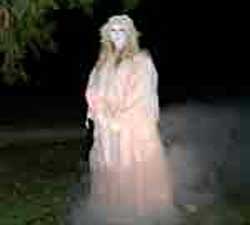 Mullica Hill's Ghost Walk
Saturday, October 8, 2016; 6:30pm till late
Tours will depart from outside Blue plate restaurant, every 10 minutes beginning at 6:00pm, from
47 South Main Street
Mullica Hill
Website
Explore Mullica Hill's haunted history as you walk past the historic houses and public buildings along Main Street during the 1 and 1/2-hour guided tour. Advanced tickets sales are strongly recommended!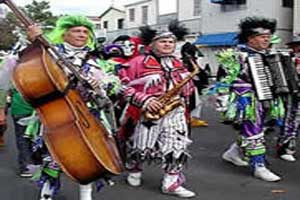 Cape May Halloween Parade

Sunday, October 16, 2016
Perry St. to Physick Estate
Cape May, NJ
(609) 884-9565
Website
The Cape May annual Halloween Parade is one of the highlights of the fall season. No where else in New Jersey can you see so many creative costumes parade by in such a short time. The Parade travels down Carpenter's Lane onto Ocean Street and then down Washington Street where it ends at the Emlen Physick Estate where there'll be a little party for the participants. Register at 1:30pm, Judging starts at 2pm, Parade begins at 3pm, Rotary Park Awards will be given in many different categories, groupings, and age ranges. Be sure to bring a sweets bag for trick or treating on the Washington Street Mall, starting at noon.

Haunted Seaport
Thursday, October 20, Friday, October 21, and Saturday, October 22, 2016: from 6:00 pm until 9:00 pm
Tuckerton Seaport
120 W. Main Street
Tuckerton, NJ
Website
Three Scary Nights! Pirates and sea captains long lost at sea stroll the boardwalk for a night of screams. Haunted Tucker's Island Lighthouse, hayrides, phragmites maze, food, refreshments, entertainment and a non-scary pumpkin patch for the little ones. Fun for the whole family! General Admission applies.

Goblins in the Garden Family Festival
October 22nd & 23rd, 2016; 1:00 - 4:00pm
Camden Children's Garden
3 Riverside Drive
Camden, NJ
Website
Goblins in the Garden Family Festival. Kids in costumes receive half-price admission for this howling good time. Take a Haunted Train Ride; dodge costumed characters in our Haunted Maze, and meet the bumbling burglars. Trick or Treat during our Costume Parade! .The Costume Parade will take place on the Main Plaza at 2pm.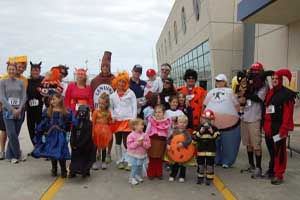 Wildwoods Boardwalk Pumpkin Run
Saturday, October 22, 2016
Wildwood Boardwalk
Wildwood, NJ
Website
The Wildwoods Boardwalk Pumpkin Run is a ghoulishly fun and exciting family event for all ages Halloween Weekend. This festive boardwalk event offers a 5K & 10K run along with a 1 mile family walk, starting at 10 a.m. - rain or shine. Registration begins at 8:30 a.m. inside the Wildwoods Convention Center. Participants are encouraged to dress in their favorite Halloween costumes to vie for the prizes in the best dressed categories of Family, Youth, Infant, and Best All Around. All proceeds benefit the Elementary Schools of the Wildwoods.

Point Pleasant Boro Halloween Costume & Float Parade
Sunday, October 30, 2016 1:00 - 3:00 pm
Bridge Ave
Point Pleasant, NJ
732.295.8850
Website
Open to all ages, groups, and businesses that wish to celebrate the Halloween season. Fun for all ages - Pets - Groups - Motorized Floats - Pull Floats - Trophies and participation ribbons for all. The parade marches down Bridge Avenue to Community Park where the winners are announced and trophies 

Ocean City Halloween Parade
Thursday, October 27, 2016 @ 7:15 PM
Asbury Ave. from 6th - 11th Street
Ocean City, NJ
609-399-1412

North Wildwood Trunk-or-Treat Halloween Block Party
October 31, 2016; 5:30 p.m. - 7 p.m.
Along Olde NJ Avenue between 2nd & Walnut Avenues
North Wildwood, NJ
609.522.2955
Parking for visitors will be available in the municipal lot at 2nd and Olde New Jersey
A block party event.. Families are encouraged to bring their vehicles decorated for Halloween. Children will come in costume and visit each car where families will provide treats from the trunks of their cars. There will be no judging of the children's costumes, but prizes will be awarded to the vehicles with the best decorations. Registration is free and forms are available at 900 Central Avenue in North Wildwood

Greater Wildwood Elks Halloween Haunted House
October 31, 2016; 5 - 8pm
Elks Lodge
109 West 1st Avenue
North Wildwood, NJ
609-729-2170
A family event where Trick-or-treaters walk through a "haunted house" and receive treats.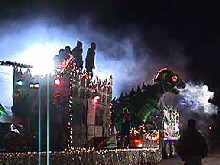 Toms River Halloween Parade

Monday, October 31, 2016 @ 7:00 PM (Rain Date Nov. 1, 2016 7pm)
Toms River Center
Main Street and Route 37,
Website
Reported to be one of the largest Parades of it's type in the world, it's a parade with plenty of floats and decorative Halloween themed attractions. Arrive early. It is recommended you arrive about 2 hours prior to the start of the parade. This allows time to get settled and comfortable so the parade can begin on time. In the past, people have put chairs out even earlier. Parade starts at 7:00 pm, from the Toms River Center located at Main Street and Route 37, proceeding South on Main Street, then east on Washington Street and concludes at Hooper Avenue. Most trophies will be distributed at 101 Hooper Avenue, Ocean County Administration Building
---
---