Fine Arts Shows, Museums, Exhibitions, and Events
Popular New Jersey art museums and galleries that would be of interest to fine arts enthusiasts looking for an educational and enjoyable day trip, or to complement their weekend getaway or vacation.

All of the museums, art galleries, and art centers are open to the public and include exhibits that display l works from artists and crafts people. Some of these special exhibitions are limited engagements as well as ongoing or extended period of times. All of the exhibits are not exclusively for adults, many can be enjoyed by children.

Northern NJ Art Galleries and Museums
Belskie Museum of Art & Science
280 High Street
Closter, NJ
201-768-0286
Website
Exhibits the works of sculptor and medical illustrator Abram Belskie and provides a forum for the arts by providing a venue where both local and international artists of repute can display their works. Hours: Saturday and Sunday: 1-5 pm. Special hours can be arranged by appointment for schools and organizations. Admission is Free.
Hiram Blauvelt Art Museum
705 Kinderkamack Road
Oradell, NJ
201-261-0012
Website
One of only five museums in the United States to exclusively display wildlife art. Hours: Wednesday, Thursday, Friday 10am–4pm Saturday and Sunday 2–5pm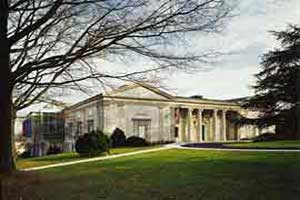 Montclair Art Museum
3 South Mountain Avenue
Montclair, NJ 07042
(973) 746-5555
Website
They feature distinctive collection of American and Native American art, exhibitions, and educational programs that link art to contemporary life in a global context.
Hours: Wednesdays - Sundays, Noon - 5 p.m; Closed Mondays, Tuesdays, and major holidays.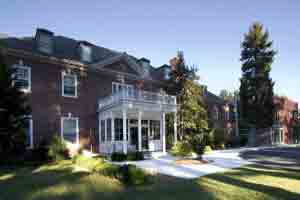 The Morris Museum
6 Normandy Heights Road
Morristown, NJ
973-971-3700
Website
Features the enjoyment of the visual and performing arts, natural and physical sciences, and humanities through exhibitions, performances, and educational programs.
Hours: Wednesdays, Fridays, Saturdays: 11 a.m.-5 p.m. Thursdays: 11 a.m.-8 p.m.. Sundays: 1-5 p.m. Closed Mondays & Tuesdays, New Year's Day, Easter Sunday, Memorial Day, 4th of July, Labor Day, Thanksgiving Day, Christmas Eve and Christmas Day.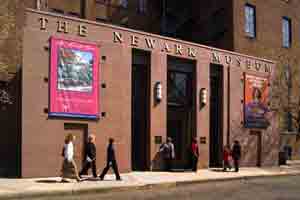 The Newark Museum

49 Washington Street
Newark, NJ
973-596-6550
Website
Features experiences in the arts and natural sciences with 80 galleries of world-class collections including American, Asian, African and Classical.
Open: Wednesday through Sunday, 12 noon–5 pm. Closed Mondays (except for Dr. Martin Luther King Jr. Day and Presidents' Day), Tuesdays, New Year's Day, July 4, Thanksgiving Day and December 25.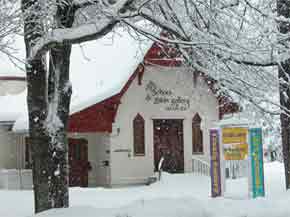 The Art School at Old Church
The Mikhail Zakin & Café Galleries

561 Piermont Road
Demarest, NJ
201-767-7160
Website
An art school and fine art gallery offering art classes, craft classes, workshops, children's classes, art exhibits & more. Gallery Hours: Monday-Friday, 9:30 AM - 5:00 PM, Please call the school for evening or Saturday hours.
Peters Valley Craft Center
The Sally D. Francisco Gallery
19 Kuhn Road
Layton, NJ
973-948-5200
Website
A national center for fine craft education where people's lives are enriched through the exploration and execution of fine craft. They offer two to five day workshops in blacksmithing, ceramics, fibers, fine metals, photography, print making, wood and special topics including print making, books & paper, drawing, and glass. The Sally D. Francisco Gallery is located on the second floor and hosts solo and group, themed exhibitions on a rotating basis throughout the year.
Hours: Open year round. Thursday through Tuesday 10am - 6pm. April through early November, they are open Thursday through Tuesday, 10am - 6pm. The store opens 7 days for holiday shopping beginning mid-November through December.
Central NJ Art Galleries and Museums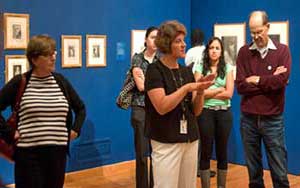 Jane Voorhees Zimmerli Art Museum
Rutgers, The State University Of New Jersey
71 Hamilton Street
New Brunswick, NJ
732-932-7237
Website
Hours: Tuesday – Friday: 10:00 am – 4:30 pm, First Wednesdays: 10:00 am – 9:00 pm, Weekends: Noon – 5:00 pm Closed: Mondays all year, month of August Holidays: Memorial Day, July 4, Labor Day, Thanksgiving Thursday and Friday, December 24, 25, and 31, January 1
Freehold Art Gallery
7A West Main St
Freehold, NJ
(908) 614-9195
Facebook page
The gallery features all mediums of art from both emerging and established local New Jersey artists, select works by artists from around country and the world, as well as prints, historic maps, photographs, documents, and other unique pieces.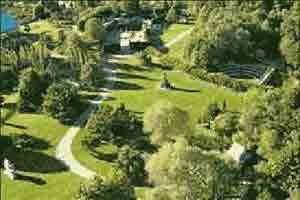 Grounds For Sculpture
18 Fairgrounds Road
Hamilton, NJ
(609) 586-0616
Website
A 42-acre public sculpture park founded by J. Seward Johnson to promote an understanding of and appreciation for contemporary sculpture. Visitors to the park can enjoy the outdoor permanent collection, indoor seasonal exhibitions, and learn about contemporary sculpture through a variety of educational programs including workshops for adults and children, artist residencies and lectures, tours for adults, schoolchildren, toddlers, as well as touch tours for the blind.
Hours: Open year-round. Tuesday-Sunday, 10am-6pm; Closed Mondays except Labor Day and Memorial Day. Closed Thanksgiving Day, Christmas Day, and New Year's Day. Also closed to the public for Members only events.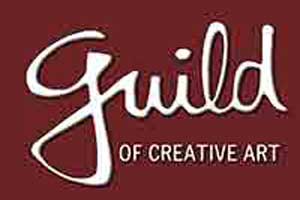 Guild of Creative Art
620 Broad Street
Shrewsbury, NJ
732-741-1441
Website
The Guild is a non-profit organization dedicated to advancing excellence in the visual arts through teaching, exhibits, workshops, and special events. Yvonne Aubert and the charter members wanted to foster creative camaraderie, to establish a meeting place where artists could connect.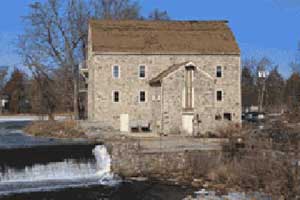 The Hunterdon Art Museum
7 Lower Center Street
Clinton, NJ
908-735-8415
A historic site display workd of artists and serving as a home for art education programs.
Hours: Tuesday-Sunday, 11:00AM - 5:00PM.
Learn more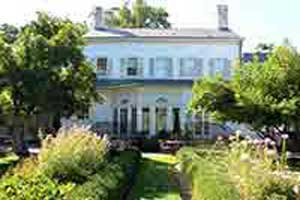 Morven Museum & Garden
55 Stockton Street
Princeton, New Jersey 08540
609.924.8144
Website
A National Historic Landmark situated on five pristine acres in the heart of Princeton, New Jersey, showcases the rich cultural heritage of the Garden State through regular exhibitions, educational programs and special events. This was the Home to one of the signers of the Declaration of Independence and to five New Jersey governors, Morven has played a role in the history of New Jersey and the nation for more than 250 years.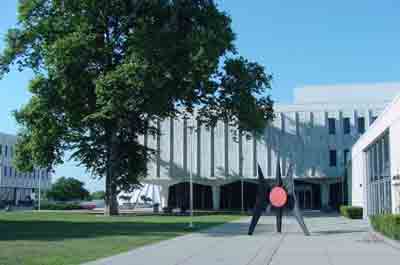 The New Jersey State Museum
205 West State Street Trenton, NJ
(609) 292-6464
Website
The museum features over 12,000 works of art including paintings, prints, drawings, sculpture and photographs, most acquired since 1965 when the Museum's mission was expanded to include fine art.
Open: Tuesday – Saturday, 9 am to 4:45pm Sunday, noon to 5 pm. Closed Mondays & State Holidays.
Princeton University Art Museum
McCormick Hall in the middle of the Princeton University campus
Princeton, NJ
609-258-3788
Website
They feature visual arts as being essential to the advancement of knowledge of art and archaeology.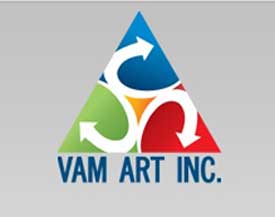 Vam Art
15 Station Place
Metuchen, New Jersey
(855) VAM-4-ART
Website
They are dedicated to providing a comprehensive view of the contemporary art world.
Southern NJ Art Galleries and Museums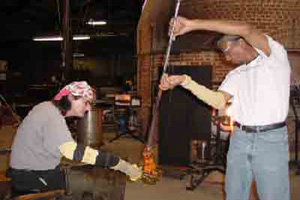 Wheaton Arts and Cultural Center
1501 Glasstown Rd
Millville, NJ
Website
A restored village and an arts organization emphasizing the creative spirit with a special emphasis on glass.
Hours: Open April through December, six days a week: Tuesday through Sunday, 10am to 5pm. Open Legal Holidays: Memorial Day, July 4 and Labor Day Closed: Easter Sunday, Thanksgiving Day, Christmas Day and New Year's Day. ( closes at 3 p.m. on Christmas Eve day)
Lean more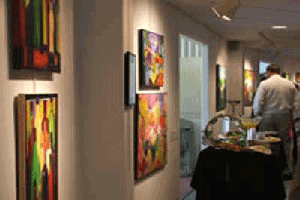 Ocean City Arts Center
Ocean City, NJ
(609) 399-7628
Website
The center features three large studios with northern light and a dance studio, music room, pottery studio, reference library and darkroom. Forty-plus weekly classes are offered in five to six sessions yearly, as well as frequent one-day workshops for adults, teens, and children. They also have a summer art camp, and each month they have new exhibits featuring regional and national artists of various mediums.
Hours: Monday through Friday, 9am to 9pm. Saturday, 9am to 3pm
---
Note: The scheduled events below is provided by event sponsors as a free service to our viewers. Sometimes conditions require cancellations or changes of dates, times and location which are not reflected in the original schedule. Before planning a trip to visit one of the listed events, it is suggested that you call the event sponsor to confirm the event schedule or for additional information on the event.

Ongoing Art Shows, Exhibitions and Collections

The Civil War Flag Collection of New Jersey
Ongoing
The New Jersey State Museum
205 West State Street Trenton, NJ
(609) 292-6464
Website
This exhibition is a rare collection of flags carried into battle by New Jersey's Civil War soldiers and learn about our important role in the history of the War Between the States. New Jersey is one of the few states to actively display its Civil War flags, which were often returned to capital cities after the war. The flags change periodically, allowing visitors to experience new examples from the collection.
Scheduled Art Shows, Exhibitions, and Events

Early Newcomb Pottery from the Barbara and Henry Fuldner Collection
Saturday, May 7th until November 6, 2016
2352 Route 10 West
Morris Plains, NJ 07950
Website
The exhibition will be on view during all tours of the Log House, which depart Thursday-Sunday at 12:15, 1:15, 2:15, and 3:15, and Special Interest Tours will provide an opportunity for in-depth exploration of the exhibition.
This exhibition features a private collection of approximately 30 examples of early Newcomb Pottery within the dining room of the Log House—Gustav Stickley's own home, which he not only designed, but also built and lived in from 1910-1917. The exhibition highlights the work of a dozen different designers from Newcomb Pottery, which was founded in 1895 as part of the H. Sophie Newcomb Memorial College, the women's coordinate of Tulane University in New Orleans.

Special Interest Tours: Early Newcomb Pottery Exhibition
Saturdays at 11:30 a.m.
May 14 and 28; June 4 and 25; July 9 and 23; August 13 and 20; September 10 and 24; and October 8 and 22, 2016.
The Stickley Museum at Craftsman Farms
2352 Route 10 West
Morris Plains, NJ 07950
973-540-0311
Website
For an in-depth look at The Stickley Museum's Early Newcomb Pottery exhibition, make plans to attend a Special Interest Tour, offered on multiple Saturdays at 11:30 a.m. Set in the rich visual context of Gustav Stickley's own Log House dining room, Early Newcomb Pottery features 30 unique pieces produced pre-1915. The tour will delve into the rich history of Newcomb Pottery and examine the relationship between Newcomb Pottery and Stickley's own Arts and Crafts enterprise through an exploration of specific pieces on view and the work of designers like Harriet Joor, who produced designs for both enterprises.

New Directions: Dannielle Tegeder
June 4, 2016 - July 30, 2017
Montclair Art Museum
3 South Mountain Avenue
Montclair, NJ 07042
(973) 746-5555
Website
This exhibition presents newly commissioned works by the Brooklyn-based artist for MAM's Laurie Art Staircase and Outdoor Video Monitors. Raised in a family of steamfitters, including her father, Tegeder is fascinated by architecture, urbanism, and engineering, which inspire her abstract drawings, paintings, installations, and animations.

Newark Arts Council's Open Doors Citywide Arts Festival
October 19 -23, 2016
Website
973-643-1625
Newark's bustling arts scene will explode with an array of exhibits, talk-backs, performances, street displays, studio open houses, and more. The citywide arts tour and community event celebrates Newark's unique and diverse contributions to the arts and to American culture. More than 40 venues will join forces to showcase visual, performing, and literary art.

Fall Open Studios & Brunch
Sunday, October 23, 2016; noon to 6pm
Gateway Project Spaces
2 Gateway Center
Concourse Leve
Newark, NJ 07102
The event is hosted in conjunction with the Newark Arts Council's Annual Open Doors Tour (above). The food will be warm, the spirits seasonal, and the art aplenty! Open Studios is a great opportunity to engage with artists- see what they're working on, and talk to them about all manner of things. There will also be multiple performances, interactive activities and pop installations by our onsite artists. A full roster of events to be annouced soon. In the Project For Empty Gallery, artist-in-residence, jc lenochan's solos exhibition "Raising A Riot" will be on view. The artist will host an open mic with the company of Newark area high schoolers at 3pm.

A Material Legacy: The Nancy A. Nasher and David J. Haemisegger Collection of Contemporary Art
July 30, 2016 until October 30, 2016
Princeton University Art Museum
McCormick Hall in the middle of the Princeton University campus
Princeton, NJ
609-258-3788
Website
A Material Legacy brings together many of the most exciting artists of the past decade to illuminate the material impulse found in contemporary art practices. Nearly all made within the last ten years, and many in the last several years, the works in the exhibition provide a fresh view into art making in the twenty-first century and include globe-spanning artists from North America to Chile and India.
---
---