El Meson Restaurant
A Freehold, NJ Dining Review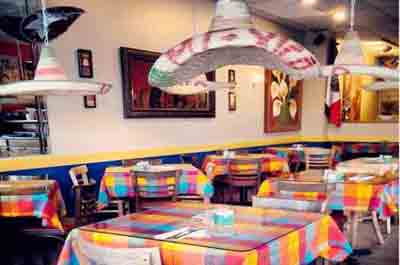 El Meson Restaurant
44 West Main Street
Freehold, NJ
(732) 308-9494
Face book
Fare: Americanized - Mexican
Price: Inexpensive-Moderate
---
Overall Rating: N/A - A casual eatery, not rated against other fine dining Restaurants
---
One of the top "Tex Mex" restaurants in Western Monmouth County

Offers indoor and outdoor dining in the warmer months


On-street parking cam be difficult to find. Try free public lot across the street.
Value: Excellent

Noise Level: Low-Moderate

Dress: Casual

---

Recommended For: Diners who enjoy well prepared Mexican food

Not Recommended For: Diners who prefer traditional American food in an upscale setting.

Recommended dishes: When available, The Grilled salmon with a sautéed cactus pad and chicken tamale and finished with whole grain honey mustard sauce; The Veal chop topped with eggplant and roasted poblano peppers; and The Zucchini boat filled with creamy risotto, grilled chicken tenders, chorizo (spicy Mexican sausage) and topped with a delectable chipotle tomato sauce;
Liquor: BYOB
Restaurant Review
El Meson, a long time Freehold Mexican restaurant, is a popular spot with Western Monmouth County diners who come for well prepared "Tex -Mex" food.
As an aside, "Tex - Mex" is a term used by most Americans to label the cultural fusion  of American and Mexican cuisine, or "Americanized" Mexican cuisine. This term has little meaning except to say that it's not authentic Mexican food, and lacks an understanding of what "authentic" Mexican cuisine means and which region of Mexico the cuisine is being compared to.
The country of Mexico is comprised of 32 federal entities with each of these entities having their own style of Mexican cuisine. The styles of cuisine amongst entities varies widely depending on the regions use of ingredients, flavors, and style of preparation.
The style of Mexican cuisines can be broken down into seven major regions: The North, The Northwest Pacific Coast, The Bajio, The South Pacific Coast, The South, The Gulf, and Central Mexico.
To simplify the difference, the regional styles of cooking most apt to be found in United States are the North ( Baja, Sonora, Chihuahua, etc.) , and the South (Campeche, Yucatan, Quintana Roo, and Cancun)
The North reflects the presence of the of cattle ranches. Dishes often include grilled beef, and the most popular dishes include machaca, arrachera (Fajitas) and cabrito (baby goat). The use Cheeses are also popular and the region produces the widest varieties of cheese in Mexico, including queso fresco (fresh farmer's cheese), and ranchero (similar to Monterey Jack). Other popular ingredients are burrito sized flour tortillas, dried meats, pinto refried beans, and Spanish rice
The South (Campeche, Yucatan, Quintana Roo, and Cancun) regional style of Mexican cuisine is distinct from the rest of Mexico and is based on Mayan, Cuban, and other Caribbean island influences. Corn is the basic staple. Chicken, sea food, and vegetables with corn tortillas, black beans, and plantains, being ingredients most widely used.
The use of spices is common. One of the main spices, achiote (annetto seed) gives food a reddish color and a slightly peppery smell.
The menu at El Meson cannot be described as having one particular style of cooking. It's a mix of well prepared North , Gulf and sometimes South Mexican dishes with American influences.
The service is friendly and attentive.

During busy weekend evenings, there is often a wait of 20 minutes or more for a table
Outdoor dining is available in the summer.


(updated May, 2015)
How Do We Rate and Review Restaurants?
New Jersey Leisure Guide contains the largest source of extensive and unbiased New Jersey restaurant reviews. Data is gathered from our viewers e-mail restaurant comments, Internet and print research, and professional restaurant critics. The data is analyzed and a review created. Staff personal visits are sometimes made to corroborate and/or tweak results.

You might be also interested in ....