East Point Lighthouse
The second oldest lighthouse standing in New Jersey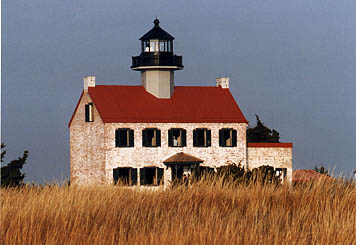 The Lighthouse was built in 1849 at the mouth of the Maurice River and has been an important part of the maritime history of Cumberland County, New Jersey.
Originally known as the Maurice River Lighthouse, it was erected in 1849 by the United States Lighthouse Establishment.
The East Point Lighthouse was renamed in 1913 and has since been an important maritime navigation aid for fisherman, oyster-men, and recreational boaters navigating their way into the mouth of the Maurice River. During the daylight hours, it has used as a landmark by hunters, trappers, and surveyors.
Although several lighthouses have stood along the edge of the Delaware Bay, East Point is the last one remaining on the Jersey side. The lantern room offers a panoramic view of the surrounding land and water and is a favorite subject of artists.
As with many other lighthouses during this period, the lighthouse was blacked out during World War II.
After the war the Coast Guard decided the lighthouse was no longer necessary, and in December, 1941 it was decommissioned. With no keepers or custodians to maintain the lighthouse, deterioration quickly set in.
In 1956 the property was deeded to the New Jersey Division of Fish, Game, and Wildlife.
Through the mid 1970's, members of the Maurice River Historical Society rebuilt the roof and lantern room.
On July 2, 1980 at public request, the US Coast Guard reinstalled a beacon in the structure and put the East Point Lighthouse back on the list of active navigational aids.
The East Point Lighthouse is listed in the National Register of Historic Places as the Maurice River Lighthouse
The lighthouse is open to the public on the 3rd Sunday of the month from April to October from 1:00 p.m. to 4:00 p.m.
Location:
10 Lighthouse Road
Heislerville, NJ
856-546-7810
Website
Other New Jersey Resources