Couscous
A Cherry Hill, NJ Restaurant Review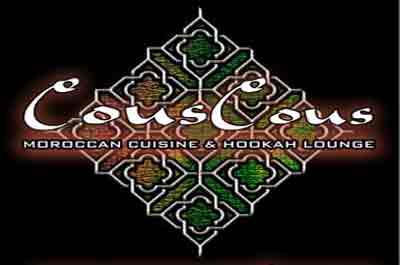 CousCous Moroccan Cuisine
130 Barclay Shopping Ctr
Cherry Hill, NJ 08034
(856) 427-9994
Fare: Moroccan
Price: Moderate - Expensive
Food Quality:
Service:
Decor:
Overall Rating:
Note: Four star Rating System from no stars = poor to Four stars
= Best in Class
---
One of the top Moroccan restaurants in South Jersey
Offers a selection of well prepared Vegan dishes ( Sunday thru Thursdays)
Well ventilated hookah bar.
Friday & Saturday evenings has a restricted menu selection limited to the 10 course Royal Feast.
Value: Excellent
Noise Level: Moderate
Dress: Casual

---
Recommended For: Diners who enjoy well prepared Moroccan and Vegan cuisine with an option to indulge in Shisa smoking.
Not Recommended For: Diners who prefer a traditional American or international style menu.
Recommended dishes: When available, Vegan Moroccan Tofu w/Shredded Tofu (Soy and Wheat) Sauteed With a Traditional Moroccan Gravy (Garlic, Cilantro, Paprika, Cumin, and Tomato), Served Over a Bed of Couscous and Seasonal Vegetables; The Vegan Couscous w/ Onions, Tomatoes, Black Pepper, Saffron & Olive Oil, And Seasonal Vegetables.
Liquor: BYOB with a $5 cover charge per person for the bottle.
Restaurant Review


CousCous is popular with diners celebrating a special occasion.
You can experience dining in a relaxed setting with pillows while being entertained with belly dancing and Moroccan music.
This is a restaurant with a Hookah lounge that appeals some people as a chic way to socialize and embrace multi-cultural-ism.
While dining, you can get comfortable on pillows as you sit back an enjoy belly dancing to authentic Moroccan music.
Smokers can enjoy smoking shisha with a variety of flavors including Cherry, Grape, Mango, Apple and more. The lounge offers a lite menu to complement the experience.
CousCous is well ventilated and non-smokers can feel comfortable in this environment.
The ambiance is Middle Eastern with in a cozy, dimly lit setting, although it tends to be dated and less than elegant.
The menu offers a wide selection of appetizers, entrees and course-sized meals. For the vegetarians, it has salad, hummus, falafel and tofu served with vegetable couscous.
On Friday and Saturday evenings they exclusively serve the 10 course Royal Feast. The Royal Feast is a mix of non-vegetarian selections. The Ala carte menu is available only on Sunday thru Thursdays.
(updated: November, 2014)
How Do We Rate and Review Restaurants?
New Jersey Leisure Guide contains the largest source of extensive and unbiased New Jersey restaurant reviews. Data is gathered from our viewers e-mail restaurant comments, Internet and print research, and professional restaurant critics. The data is analyzed and a review created. Staff personal visits are sometimes made to corroborate and/or tweak results.

Other New Jersey Resources