Alumni Grill
A Wildwood, NJ Restaurant Review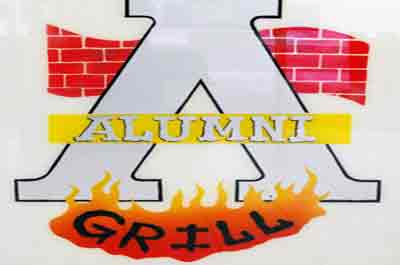 Alumni Grill
3316 Pacific Ave
Wildwood, NJ 08260
(609) 523-1111
Website
Fare: American - Sandwiches
Price: In-expensive
Overall Rating: N/A - A casual eatery. Not rated as a fine dining restaurant.
Note: Four star Rating System from no stars = poor to Four stars
= Best in Class
---
Serves some of the best cheese steaks and sandwiches in Wildwood
Self service, table service not available
Value: Very good
Noise Level: Moderate
Dress: Very casual

---
Recommended For: Diners who enjoy well prepared burgers, salads, wraps, sandwiches, and cheese steaks.
Not Recommended For: Diners looking for a sit down, full meal with table service
Recommended dishes: When available, Jekyll & Hyde Cheese steak, Bano Burger, The Warrior panini, and the Sweet Potato Wedges
Liquor: N/A
Restaurant Review


The Alumni Grill is not your typical Wildwood Hoagie joint with dated do wop architecture.
While their food is not considered gourmet The offer a large variety of creative menu of burgers, salads, paninis, crab cakes, and cheese steaks, served in generous portions. They also have vegetarian and healthy options, and several dinner specials
The place is self-service ---- you place order at the register and pick it up when its done.
The menu is organized by different high-school subjects.
They are noted for their signature Jekyll and Hyde cheese steak sandwich. It's 1/2 beef and 1/2 chicken with provolone cheese, bacon bits and mixed with their "special Jekyll Sauce".
The Dodge Balls at the Alumni Grill is another one of their signature foods. They are potato wedges that are prepared by deep frying garlic mashed potatoes until the batter is light and crispy. For added flavor, make sure to dip the potato wedges into the honey jalapeno dipping sauce that comes with the serving.
They also have a Brain Freeze milkshake bar with some very tasty flavors of shakes and floats.
Outdoor seating is available during the summer months.
The Alumni Grill operates on seasonal hours, During the peak summer season it;s open
Mid May to Mid September; Sunday through Thursday 11am to 8pm, Friday & Saturday 11am to 9pm.
Closed on Father's Day.
(updated February 2015)
How Do We Rate and Review Restaurants?
New Jersey Leisure Guide contains the largest source of extensive and unbiased New Jersey restaurant reviews. Data is gathered from our viewers e-mail restaurant comments, Internet and print research, and professional restaurant critics. The data is analyzed and a review created. Staff personal visits are sometimes made to corroborate and/or tweak results.

Other New Jersey Resources