Sam A M
A Jersey City, NJ Restaurant Review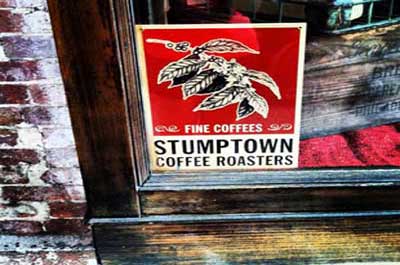 Sam A M
112 Morris St,
Jersey City, NJ 07302
201-432-2233
Website
Fare: Breakfast/Lunch

Price: In-expensive
Overall Rating: N/A - A casual eatery, not rated as a fine dining restaurant
Note: Four star Rating System from no stars = poor to Four stars
= Best in Class
---
One of the top Breakfast restaurants in Northern Jersey
Exceptional, well prepared food using high quality seasonal ingredients.
Limited seating, On weekends there tends to be long waits.
Value: Good

Noise Level: Moderate - High

Dress: Casual

Recommended For: Breakfast & Lunch Diners who enjoy high quality breakfast, brunch & Lunch with a good cup of coffee and are willing to a bit more for the experience.

Not Recommended For: Diners who prefer simply prepared food with a traditional style menu.
Recommended dishes: When available, The Weekender with 2 eggs up, cherry wood bacon, home fries & sourdough toast; The pulled Roast Chicken Waffles with a cranberry gravy, a fresh garden cheddar croissant, and The Carolina BBQ Brisket Breakfast Sandwich.

Liquor: BYOB.
Restaurant Review


Sam A m, located in the Paulus Hook section of Jersey is one of the top Breakfast/Lunch spots in Northern NJ.
This charming 22 seat eatery is popular with the locals who come for creative breakfast, brunch and lunch food made with quality, fresh ingredients sourced locally.
The changing daily menu is influenced by the availability of seasonal ingredients.
Coffee enthusiasts will enjoy their freshly brewed cup of Stumptown Coffee. This Portland, Oregon specialty coffee is cold press brewed without heat at room temperature water for over 12 hours. The taste in unforgettable! It's full bodied, smooth with low acidity, a chocolate finish and a frothy head,
The restaurant is the creation of owners Sam Kirk and his fiancé Amanda who have teamed up with Chef Francis Samu. Prior to opening Sam Am, Sam acquired his restaurant management skills working under Jody Williams who runs the successful Buvette restaurant, a French influenced eatery in the West Village, NYC.
Chef Samu received his formal culinary training in classical French cuisine at the Culinary Arts Institute of New York City. He later honed his cooking skills in the Carolinas where he acquired a knowledge of southern cooking styles before joining Sam A M.
The interior decor has a definite charm with sunlight beaming in from the large windows. There are white walls, warm wood trim , and a large blackboard with daily specials.
The staff is very friendly, enthusiastic and attentive
Sam A M is open Weekdays: 6:30am, Weekends: 8am -3:30pm. The Kitchen closes daily at 2:30.
(updated: January, 2015)
How Do We Rate and Review Restaurants?
New Jersey Leisure Guide contains the largest source of extensive and unbiased New Jersey restaurant reviews. Data is gathered from our viewers e-mail restaurant comments, Internet and print research, and professional restaurant critics. The data is analyzed and a review created. Staff personal visits are sometimes made to corroborate and/or tweak results.

Other New Jersey Resources