Mustache Bills Diner
A Barnegat, NJ Restaurant Review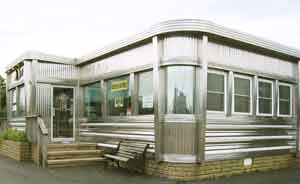 Mustache Bills Diner
Eighth Avenue And Broadway
Barnegat Light, NJ 08006
(609) 494-0155
Facebook page
---
---
Restaurant Highlights
Fare: American-Diner
Price: In - Expensive
No Rating : N/A - A casual dining eatery, not rated as a fine, high end dining restaurant.
---
Excellent diner with a large menu and huge portions.
An authentic, classic Jersey diner
Come early or expect to wait. Tables fill up fast at this local favorite, especially on the weekends and for Sunday brunch.

---
Restaurant Review
This seasonal diner is the eatery of choice for the local fishing community and vacationers during the warmer time of the year.
Located on the north end of Long Beach Island, a few blocks from the famous Barnegat Lighthouse on Long Beach Island, this authentic Jersey diner has been the life owner Bill Smith who started as a teenager washing dishes and later took over ownership in 1972.
Mustache Bill's is extremely friendly in a down home way, and the food is well prepared and reasonably priced. They have recently been named by the James Beard Foundation as a winner of the "America's Classics' award given to down home eateries.
If you spend any time in the Long Beach Island area and are looking for a good place to have breakfast or lunch, visit Mustache Bill's, it's a must.
Their pancakes and omelets are well prepared and tasty.
The popular favorites are the Huge Three-Egg Omelet served with a wide variety of ingredients choices. The Potato Skin Omelet with home fries, cheddar cheese, bacon, scallions and sour cream is especially tasty; as is the Crab, Mushroom, and Cheese Omelet with grits and lots of lumps of the local blue-claw crab meat
During the warmer summer months, expect a long wait for a table.


How Do We Rate and Review Restaurants?
New Jersey Leisure Guide contains the largest source of extensive and unbiased New Jersey restaurant reviews. Data is gathered from our viewers e-mail restaurant comments, Internet and print research, and professional restaurant critics. The data is analyzed and a review created. Staff personal visits are sometimes made to corroborate and/or tweak results.


---
---
Comments
Have a comment about what you just read! Leave a comment in the box below.
Copyright © 2007 - 2016. All rights reserved. www.new-jersey-leisure-guide.com