Best New Jersey Fall Activities, Festivals, and Events

The 2016 NJ Fall Activities

This is an exciting time of the year to experience the many fall activities, attractions, and festivals.

It's also an ideal time of the year to get out and see the beautiful fall foliage and the many harvest end of the growing season celebrations that occur throughout the State of NJ.


Note: This information is provided by event sponsors as a service to our viewers. Sometimes conditions require cancellations or changes of dates, times and location which are not reflected in the original schedule. Before planning a trip to visit one of the listed events, it is suggested that you call the event sponsor to confirm the event schedule or for additional information on the event.
Northern NJ Fall Activities
1920's Country Fair & Harvest Festival
September 18, 2016; noon - 5pm
Fosterfields Living History Farm
73 Kahdena Road
Morris Township, NJ
Website
973-326-7645
Admission is $8 per adult, $7 per senior (65+), $6 per child age 4 through 16, and $4 per child age 2 and 3. FREE for children under age 2. Friends members are half price with a current membership card.
This family evebnt features wagon rides, live music, food trucks, farm animals, exhibits, old fashioned games, and hands on helping churning butter and pressing apples into cider.
46th Annual Peters Valley Fine Craft Fair

September 24 & 25, 2016
Sussex County Fairgrounds
37 Plains Road
Augusta, NJ
Website
This annual event showcases beautiful American Craft made by 150+ exhibiting artists from across the country. Come & discover the pleasure of living with handmade objects and the beauty they bring to your life. Browse five buildings of amazing artwork, meet the makers, watch an array of artist demonstrations and find the perfect gift for yourself or someone special. There are also ongoing artist demonstrations, live music, great food and kid's art activities.
Grand Harvest Wine Festival
October 1, 2, 2016; Noon - 5:00PM
Fosterfields Living Historical Farm
73 Kahdena Road
Morristown, NJ
Website & Tickets
Tickets are $30 at the gate, $25 in advance. Admission includes unlimited wine tasting and a souvenir glass. This two day family event at a turn of the century rustic farm features the participation of over 20 of New Jersey's best wineries along with live music, craft vendors, delicious food, guest speakers and kids activities.

Learn How to Make Apple Cider
Hacklebarney Farm Cider Mill
104 State Park Rd.
Chester, NJ 07930
Face book
The historic cider mill built in 1860, is the centerpiece of a farm of 23 varieties of apples. This is a popular place to see the cider making process in action most Saturdays (around noon) and some Sundays during the fall season. Please call ahead during our hours of operation for cider pressing demonstration times. The demonstration times do vary slightly each weekend. Also, in mid-September thru October pumpkin picking is available, along with a corn maze for kids to get lost in.

Ralston Cider Mill Museun Tours
October Weekends; Saturday & Sunday 1-5 pm
336 Mendham Road West
Mendham, NJ
Website
This is the only operational cider mill in New Jersey functioning as a privately funded museum and educational experience for students of all ages. Built in 1848 with massive stone walls anda heavy timber structure, visitors can discover the hidden still that allowed this distillery to operate through prohibition. Fall tours take place on weekends theroughout october with a special apple pressing event on October 8, 2016, from 1 - 4 pm

Great Pumpkin Train
Weekends, from October 1st to the end of October, 2016
The Delaware River Railroad Excursions
99 Elizabeth St.
Phillipsburg, NJ
877-872-4674
Website
Child Pumpkin Train $11.00 Adult Pumpkin Train $ 17.00 trains leave: ( 11 AM 12:30, 2 OR 3:30)
Climb aboard the steam train and travel through the beautiful fall landscape of Western New Jersey. Take the train to the pumpkin patch located in a little glade in front of the historic Carpentersville Lime Kilns dating from the 1700's. Once we arrive at the Pumpkin Patch everyone is welcome to get off the train and every child can pick their own pumpkin for FREE.

Lord Stirling 1770's Festival
Sunday, October 2, 2016; 11:30am-4:30pm
Environmental Education Center
190 Lord Stirling Road
Basking Ridge, NJ
908-766-2489
Website
This event features a trip back in time to to experience what life was like here in the fall of 1770 and to learn about their local Revolutionary War hero, Lord Stirling. Attendees get to witness daily colonial life and craft industry a craftspeople ply their trades while a Town Crier announces the local news. A Revolutionary War Military detachment camps on the former estate lawn of Lord Stirling and conducts maneuvers. Stroll the grounds of "The Buildings" and tour Lord Stirling's personal 1762 wine cellar. The Lord Stirling 1770s Festival also features displays of authentic artifacts discovered on site by our archaeological field project. Children of all ages enjoy the hayrides, clay crafts, stenciling, tin piercing, and colonial games. Snacks, lunch, and cold drinks are available.
Suggested donation: $5 per person.

16th Annual Pumpkin Festival
Sunday, October 2, 2016; 12:30 - 5:00 PM (Rain or Shine)
Whippany Railway Museum
1 Railroad plaza
Whippany, NJ 07981
Website
Celebrate the Fall Harvest and the Season of the Witch with train rides and a Halloween crafts/vendor fair. Autumn is a Season of Family Fun, and the Pumpkin, the reassuring signal of seasonal passage, never fails to bring forth the image of cool nights, bright harvest moons, crackling fires, and the warmth of family and friends. And when pumpkins appear, they take on a playful appearance, alerting everyone that the special magic of Halloween, with its goblins, ghouls, and witches lies just around the corner. On-line ticket are is available for this event up to 2 hours before departure.

Annual New Jersey Botanical Gardens Harvest Fest and Craft Fair
October 1, 2, 2016; 10AM to 5PM – rain or shine
New Jersey Botanical Gardens
Ringwood, NJ
Website
Here you can tour and explore the Gardens at their yearly Harvest Fest, where you'll find a day full of face painting, hayrides and pumpkin decorating. Oktoberfest foods, fall treats and beer tastings will be served throughout the weekend. They also have had a craft fair with many local artisans selling autumn plants.

Lenape Day
Saturday, October 1, 2016: 12 PM - 4 PM
Great Swamp Outdoor Education Center
247 Southern Blvd.
Chatham Township, NJ
973.635.6629
Website
Cost: $5 per person age 3 & up
This popular annual family event celebrates the Lenape people with dancing, drums, vendors, and historical talks by the Ramapough Lenape People. Enjoy games, crafts, touring a replica wigwam, and more! Great fun for the entire family

7th Annual Sussex County Harvest Honey and Garlic Festival
October 8, 2016 10am - 4pm
Sussex County Fairgrounds
37 Plains Road
Branchville, NJ
Free event
Website
This family festival is a celebration of agritourism, ecotourism and arts & heritage tourism. The County of Sussex, the Sussex County Beekeepers Association and the Garden State Garlic Growers are joining with the Sussex County Farm and Horse Show to showcase New Jersey's great northwest. There will be a farmers market where you can buy fresh, local Sussex County and Jersey Fresh products including fruit, vegetables, flowers and wine. The Sussex County Beekeepers Association will have educational displays and materials along with an array of honey products



Central NJ Fall Activities
19th Century Fall Festival

September 26, 2015; 12:00 pm - 4:00 pm
Historic Allaire Village
4263 Atlantic Avenue
Farmingdale, NJ
732-919-3500
Website
This fall family event features all things special about the fall season including a chill in the air along with the aroma of apples, pumpkin, cinnamon and woodsmoke. The coming of winter means slowing down of outdoor jobs and time to start to relax. Join the workers of the Howell Iron Works as they celebrate the end of summer and beginning of fall with Children's games, Hearth Cooking, Cider Pressing, Puppet Shows, Music, Dancing, Apple snapping, Town ball, Militia Recruitment and Demonstrations! Horse and Wagon rides separate from admission.
Annual Howell Living History Farm Fall Tillage Wagon Tours

Saturday, October 15, 2016
Howell Living History Farm
70 Wooden's Lane
Lambertville, New Jersey (Farm Entrance)
(609) 737-3299
Website
Wagons will leave from the farmyard continuously from 10:30am until 3:30pm, touring fields where farmers will be plowing or harrowing with horses and circa 1900 equipment. Tours last 20 minutes and are given free, on a first come, first serve basis. A wheelchair-accessible wagon is available. During the tours, visitors will get a chance to meet the farmers and horses who work the 130-acre "living history" farm. Guides will explain how fields are readied for planting winter crops such as wheat and rye, poison ivy, a live wolf, some giant reptiles, a bat, a skunk, a dead tree and others as you collect good-for-you treats along the way. Bring a bag for your candy-free treats, costumes welcome but not required.
Southern NJ Fall Activities
Glocester County 4H Fall Festival
October 1, 2016; 4 - 9pm (rain date: October 2nd)
Bridgeton Pike
Mullica Hill, NJ
Website
This family event features some great fall activities including: a slingshot pumpkin chunkin, hayrides, a haunted house, games, activities, and more.
13th Annual Woodstown Fall Festival
Saturday, September 24, 2016; 10AM-4PM
downtown shopping district
Woodstown, NJ
Website
Woodstown's historic district comes alive; scarecrows by the dozens keep watch along the streets; historic houses are decorated in their fall best; and vendors, crafters and local shops line their food and wares along Main Street. Local South Jersey wineries bring out their best wines for tasting in the wine tasting tents. Woodstown's own Auburn Road Vineyards & Winery is always a favorite at the festival, offering tastes of their award-winning wines produced by grapes grown right on their vineyard here in Salem County.
25th Annual Blackwood Pumpkin Festival
Sunday, October 2, 2016; 11am - 4pm (raindate: Oct. 9th)
The Studio at Mainstage
27 South Black Horse Pike
Blackwood, NJ
Website
This annual festival features food, games, live music, and crafters, including four stages of entertainment, amusement rides, hayrides, pumpkin painting and carving, scarecrow making, a costume contest, and more.
South Jersey Pumpkin Show Festival
October 7th - 9th, 2016
Salem County Fairgrounds
760 Harding Hwy. Rte. 40,
Woodstown, NJ
856-765-0118
Website
This festival features three- days of family fun with contests, artists, craftsmen, home products, a pumpkin pyramid, entertainment, food, wine, amusement rides, a Giant Pumpkin Weigh Off, headless horsemen, scarecrows, Little Miss & Mister Pageant, dog parade, Boo Barn and more.
Lima Bean Festiva
l
Saturday, October 8, 2016; 9am-5pm (Rain date 10/9/16)
Wilbraham Park
Perry Street
West Cape May, NJ
609-884-9325
Website
The lowly legume takes center stage delighting locals and visitors alike with her vast array of recipes, crafts and products available. Come out and celebrate West Cape May's farming heritage with lima bean soup, tacos, salad, jewelry, T-shirts and more! Enjoy great food, quality vendors, antiques, entertainment and fun.
22nd Annual Pine Barrens Jamboree at Wells Mills Park
October 8, 2016: Live Music: 11:00am Thru 4:00pm
Wells Mills County Park
Rt. 532
Waretown, NJ
Website
Free Event
This event features a Live Outdoor Stage Concert of Bluegrass Music. This years lineup:
11:00 am -"Homemade Jam" 11:35 am - "Custom Blend" 12:10pm - 12:30pm - "Park Announcements" 12:35pm - "Saturday Night Express" 1:10pm - "Sweet Country Pine" 1:45pm - "Cedar Creek" featuring "Smokey-The Bear" 2:20pm - "Timber Creek" 2:55pm - "Bluegrass Road" 3:30pm - "J&E Company"
33rd Annual Chatsworth Cranberry Festival
October 15th, 16th, 2016; 9 am - 4 pm.
Downtown Rt. 563
Chatsworth, NJ
609-726-0006
Website
Admission to the festival is free. A donation of $5.00 will be accepted if you use the parking area at the school located off of Second Street.
This popular Fall family event features a celebration of New Jersey's cranberry harvest with a tribute to the Pine Barrens & it's local culture. The celebration is highlighted by a showing of many artists & craftsmen.
Family Fall Float Festival
October 16, 2016; 9 am - 3 pm
Historic Smilville Park
803 Smithville Road
East Hampton, NJ
Website
This event features a variety of family fun activities including:
A Canoe & Kayak trip, live entertainmment, jugglers, scarecrows on parade, mansion tours, face painting, games, magic, smores, and more.
Recommended Places To Stay

Alpine Haus
Vernon, NJ

Located in the Sussex County Skylands, reserve one of the romantic suites in the Carriage House with gas fireplaces and Jacuzzi tubs.

Reviews & booking
Cascades Lodge
Hamburg, NJ

A luxury resort hotel with amenities that include indoor & outdoor heated pools, mineral spa, sports & fitness facilities, and six Golf courses
Reviews & booking
The Wooden Duck
Newton, NJ

This charming mini-estate is ideal for a quiet romantic getaway. Deluxe rooms have a two-person soaking tub, a fireplace, and a private balcony.
Reviews & booking
Riverside Victorian
Clinton, NJ

A 6 room 1882 historic inn located in the heart of Clinton, one block from the village shops, major attractions, and casual restaurants.
Reviews & booking
Chestnut hill
Milford, NJ
This charming 1860 Victorian B & B overlooking the Delaware River near Lambertville, is furnished with rooms that have many amenities including electric fireplaces.
Reviews/Booking
Whistling Swan Inn
Stanhope, NJ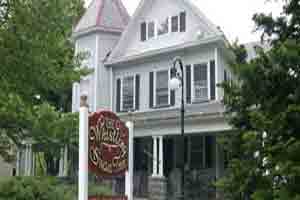 A romantic honeymoon B&B in the Skylands Region with suites having a fireplace and whirlpool tubs for two. Massage services are also available.
Reviews & booking
---