Delorenzo's Tomato Pies

A Robbinsville, NJ Restaurant Review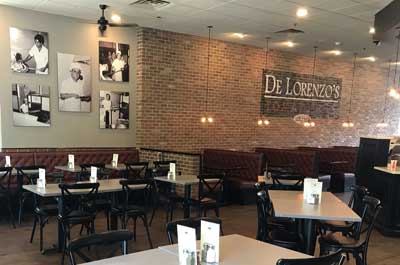 DeLorenzo's Tomato Pies
2350 US Highway 33
Robbinsville, New Jersey
609-341-8480
Website


Restaurant Highlights

Fare: Pizza

Price: Inexpensive - Moderate


One of the best pizza restaurants in Central New Jersey


Serves thin crusted Neapolitan Pizza with a tasty smoky flavor, using fresh and flavorful ingredients with crushed tomatoes.


On busy weekends evenings expect a long wait for a table.

Value: Excellent

Noise Level: Moderate

Dress: Very casual

Recommended For: Diners who enjoy tasty, thin crusted Neapolitan Pizza with quality ingredients.

Not Recommended For: Diners who prefer more American style pizza with domestic ingredients and loads of packaged toppings

Recommended dishes: The tomato pies with a variety of topping options. The white clam pie with onions and banana peppers is a good alternative to one of the tomato pies.

Liquor: BYOB

Restaurant Review

88De Lorenzo's Tomato Pies is a historic central Jersey tradition for pizza pies ever since 1936 when the De Lorenzo family opened their original restaurant in the Chambersburg section of Trenton.

This family run restaurant has been handed down through generations with Sam Amico, from the third generation, now running the transplanted De Lorenzo's Robbinsville restaurant since the closing of the original Trenton location in 2012.

The restaurant serves up a limited menu of pizza's, salads, and antipasti.

Delorenzo's is an institution and is one of the best places in Central New Jersey for pizza and is as close to it comes to authentic Neapolitan pizza.

Pizzas are have been called "Tomato Pies" in western central New Jersey for many years and continues on by the Delorenzo/Amico family at the Robbinsville location.

The recipe for their pizza was developed by Amico's grandfather and has since been passed down through generations.

They serve up thin crusted pizza with a very tasty smoky flavor and uses fresh and flavorful ingredients with crushed tomatoes.

Delorenzo's tomato pie has a perfectly created crust --- crispy on the outside, soft and chewy on the inside, forming the ideal foundation for the toppings. To fully appreciate the taste of the crust, don't add to many toppings or the flavorful taste of the crust will be drowned out.

To preserve the taste of quality, fresh ingredients, Delorenzo's does not serve grated cheese with their pies.

Contrary to the using the best ovens ( coal-fired or wood burning brick oven) for cooking pizza, De Lorenzo's Tomato Pies are cooked in a gas fired oven ever since the mid 50's when their grandfather, who originally used coal fired ovens, switched to the more convenient gas ovens with a stone backing.

The quality of the pizza lies in the exact timing and temperature that dictates the pizza's outcome, and the best pizza places have mastered that art.

While gas fired ovens are not often found in the top pizza places, the Delorenzo family has developed a the skill to achieve exact timing and temperature to produce a high quality crust and tastiness.

The interior decor has a modern feel with a comfortable waiting area and an attractive open kitchen.

Delorenzo's Tomato Pies is open six days/week for Lunch: Tuesday .- Friday, 11-2pm and for Dinner: Tuesday - Sunday, 4-10pm . Closed Mondays

(updated: August, 2018)


How Do We Review (analyze) Restaurants?
New Jersey Leisure Guide strives to provide analytic restaurant reviews .
The methodology used is research, analysis driven --- as opposed to that of a single restaurant critic or a viewer comment posting board.

Data is gathered from our viewers e-mail restaurant comments, Internet research, and professional restaurant critics. The data is sorted, (weeding out the obvious biased, "bone to pick",  and out of consensus comments), analyzed, and the review is created.

Learn More
---