Daniel's Bistro By The Sea
An Avon by the Sea, NJ Restaurant Review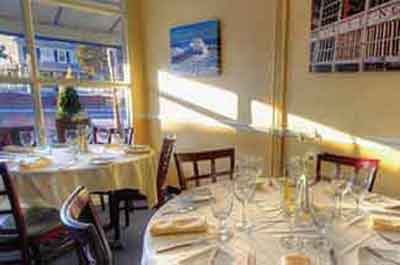 Daniel's Bistro By The Sea
526 Main Street
Avon By The Sea, NJ 07717
732-775-4107
Fare: New American
Price: Expensive
Food Quality:
Service:
Decor:
Overall Rating:
Note: Four star Rating System from no stars = poor to Four stars
= Best in Class
---
One of the top BYOB restaurants in the Northern Jersey Shore Area.
Exceptional, well prepared food using high quality seasonal ingredients.

On street parking - During busy times, may have to walk several blocks to find a spot
Value: Good
Noise Level: Moderate - High
Dress: Casual

---
Recommended For: Diners who enjoy excellent,well prepared food using fresh ingredients with in a low key BYOB setting
Not Recommended For: Budget conscious diners who enjoy less pricey food, with a traditional style menu.
Recommended dishes: When available, The Berkshire Double Cut Loin of Pork  Dusted with Chef's rub, grappa, oven dried tomatoes, golden raisins, roasted pignoli nuts; The Artic Char, pan seared, chablis, capers, truffle butter, chanterelle mushrooms, bacon gnocchi, spinach; and the Osso Buco, Braised veal shank, vegetables, wines, demi glace, saffron risotto
Liquor: BYOB - Local NJ wines are available They can also arrange with a nearby liquor store to deliver wine to your table.
Restaurant Review

Daniel's Bistro By The Sea is one of the top restaurants in the Avon By the Sea - Belmar area
Opened in the aftermath of Hurricane Sandy when their Pt. Pleasant beach location closed, owners  Daniel and Karen Pichard moved the Bistro to Avon and continued in the fine Daniel's Bistro tradition to offer an excellent menu.
The reason to come to this fine dining spot is to experience the culinary skills of French-Canadian Daniel Pichard. Chef Daniel Pichard, formerly of Martha's Vineyard in Clifton, Pino's in Marlboro, as well as the current Pt. Pleasant Beach Daniel's Bistro location, is masterful at creating a well prepared menu using fresh ingredients.
Chef Pichard is passionate about cooking and is committed to an attention to detail along with a knack for unexpected fine touches found at the high end fine dining restaurants. For example, the beginning of your dining experience comes with a complimentary serving of an exceptionally tasty small bowl of soup with bruschetta accompanied by a choice of two warm bread servings.
The final touch comes at end of the dinner with yet another complimentary serving of fresh cooked, tasty brownies accompanying the check..
Daniel's Bistro By The Sea is set in a small store front building along busy Main Street. The dining area is small, cozy with soft dimly lit, lighting. The walls are done up with soft earth toned creme and tan colors adorned with large color photos of the Jersey Shore. Tables are spaced very close together, set with white linen coverings, a dimly lit candle, and a fresh rose in a small vase.
During the warm summer months there is outdoor sidewalk dining.
Daniel's Bistro By The Sea is open with seasonal hours. During the summer they are open Monday - Thursday: 4:00 pm - 10:30 pm; Friday - Saturday: 4:00 pm - 11:00 pm; Sunday: 4:00 pm - 9:30 pm

(updated: March, 2015)
How Do We Rate and Review Restaurants?
New Jersey Leisure Guide contains the largest source of extensive and unbiased New Jersey restaurant reviews. Data is gathered from our viewers e-mail restaurant comments, Internet and print research, and professional restaurant critics. The data is analyzed and a review created. Staff personal visits are sometimes made to corroborate and/or tweak results.

Other New Jersey Resources