Clementine's Cafe
An Avon by the Sea, NJ Restaurant Review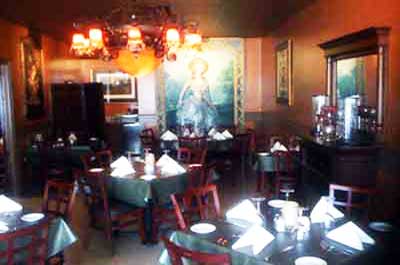 Clementine's Cafe
306 Main St
Avon By The Sea, NJ
732-988-7979
Fare: Creole/Cajun
Price: Expensive
Food Quality:
Service:
Decor:
Overall Rating:
Note: Four star Rating System from no stars = poor to Four stars
= Best in Class
---
One of the top NOLA Creole/Cajun restaurants in the Avon By The Sea/Belmar area.
For an authentic NOLA Creole/Cajun flavor, they ship in ingredients from New Orleans.
Tables are closely spaced close together.
"Cutesy, Funky" ambiance can be a bit overwhelming for some upscale diners.
Value: Good
Noise Level: Moderate - High
Dress: Casual

---
Recommended For: For diners who enjoy Creole/Cajun food with a funky ambiance.
Not Recommended For: Diners who prefer a simple traditional style menu with a low key ambiance
Recommended dishes: When available, The Cajun Rib Eye, seasoned and grilled over mashed potatoes; The Blackened Tuna, on top of mashed potatoes; and The Fried Catfish, lightly seasoned and golden fried served with mashed potatoes and hush puppies
Liquor: BYOB
Restaurant Review

Clementine's Cafe is a popular Creole/Cajun restaurant serving up very good New Orleans style dishes with unique ambiance
The atmosphere is warm and welcoming with a dining area that features polished wood floors, soft lighting and a seasonally changing "cutesy & fun " decor that borders on tacky with cluttered knickknacks and tables set with plastic tablecloths and plastic cups.
As you enter, your are greeted at the door by co-owner Michael with a warm and welcoming feeling of entering his home.
Wait staff attire is an eyesore, oftentimes dressed in tacky shirts and pants/shorts.
Despite the " cutesy & fun" decor, the dining patrons are dressed more upscale casual and in-line with the food quality.
During the warmer months there is outdoor dining on more charming sidewalk tables and chairs.
Co-owner/Chef and Louisiana native Bobby Johnson uses the finest, fresh ingredients, some of which are shipped in from New Orleans to provide an authentic, full flavored French Creole style of cooking.
Portion sizes are huge
For authentic New Orleans Bread pudding enthusiasts, try the Bread pudding smothered in a rum, pecan, and raisin sauce. it's out of the ordinary and not easily found in other NJ restaurants.
The service is warm and attentive, though a little wacky.

(updated: March, 2015)
How Do We Rate and Review Restaurants?
New Jersey Leisure Guide contains the largest source of extensive and unbiased New Jersey restaurant reviews. Data is gathered from our viewers e-mail restaurant comments, Internet and print research, and professional restaurant critics. The data is analyzed and a review created. Staff personal visits are sometimes made to corroborate and/or tweak results.

Other New Jersey Resources