Cape May County Beaches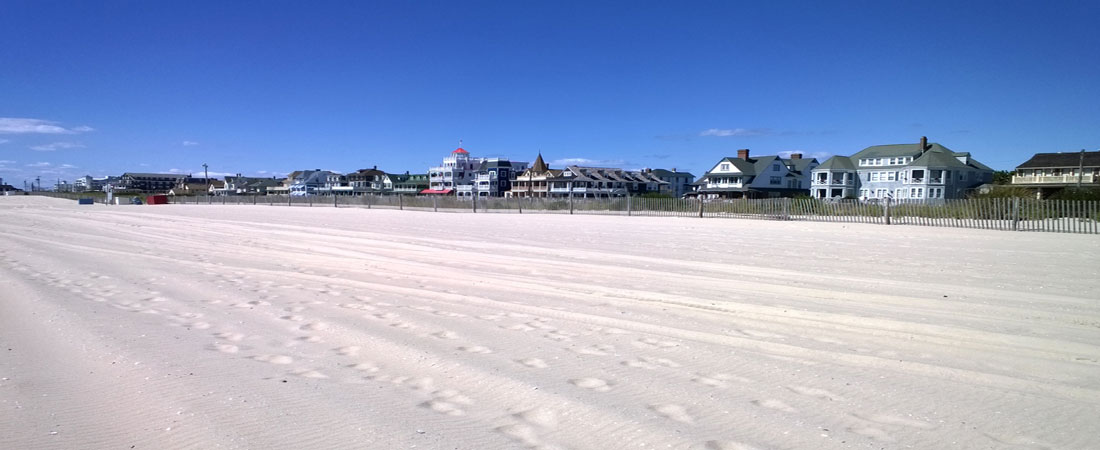 Discover the Best New Jersey Cape May County Beaches:
Includes 2023 Beach Badges, Restrooms, Boardwalks

Cape May County beaches in the southern end of the Jersey shore are known for their wide, fine, powdery sand, and are considered to be among the best beaches on the Atlantic coast.

Information about beach badges, parking, boardwalks and other amenities, updated for 2023 except where otherwise noted

Most New Jersey beaches charge a fee in the form of a beach badge for access to the beach. This is considered a practical way for Jersey shore towns to cover the cost of maintaining a clean and safe beach. The expense is shared by both visitors and residents.

All Cape May County beaches are administered by the local City or town.

Cape May County Beaches with
Large Commercial Boardwalks
Ocean City - Its 50 feet iwide, 2 1/2 miles long, has many eateries, taffy and fudge shops, and a large amusement pier, Gillian's Wonderland Pier, with a 140 foot Ferris wheel, kiddie cars, roller coasters, a miniature golf course and a water park. In the early morning, the boardwalk is frequented by joggers and bikers, and as afternoon approaches, they begin to attract many teenagers, and by evening, the families dominate

Wildwood - Its Two miles and 38 blocks of one of the best family boardwalks in NJ, made with y wooden boards with a concrete pathway in the middle to accomodate the tram car. Here you can find the famous Morey's Piers with three amusement park with more than 100 rides and attractions including a roller coaster, extreme thrill rides, kids rides, a water park, and lots of tacky T-shirt shops, pizza joints, ice cream stands, a convention center, and more.

Cape May County Beaches with
Small, Less Commercial Boardwalks
Avalon - This 10 block boardwalk is a plaasant nature walk with dunes on one side and thick shrubs on the other. The only concession stand are a pizza shop and ice cream stand,

Cape May - Its a ttwo-mile asphalt promanade past the beautiful Cape May Beach on the east and many Victorian homes, B & B's and and grand hotels on the west. There a a small number of concessions, restaurants and small shops.

North Wildwood - A low key alternative to the nearby Wildwood Boardwalk, It runs from 16th Avenue south to 26th Avenue where it connects with the Wildwood boardwalk. Attractions include newly opened Sea Port Pier, a multi-purpose venue with resort-style amenities including entertainment, restaurants, and activities for visitors of all ages, and Ed's Funcade, a classic boardwalk arcade.

Sea Isle City - Its a wide, asphalt - promenade that runs from 29th Street to 57th Street. It's low key, no amusement park, with a number of small concessions, and an attractive outdoor amphitheater at 40th Street for summer concerts.




Cape May County Beaches
Avalon
(609) 967-8200
Check on-line for status
2023 Beach access fees:
Avalon and Stone Harbor have a reciprocal agreement with the use of beach tags.
Beach tags are not required for children under the age of 12.
Pre-season rates until May 31st: Seasonal Tags $30.
After June 1st: Seasonal Tags $35.
Weekly tags $17
Daily tags $8
Active duty military members and their immediately families also may enjoy the beaches without a beach tag.
The beach tags are available either by stopping by the Avalon Tax Collector's Office at Avalon Borough Hall until April 28th. From April 29th through the remainder of the summer, the Beach Tag Booth adjacent to Community Hall at 30th Street, will be open daily.
Or on-line with VIPLY.

Public rest rooms available at 30th Ave. and 1st Ave.
Free parking lots available at most beaches.
Surfing Beaches at 30th St & between 10th & 11th Streets.
Bicycles are permitted on the boardwalk between 5am and 10am.
Tennis courts are located on 8th Street and 39th Street.
There are Bay front fishing piers at 8th, 23rd, 24th, 33rd, 37th 53rd & 57th Streets.
Dogs are not permitted on the beach, boardwalk, or dunes anytime between March 1st and September 30th.
---
Cape May
Check for on-line status
2023 Beach access fees:
Seasonal beach tag. $30.00 with a pre-season discount: Order from December 1, 2022 through March 31, 2023 for the discounted $25/rate.
Weekly beach tags. Saturday to Saturday, 8-days $20.00.
3-day beach tag for any three consecutive days $15.00
Daily beach $8.00
Active Military & Veterans are free.
Beach tags are required for entrance to Cape May City beaches from 10am – 5pm, Memorial Day Weekend through Labor Day. for age 12 and older. Children 11 & under are free. Tags are available weekdays at City Hall Tax Office (643 Washington Street) and any beach entrance during the summer. Also on-line with VIPLY.

Cape May has four public restrooms along Beach Ave. and four in the mall area. There aren't any public lockers or showers in Cape May.
Metered parking available along streets. There is free parking along the street north of the Peter Shields Inn.
Bicycles are permitted on the Boardwalk between 4am and 10am.
The beach north of The Peter Shields Inn is less crowded.
By city ordinance, fires are not permitted on Cape May City Beaches, nor may any portable device be used for cooking. By state law, fires are not permitted on Higbee Beach Wildlife Management Area.
Restrictions in place against being on any beach or waters between the hours of 10:00 p.m. and 6:00 am. daily.
Accessories, such as chairs, umbrellas, cabanas, sundries, and snacks/non-alcoholic beverages are available from licensed vendors stationed on most beaches.
---
Cape May Point
(609) 884-8468 x 22
Beach Tag Office:
215 Lighthouse Avenue
Cape May Point, NJ
Check on-line status
Cape May Point Beach Tags are are not accepted on other area beaches. The Municipal Boundaries for Cape May Point Beaches are from the State Park (Lighthouse Avenue) up to and including the Alexander Avenue Jetty. Cape May Point Beach.
Children 11 and under free.
Beach tags are required from the 3rd Saturday in June through Labor Day while lifeguards are on duty.
2023 Beach access fees:
Pre-Season Discounted Seasonal Tags (available through May 31st) $36.
After May 31st,
Seasonal Tags $45
Weekly (Saturday to Saturday) $25
Daily $10
Beach tags are free veterans and active service members and their immediate families.
Beach tags can be purchased from June 1 - June 16, 9:00 am to 12:00 pm in office only. From June 17 - September 4, 9:00 am - 12:00 pm in Kiosk, and 10:00 am - close at each each entrance.
Non-metered street parking is available.
Surf fishing is permitted at all beaches after 5pm.
Smoking on the beach is not permitted. Fines for breaking the ban during the day range from $100 to $2,000.
The borough's two beaches, Cape May Point Borough Beach and Sunset Beach, are usually uncrowded.
---
Ocean City
609-399-6111 Ext 9377
[email protected]
Check on-line status
Beach Tags are required for all beachgoers, ages 12 and older, and are in effect from June 3, 2023 through September 3 2023.
2023 Beach access fees:
Seasonal Beach Tags: A discounted $30 will be in effect through May 31, 2023. On June 1, the price increases to $35.
Free tags are offered to veterans (the veteran only) and to active military members (including spouse and dependent children over the age of 12). Proper military or veteran ID must be presented to receive a tag.
2023 Daily and weekly rates not yet avaiavble thiugh 2022 rates were
$5.00 daily; $10.00 weekly;

Beach tags can be purchased in person at the following locations (excluding holidays): City Hall (861 Asbury Ave.): 9 a.m. to 5 p.m. daily Rt. 52 Welcome Center: 9 a.m. to 4:30 p.m. Monday-Friday; 9 a.m. to 4 p.m. Saturday; 9 a.m. to 2 p.m. Sunday Henry Knight Building (12th Street and Haven Ave.): 9 a.m. to 4:30 p.m. Monday to Friday Aquatic & Fitness Center (17th Street and Simpson Ave.): 5 a.m. to 9 p.m. Monday to Friday; 7 a.m. to 5 p.m. Saturday and Sunday. 46th Street Welcome Center: 9 a.m. to 4 p.m. Thursday to Saturday; 9 a.m. to 4 p.m. Monday. And on-line.
Ocean City has restrooms at 13th & Boardwalk
There are free parking lots at 5th and Asbury Ave. and 9th and New Haven Ave. All other parking is metered lots or pay as you enter.
Surf Fishing is permitted anytime on unguarded beaches and on guarded beaches before and after lifeguards are on duty. Surf Fishing is also permitted anytime in Corson's Inlet State Park on the island's southern tip.
Bicycles are permitted on the Boardwalk between 6am and Noon.
There is a public boat ramp at Tennessee Avenue.
There are public tennis courts at 6th Street
Surfing is permitted at the Seventh Street Beach.
Fishing Piers are located between 14th and 15th Street.
---
Sea Isle City
609-263-4461
Check on-line status
Beach Tags are required for all beaches from Memorial Day Weekend to Labor Day, 9am to 5pm. for everyone 12 years and older.
2023 Beach access fees:
Seasonal tags $20, if purchased by May 15, after $25
Daily - $5
Weekly (Sat.-Sat.) - $10
Beach Tags can be purchased fro From April 1st to Labor Day at the
Beach Tag Office (located inside the Welcome Center)
7 days a week, 8:30am-4:30pm, on-line from your mobile devise at
VIP
. Also at a Beach Tag Vending Machine any hour of the day or night. Sea Isle's new vending machine, located in the lobby of City Hall, 233 JFK Boulevard, and is assessible 24/7. The vending machine accepts cash only (ones, fives, tens and twenties) - please use exact change.
And on the Beach from a beach tag Inspector on the beach from Memorial day to Labor Day.
Seasonal beach tags are on sale at the City Hall Tax Office, 233 JFK Blvd., 2nd Floor, Monday to Friday, from 9:00 a.m. to 4:00 p.m., except holidays.
Rest rooms and showers at: 32nd, 40th, 44th, & 85th Kayaking Beaches with rentals: 30th, 35th, 56th, 79th.
Surfing Beaches: 26th, 37th, 42nd, 48th, 53rd, 63rd, 74th, & 82nd Beach Concessions: 38th, 42nd, & 56th.
Beach chair rentals at 44th St Beach Patrol Headquarters.
---
Stone Harbor
(609) 368-6805
Check on-line status
All persons 12 and over must display tags Saturday of Memorial Weekend to Monday of Labor Day Weekend, 10:00 a.m. – 5:00 p.m.
Avalon and Stone Harbor have a reciprocal agreement with the use of beach tags.
2023 Beach access fees:
Seasonal discounted tags through May 31st $32
Seasonal tags beginning June 1st $40
Weekly tags (Saturday – Saturday) $17
Daily tags $8
Seasonal, weekly and daily tags may be purchased from inspectors on the beach or from the Beach Tag Office during the summer season.

Parking at 97th St lot is free, Metered parking and free parking along side streets. 97th where lifeguard tower is.
Surfing Beaches are located at 81st Street & 110th Street.
Surf Fishing is at discretion of lifeguard captain - daily basis.
Tennis courts are located at 97th Street and 82nd Street.
Fishing Piers are located at 83rd and Bay.
There is a public boat ramp at the 80th Street Marina.

Stone Harbor prohibits: Picnics, Alcoholic Beverages, Fires, Glass Bottles, Sleeping from sunset to sunrise.
Sailcrafts must be licensed and beached at designated areas only. Vehicles are permitted on the beach by permit only from October 1 through March 31st.
For information regarding permits, call 368-5102. Permits are issued the day after Labor Day until March the following year.
---
Upper Township/Strathmere
609-263-1151
Check on-line status
Free Beach - All beaches in Upper Township are free and do not require beach tags.

Parking is available at Beesley's Point and free parking on the street is available in Strathmere.
Public Restrooms (Port-o-pots) are located at Williams Rd, Putnam Rd, and 1400 Commonwealth. There is a restroom at Beesley's Point.
On-street free parking on most streets
Surfing is permitted in designated areas (check with lifeguard on duty)
Kayaking and Windsurfing are permitted in designated areas (check with lifeguard on duty)
Handicap Access is provided at Williams Avenue
No dogs are permitted on any of Upper Township's beaches from May through September. Surfing is permitted south of Tecumseh and north of Sherman.
Fishing is permitted south of Prescott and north of Seacliff. Lifeguards may allow fishing between other protected beaches pending the conditions of the given day.
Beach Parties, Fires, Motor Vehicles, Alcoholic Beverages, and changing of clothes are not permitted on Upper Township beaches.

---
Wildwoods (includes North Wildwood, Wildwood, and Wildwood Crest)
609-849-9422
Check on-line status
All Wildwood beaches are Free
The sandy beaches along the coast of North Wildwood, Wildwood, and Wildwood Crest stretches for four miles along the southern end of the Jersey Shore. These enormous white sandy beaches can be as wide as a quarter of a mile and unlike most beaches it is actually growing in size each year.

Wildwood is famous for its Doo Wop themed buildings and its Wildwood boardwalk with huge amusement piers hosting a large variety of games and rides
Metered street parking. and fee lots are available. Parking at 116 East Poplar Avenue, Wildwood Nomad Parking, 4320 Boardwalk, Wildwood
Public Bath Houses for changing and showers are available at: 116 East Poplar Ave. and 4320 Boardwalk There are no showers or changing rooms in Wildwood and Wildwood Crest.
Bicycles and Roller Blades are permitted on the Boardwalk between dawn and 11am.
Surfing is at the discretion of the Beach Patrol.
Surf Fishing is permitted on all beaches from October through May. Check with the Beach Patrol during the summer months. Tennis courts are located at Fox Park— 4500 Atlantic Avenue.
Food is permitted on each of the Wildwoods beaches. Glass containers, barbecues, and alcohol are prohibited. North Wildwood Beach is regarded as being one of the best sports beaches in the Northeast with two volley ball nets at 18th & 7th streets.

Find the latest seasonal daily conditions and real-time status of Wildwoods beaches.