Paintball Fields and Parks in New Jersey
Popular indoor and outdoor paintball fields
Discover paintball fields and parks that accommodate team participation by people seeking an exciting extreme sport.
Paintball is an extreme sport in which players compete, in teams or individually, to eliminate opponents by tagging them with capsules containing water soluble dye and gelatin shell outside propelled from a device called a paintball marker, usually referred to as a paintball gun.
Paintball is a combination of tag, hide & seek, and capture the flag. It is an exciting outdoor (sometimes indoor) team participation sport that stresses tactics and teamwork. It can be played by people from all walks of life. Women and men, both young and old, can compete equally. Physical size and strength are not as important as intelligence and determination.
Northern New Jersey Paintball Locations
ABC Paintball Supply and Field
Hewitt, NJ
Facebook Page
They feature woodsball as well as tournament speedball players. They have 3 wooded fields and 1 speedball field. They are also t beginner friendly - they balance the teams and the fields according to experience ensuring everyone an exciting fun-filled day of paintball. They run walk-on games every Saturday and Sunday throughout the year and can provide your group, school, corporation or party with private games tailored to suit your needs on weekdays. They are open every Saturday and Sunday year round. Special weekday playing sessions can be arranged for private groups of 15 or more.
Battlecreek Outdoor Fields
West Milford, NJ
Website
They feature five outdoor paintball fields. Can accommodate private parties and Corporate/Team Building events
Hard Core Paintball Arena
Bridgewater, NJ
Website
22,000 Square ft. Indoor Paintball Arena. Open 7 days a week . They offer training classes, leagues and summer camp. Birthday parties, corporate events, fund raisers, and other private parties can be hosted


Maximum Sports Center
1100 Route 17 N (Rear of NYSC and Fountain Spa)
Ramsey, NJ
201-962-2711
Website
A 12,000 sq ft, multi-sports indoor turf facility offering a variety of Reball® (paint-less paint ball) programs for participants of all ages. Their Reball programs come at a fraction of the price of regular paint ball. Reball® is a paint-less paint ball that can be used over and over again saving you money. It uses all the standard equipment for paint ball so if you have your own gear, bring it in. Participants can enjoy Reball® for open play, team practice, birthday parties, corporate team building, bachelor/bachelorette parties, target shooting, drill training


New Jersey Paintball Club
Butler NJ
Website
They feature "private courses" where just you and your friends play, supervised by our staff. They 11 playing courses in wooded outdoor sites cover 137 acres of pristine wilderness. Reservations Required. Open 7 days a week, from April 1st to mid-December.
Paintball Depot
West Milford, NJ
Website
They specialize in arranging events for Birthday Parties, Bachelor Parties, Laser Tag, Corporate Outings, Church Groups School Trips, Team Building Group Activity, and One Day Getaways. Open year round.

Central New Jersey Paintball Locations
All Star Paintball Arena
Spotswood, NJ
Website
An indoor paintball field that features of 13,500 square feet of playing surface. They offer a year round playing experience with 3 self-fill stations, 1 boards, comfortable seating and on-site refreshments and snacks. Open 5 days a week from Wednesday to Sunday. They can accommodate Private groups and may be scheduled anytime, any day of the week.
Cousins Paintball Outdoor Park
Manchester, NJ
Website
They feature a new scenario based field "Dark Ops." Walk-ons are welcome! Open Saturday & Sunday, 9am to 5pm & Weekdays with a reservation of 10 or more They can accommodate Private groups (10 person minimum) whether its for a family outing, bachelor party or a company outing, and kids parties (10-17 years old).
Paintball Authority
Monroe, NJ
Website
They offer free team clinic coaching on Saturday mornings from 8-12 for young players that are looking to start a team for next season, but don't feel they're ready to mix it up with the local teams yet. They can accommodate events for birthdays, bachelor parties or family outings. Open seven days/week
Top Gun Paintball Games
Jackson, NJ (Next to Great Adventure)
Website
Come with friends or by yourself and join in with others.
They have a large variety of paintball fields on over 130 Acres of beautiful forests, lakes, streams and open fields. Open year round every Wednesday, Thursday and Friday afternoon and every Weekend from Morning 'til dusk. They can accommodate private games for 15 or more players, Bachelor/Bachelorette Parties, Corporate Team Building games, and kids Birthday Parties for kids 8 years of age and older.
Southern New Jersey Paintball Locations
Accurate Paintball
Williamstown, NJ
Website
They have three Speedball fields and 1 woods play. They have a "Young Guns" program for kids 12 and under that do not have a lot of paintball experience. they offer packages for a birthday party, bachelor party, family reunion or corporate event. They are open Monday - Friday by Reservations Only, and Saturday & Sunday 9am - 3:30pm
AC Paintball
930 12th Street (intersection of Jackson Road and 12th Street)
Williamstown, New Jersey

609-561-3883
Website
This facility includes four forest fields as well as special barrel and hyperball fields. and includes the option to rent equipment, a clubhouse to relax in, and transportation to further fields.

Apocalypse Paintball
Hammonton, NJ
Website
Offers three fields from 6vss, 15vs15, to 30vs30 players. They also have painball leagues
Fireball Mountain
Wrightstown, NJ
Website
Features three paintball fields Including woodsball, speedball, and scenario games fields. Open; Saturday: 9:30AM - 4PM Sunday: 9:30AM - 4PM. Weekday games by reservation only. They can accommodate private party and corporate team building games.
Gino's Golf and Paintball Center
Mantua NJ
Website
Open year round weather permitting, every Sunday 10 a.m. - 3 p.m., Doors open 9 a.m.
On Target Paintball
Pemberton, NJ
Website
117 Acres with 14 diverse playing fields of challenging Paintball. They have programs for players of all ages and skill levels. They can accommodate Birthday, Bachelor, and Bachelorette Parties, Family & Group outings, and Corporate events. Open Saturdays and Sundays , 9AM - 4PM.

Picasso Lake Paintball
Winslow Township, NJ
Website
Picasso Lake is a variety of terrains and fields nestled upon 110 wooded acres. There are ten major playing fields with unlimited combinations. They welcome walk-ons every Saturday and Sunday. Picasso Lake is open for play rain or shine, all year round.
Quickshot Paintball
Shamong, NJ
Website
They feature a four woods/rec fields and a regulation size Xball field. They can accommodate private functions including birthday parties, business groups, youth groups, bachelor parties, church groups and more. The fields are open Saturday & Sunday: 8am - 4pm, and any day with a reservation of 10 or more.
Other New Jersey Resources
Top Shooting Ranges
Discover the top Rifle, Pistol, Shotgun, Trap Shooting, and Firearm Training Course for .
Learn More
Outdoor
Activities
Discover the top NJ seasonal activities that are popular with active people who enjoy getting out doors at any time during the year.
Learn More
New Jersey State Park Camping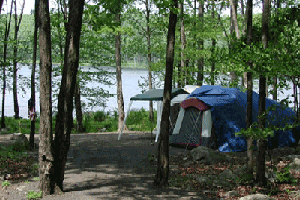 For campers looking for a less expensive, more rural, camping experience.
Learn More