Nikos Trapezi Greek Taverna
A Long Branch, NJ Restaurant Review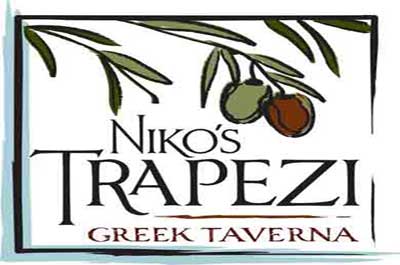 Nikos Trapezi Greek Taverna

444 Ocean Blvd
N Long Branch, NJ 07740
(732) 222-4600
Website
Restaurant Highlights
---
Fare: Greek


Price: Moderate
Food Quality:
Service:
Decor:
Overall Rating:
Note: Four star Rating System from
"no stars" = poor to
Four stars
= Best in Class
---
Serves excellent Greek authentic food with whole grilled fish specialities.


Reasonably priced



They do not take reservations.
Value: Excellent


Noise Level: Moderate


Dress: Casual
---
Recommended For: Diners who enjoy well prepared Greek food and whole grilled fish

Not Recommended For: Diners who prefer an upscale setting with fine dining amenities.

Recommended dishes: When available, The Branzino Whole Grilled Mediterranean Sea Bass; The Grilled Octopus; and The Mousaka.

Liquor: BYOB
---
Restaurant Review
Nikos Trapezi, located off the beaten track away from the popular Long Branch, Pier Village beach area, serves some of the best Greek food on the Jersey Shore.

Situated in a strip mall, Niko's is operated by co-owners Niko Katsilianos and his brother-in-law, Jay Keating. Niko oversees the kitchen and the menu as the Executive Chef with Jay and his wife Georgia running the dining area.

While Niko's serves the traditional Greek fish, lamb, or beef dishes, including gyros and Greek salads, they have built a reputation with their grilled whole fish specials that are known for their juicy, smoky, wood taste.

For Greek food novices, the menu is easy to understand and explains the ingredients each dish contains.

Niko's is a friendly lively place with many groups of friends and family celebrating dinner in "Greek Fest" style.

There is seating for 60 with an attractive clean crisp blue and white decor and walls adorned with molding trim and tasteful faux paintings.

For dinners that forget to bring in a bottle of wine, there is a liquor store in the same strip mall with a good selection of reasonably priced wines and beers

Nikos Trapezi is open for Lunch and Dinner from 11:30 to 9:00 pm, Tuesday through Sunday.

Parking is available adjacent to the restaurant.

Reservations accepted only for six or more and on high-traffic holidays.
(updated February, 2016)
How Do We Rate and Review Restaurants?
New Jersey Leisure Guide provides unbiased New Jersey restaurant reviews. Data is gathered from our viewers e-mail restaurant comments, Internet research, and professional restaurant critics. The data is analyzed and a review created. Staff personal visits are sometimes made to corroborate and/or tweak results.

Learn More
---
Comments
Have a comment about what you just read! Leave a comment in the box below.
---