Celebrating Memorial Day In New Jersey
The Best 2016 Events, Parades, and Festivals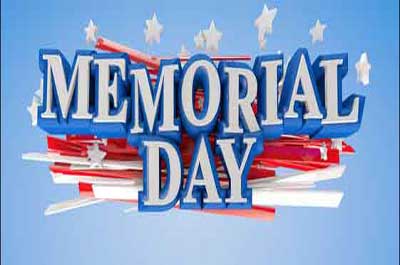 Memorial Day, originally called Decoration Day, is a day of remembrance for those who have died in our nation's service.

It is a time for parades, flags, and wreath-laying ceremonies paying tribute the who died serving our country.

This year Memorial day will be celebrated on Monday, May 30, 2016


---
Note: This information is provided by event sponsors as a free service to our viewers. Sometimes conditions require cancellations or changes of dates, times and location which are not reflected in the original schedule. Before planning a trip to visit one of the listed events, it is suggested that you call the event sponsor to confirm the event schedule or for additional information on the event.
---
Memorial Day is also the unofficial beginning of summer in New Jersey with the Jersey Shore beach communities coming alive with activities.

Many of these activities include music festivals, ethnic festivals, fireworks, auto racing events and special events geared to the kick off of summer.


2016 North Jersey Memorial Day Weekend Events
The Blues & Wine Festival
May 28 & 29, 2016; 12:00-5:00pm
Schooley's Mountain County Park
Long Valley, NJ. 
Website
The Blues & Wine Festival is an annual Memorial Day weekend outdoor event featuring award-winning wine samplings, great food and classic blues on the grounds of one of the most beautiful park settings in the state. Attendees will have an opportunity to sample more than 250 award winning New Jersey wines from over 20 wineries.

Native American Intertribal Dancers
May 28 - 30, 2016 Wild West City
50 Lackawanna Dr.
Stanhope, NJ
973-347-8900
Website
This family event features Traditional Native American dances along with kids activies including such as face painting, and more. Native American handicrafts will also be availble for purchase.The program will be run by Little Hawk ( Bob Martin).Bob Martin is a half blooded member of the Mohawk tribe and will be joined by his sister, Morning Dove and both their respective families as they introduce a variety of Native American dances practiced during the height of their existence across North America. 
Memorial Motor Madness Car Show
May 29th, 2016; from 9 am to 3 pm. Rain or Shine
MARS Chocolate North America
800 High St.
Hackettstown, NJ
908-689-2620
Website (info & Registration)
This annual event features over 500 vintage cars. Entrants can register in a variety of classes including Mustang, Fire bird, Camaro, VW Beetle, Antique Trucks, and Street Rod, Monster and Mini Truck, and more. Best of Show is awarded the Ed Hagaman Memorial Trophy, named in honor of one of the show's founders. Special dash plaques are awarded to the first 400 entrants.

The Lantus Tour of Somerville Cycling Series
Monday May 30, 2016, 10:45 a.m., rain or shine
Main Street
Somerville
801-699-5126
Website
The Lantus Tour of Somerville Cycling Series is an exciting four-day event of competitive cycling for professionals and amateurs over Memorial Day weekend. The event culminates on Monday with the 50-mile Kugler-Anderson Memorial Tour of Somerville, known as the "Kentucky Derby of Cycling." The Tour is the oldest major bicycle race in the United States and a legend in the lore of bicycle racing.

Memorial Day Picnic at a scenic Historical Site
May 30, 2016; 1 - 3 pm.
Ramsaysburg Historic Homestead
140 Rt. 46
Knowlton, NJ
908-475-5352
Website
This family event features a picnic on the Ramsaysburg Historic (circa 1794) Homestead with plenty of things to do. The historical park is situated on twelve wooded acres along the banks of the Delaware River. Bring your picnic lunch and take in the days family activities that include historic tours, scenic walks, use of the boat launch on the Delaware River, along with special Memorial Day tributes

2016 North Jersey Memorial Day Parades
Bedminster
The parade will begin at 10am at the old Bedminster school on the corner of Elm St & Lamington Rd. A parade will follow down Lamington Rd ½ mile to the Far Hills ceremony which will take place at approximately 10:45 at the municipal building on the corner of Prospect St & Peapack Rd. (across from the fairgrounds). After the ceremony we will be serving hot dogs and refreshments in the fairgrounds.

Bergenfield
Website
The Parade will take place on Monday, May 30, 2016 @ 2:00 p.m. The parade begins at the corner of E. Main Street and S. Washington Avenue, then heads south on S. Washington Avenue, then west on New Bridge Road. Parade ends at Memorial Field

Bloomingdale & Butler
Website
973-838-0778 x. 241
The parade takes Monday, May 30th @ 9:00 a.m. The Parade begins at 9:00 a.m. in front of Sloan Park, Bloomingdale with a short ceremony. The parade will continue on Main Street to Butler Park, where a memorial ceremony will be conducted.

Dover
Website
Contact: 973-216-9239
Beigins at 10am on Rutan Drive and traveling west on Blackwell Street to Hurd Park for services. This year one on the groups marching with us is the very popular Barbershop Quartet by Twisted Mustache barbershop quartets. Their quartets have been featured at many corporate and private events.

Hackettstown
Website
(908) 850-5004
The annnual Memorial Paradewill kicking off at 10 am. Â The parade begins near the post office on Washington Street and continues to Grand Avenue and Main Street and ends at Union Cemetery on Mountain Avenue.

Livingston
Website
This year's Memorial Day Parade will start at 9:30am, Monday, May 30th, with a ceremonial service at the Oval to commemorate those who have died defending the United States. At 10am after the ceremony, the parade will start on S. Livingston Avenue and will end at Congressional Way. In the event of inclement weather the Ceremonial Service will be held at the LHS Auditorium

Morris Plains
The Memorial Day Parade will be held this year on Saturday, May 28, 2016.
Activities will start at 9:00 AM with a Memorial Service at Robert's Gardens. 973-538-0325

New Providence
Website
908-665-1400
The parade starts at 10:00am on Monday, May 30th, Springfield Avenue from Central Avenue to Academy Street.

Oakland
Website
Contact: 201-337-9845
The annual Memorial Day Parade and Ceremony, sponsored by the American Legion and the Borough of Oakland, will be held on Sunday, May 25th, 2016 beginning at 1:00 PM at Grove Street and Ramapo Valley Road. The parade will close with a ceremony in Veterans' Park. Complimentary food and refreshments will be served at the American Legion Post at 65 Oak Street immediately following the parade.

Wyckoff
Website
Contact: 201-891-7000
The parade will start at 11:30 a.m on Monday, May 30th. The parade begins on Wyckoff Avenue at Cornerstone Christian Church. As the participants march out of the Cornerstone Church parking area they turn left onto
Wyckoff Ave., continue down Wyckoff Ave. before turning right on Main Street, turn right on Franklin Ave. and end behind Town Hall at the Ambulance Corps building.