Matisse

A Belmar, NJ Restaurant Review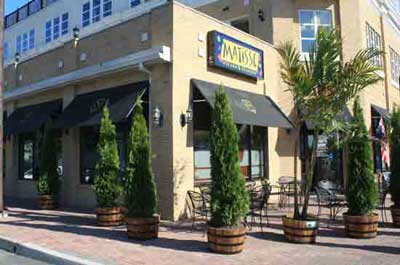 Matisse Restaurant
1000 Main Street.
Belmar, NJ
732-681-7680
In mid-September 2015, the restaurant has been taken over by new ownership. They are now under the direction of General Manger Bradley Silverstein and Executive Chef Michael Guglielmi.
While early reports are favorable, it's too soon to provide a meaningful review. Stay tuned!
Below is the review from past ownership.
Restaurant Highlights
Fare: New American
Price: Expensive
Food Quality:
Service:
Decor:
Overall Rating:
Note: Four star Rating System from no stars = poor to Four stars
= Best in Class
---
Affordably priced, New American cuisine
Friendly, attentive service
Limited parking available. On street parking and free municipal parking lot 1 1/2 blocks away.
Value: Very Good
Noise Level: Moderate -High
Dress: Casual

Recommended For :Diners who enjoy good, New American food with a BYOB
Not Recommended For: Diners who prefer a more eclectic menu with an energetic Jersey Shore ambiance.
Recommended dishes: When available, The Crispy Seared Red Snapper with Ginger, Garlic, Cilantro Soy; The Pan Seared Angus Rib Eye Steak with Matchstick Potatoes; and The Rosemary Crusted Rack Of Lamb with cannellinis, tomato and merlot jus.
Liquor: BYOB
Restaurant Review


This downtown Belmar restaurant is popular with diners who come for well prepared New American Cuisine with fine dining amenities
The restaurant is run owners Anthony and Mary Wall who owned and operated the former Matisse on the Boardwalk in Belmar before it was destroyed by Hurricane Sandy.
The kitchen is run by Chef/owner Anthony Wall while Mary Wall runs the dining area.
While missing the ambiance and the scenic decor of the ocean, the restaurant returns with a similar menu and very good service.
The 140-seat restaurant has maintained most of the attractive interior of the former Nicchio's and has added many colorful panoramic photos of the Jersey shore created by Mary Wall's brother, a local photographer.
There remains the attractive wide square columns adorned with Jersey Shore photos and attractive natural brick on the bottom half.
Missing is the energetic crowd and lighting of the large, beautiful L shaped bar. The bar now stands vacant, without lighting, liquor bottles, and the patrons filling the seats. The abandoned bar sets off a vibe that it's former glory days have past --- much like an attractive downtown main street with a closed up anchor store.
Chef/Owner Anthony Wall runs the Kitchen and is very adept at creating dishes that are well prepared using fresh ingredients.
Service at Matisse is attentive and friendly.
Matisse is open with seasonal hours. During the off season they are Open 5 Nights a week from Wednesday Sunday for Dinner @ 5:30pm During the summer they are open seven days/week for dinner @ 5:30Pm,
They are open for Sunday brunch @ 10:30am with the last seating @3pm
(updated: April, 2015)
How Do We Rate and Review Restaurants?
New Jersey Leisure Guide contains the largest source of extensive and unbiased New Jersey restaurant reviews. Data is gathered from our viewers e-mail restaurant comments, Internet and print research, and professional restaurant critics. The data is analyzed and a review created. Staff personal visits are sometimes made to corroborate and/or tweak results.

Other New Jersey Resources