Halloween Central Jersey:
The Best 2017 Halloween Events
Choose your scary and not so scary 2017 Halloween Event

Halloween Central Jersey has many "scary"  and  "not so scary", frightful shows, events, and parades that can be enjoyed by the whole family.

We have put on our costumes and headed into the dark of night with a full moon to search haunted houses, cemeteries, and pumpkin patches for ghosts, goblins, and skeletons to come up with the best Halloween events for families with kids. Caution: many of these events are Soooo scary that they are not recommended for children under 8. Suggest you call ahead to confirm age appropriateness.
Note: This information is provided by event sponsors as a free service to our viewers. Sometimes conditions require cancellations or changes of dates, times and location which are not reflected in the original schedule. Before planning a trip to visit one of the listed events, it is suggested that you call the event sponsor to confirm the event schedule or for additional information on the event.

Stay tuned --- we will be updating this list as the event sponsors confirm this year's events.



Halloween Central New Jersey 2017 Events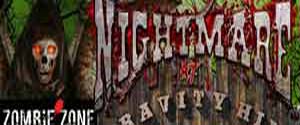 Nightmare at Gravity Hill
Open Fridays, Saturdays beginning September 11th and Fridays, Saturday, & Sundays beginning September 29th until October 29, 2017
Cicconi Farms
1005 Farmingdale Road
Jackson, NJ
732) 703-4198
Website
Located on five acres of farmland, there are over a dozen scary scenes & settings. Expect a 35 minute walk amongst chilling, haunted trails with creepy themes and adventures.
---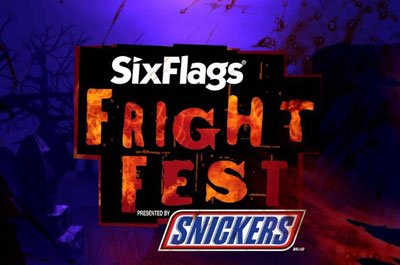 Fright Fest
On select days from September 16 until October 31, 2017
Six Flags Great Adventure
1 Six Flags Boulevard
Jackson, NJ 08527
Website & Tickets
Caution:
The park is family-friendly by day, but they turn up the terror at dusk! Fright Fest at night is not recommended for children under 13 or anyone who scares easily.
This Halloween celebration at the huge Six Flags theme park has a large variety of trails, each with a different theme. They range from the not so scary to the extreme, very scary.The characters are live and will agree to stop and take pictures with you if you ask. Park Maps are provided to provide a guide and information on the shows and trails.
---
Field Of Terror
Open weekends Friday, Saturday & Sunday beginning on Friday September 22 and ending on Tuesday, October 31, 2017
831 Windsor Perrineville Rd
East Windsor, NJ
Website
Choose from 4 terror filled events or try out our "safe" area featuring straw bale maze and our Family Friendly flashlight corn maze for those who are less brave. Also has a nighttime hayride and pumpkin picking to the patch, food, DJ and dancing, concessions, a bonfire and fireworks on Sunday, October 8th @8:30pm. Fireworks shows are FREE
---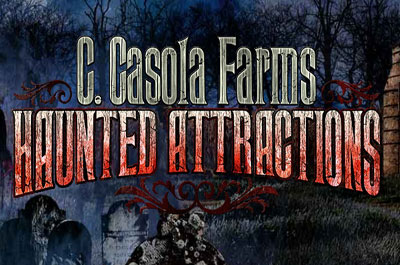 Casola Farms - Haunted Attractions

Open every Friday & Saturday from September 23 through October 28, 2017 at 7:00 pm; and Sunday in October and Halloween Night at 7:00 pm
Casola Farms
131 South Main Street
Marlboro, NJ
732-946-8885
Website
Features 5 Terrifying Attractions: Haunted Haride of Terror, 3d Haunted Barn, Haunted Wooded Trail, The Living Maze, and the Marlboro Zombie Breakout --- where you ride in an army truck with paintball guns mounted along the sides and shoot zombies (not each other) - and because they're zombies, they don't know how to use guns, so they can't shoot back! Great for all ages!
---
Schaefer's Frightfest

Saturday, September 23rd (closed the 24th). Then open Friday, September 29th and running every Friday, Saturday and Sunday night in October, 2017.
Schaefer Farms
1051 County Route 523
Flemington, NJ.
Website
Enjoy their 45 minute scary hayride through 200 acres of fright. Mass-Acre Maize: a casual run for your life! Carnival of Chaos: A walk through our nightmare. Treacherous trek through the Trail of Terror! A 45 minute hair raising hayride through 200 acres of fright. Mass-Acre Maize: a casual run for your life! Carnival of Chaos: A walk through our nightmare. We'll scare the yell out of you! Not recommended for children under 8.
---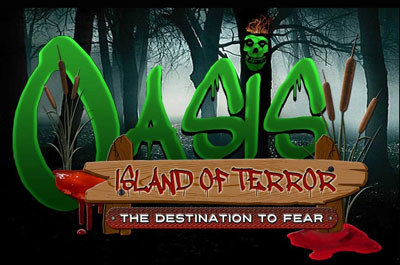 Oasis Island of Terror
September 30, ?October 6 & 7 13 & 14 20 & 21 27 & 28, 2017
3 Circle Drive
Robbinsville, NJ
609-259-7300
Website
The evening attractions include ;
A Walk through the Back Woods Bayou where you experience where reality ends and fiction begins. You may squeeze through rat tunnels or hog traps just to escape.
The Turnpike Apocalypse where it begins at exit 7A off the turnpike. We were told not to text and drive. This one mistake caused a major accident into a local bayou grave yard. The toxins from the vehicles and the mangled bodies may be the least of the problems for the rescuers.| The Woods Have Eyes: The myths are real. There is no explanation. Bodies have been found, camp sites have been destroyed, parks have been closed. But people just won't stay away!
During the daytime, the attractions include:
U-pick your own pumpkins, Fall sand art, Haunted (decorated) Fun Zone, Haunted Gem Mine, and the Fossil Adventure.
---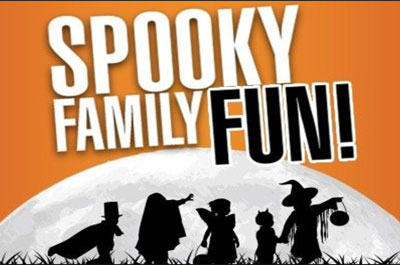 Spooky Spooktacular Halloween
October 2 until November 1, 2017
iPlay America
Route 9 at 110 Schanck Road
Freehold, New Jersey
Website
This Halloween celebration offers family fun for all ages including not so scary fun for the little ones. iPlay America will transform to a Spooky Spooktacular Halloween experience with great rides, shows, concerts, and prizes and special Halloween themed kids meals at Game Time Bar and Grill.
---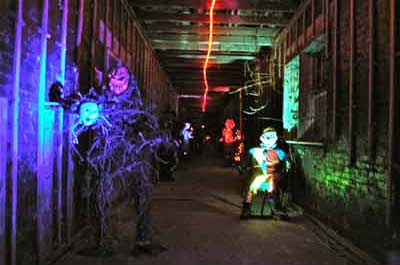 Camp Evans Base of Terror
Opening Night Friday, Ocober 6th & every Friday and Saturday in October from 7PM - 11PM.- weather permitting
InfoAge Science History Museum and Learning Center
2201 Marconi Road
Wall Township, NJ
Website
732-280-3000
Wall Township, NJ. Experience the 100-year-old Army Base on a most terrifying and disturbing 1/2 mile-long journey. The true and weird New Jersey history of this National Historic Landmark includes a century of top-secret and experimental research in radar, radio, satellites, radioactive materials and much more that has yet to be declassified. Camp Evans Base of Terror is an all-volunteer effort to raise money for the operation of The Info Age Science History Learning Center and Museum and preserve the grounds of a National Historic Landmark Camp Evans Base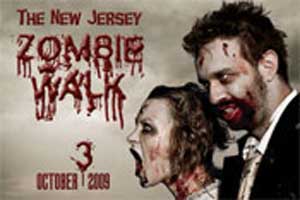 New Jersey Zombie Walk and Undead Festival!

Saturday, October 7, 2017
Asbury Park Convention Hall
Asbury Park, NJ
Facebook
info@njzombiewalk.com
The New Jersey Zombie Walk at the Convention Hall and the Outdoor Festival in Downtown Asbury Park is dedicated to all things horror and zombie. The undead outbreak was born in Asbury Park in 2008, and every year since the zombie horde has tripled in size, rocketing the event further and further towards a total citywide takeover. On two occasions, in 2010 and 2013, the event broke the Guinness record for "largest gathering of zombies" with nearly 10,000 faux undead turning up for the pre-Halloween warmup.
---
Not-So-Scary Halloween Laser Show
Saturday, October 7, Monday, October 8:, & Saturdays October 14, 21 & 28, 2017 @ 11:30 AM
Robert J. Novins Planetarium (Bldg #13)
Ocean County College Main Campus
College Drive
Toms River, NJ.
Please park in Parking Lot #2.
732.255.0343
Website & Tickets
A kid friendly Halloween laser show featuring the Kidz Bop versions of your favorite Halloween songs.
---
Brookdale Haunted Theater
October 13, 14, 15,,20, 21, 22, 27, 28, 29, 2017; 7pm-10:30pm
Child friendly tours on October 21, 22, 28, 29, 2017; 2pm-4pm
Indoors, rain ot shine
Brookdale Community College Performing Arts Center
765 Newman Springs Rd.
Lincroft, NJ 07738
732-224-2411
Website
brookdalehauntedtheater@gmail.com
Brookdaleق€™s annual Haunted Theater - designed, built and run by current and former students - is a delightfully tormented trip through evil creatures, ghouls and ghosts, bloody body parts, and more. The popular Haunted Theater redefines ق€œstage fright" for its many visitors during the walking tour of a maze of blood-chilling rooms.
---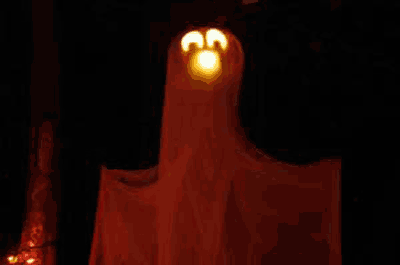 Haunted Woods
Beginning Friday October 13th, 2017 they are open Friday, Saturday & Sunday evenings until Sunday, October 28, 2017. Hours: Fridays & Saturdays 7:00 pm - 10:00 pm, Sundays 7:00 pm -€" 9:30pm
75 Springhill Rd (off Cottrell Rd.آ near Rt 34.)
Oldbridge, New Jersey.
Website
Walk through our haunted woods filled with displays, lights, sound, and live actors lurking about. The Scouts from Pack 67. Troop 167 along with friends and family run the event and help populate the woods. Come join us and be prepared to be scared. Please bring a non perishable food item for the Old bridge food bank (please check expiration dates). We will also be happy to accept donations to the Old bridge animal shelter. The scouts will also host a bake sale with delicious homemade baked goods as well as hot chocolate, hot cider and other beverages. Proceeds from the bake sale benefit the Troop and Pack
Special Twilight Viewing Saturdays and Sundays from 3:30 pm - 6:00pm - (live actors are not present)
---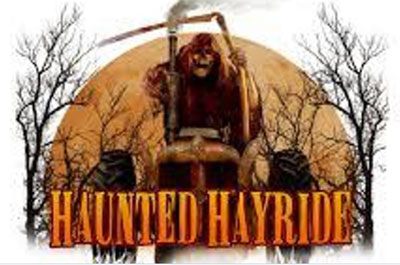 Haunted Hayrides
Friday & Saturdays, October 20, 21, 27, 28, 2017; 6:00 pm - 9:30 pm
The Historic Village at Allaire
4263 Atlantic Ave.
Farmingdale, NJ
Website & Tickets
In the dark of the night, the ghosts, ghouls, and monsters fill the haunted village. From woods to historic homes the Historic Village at Allaire takes on a dark twist for the Halloween season. Admission includes: Haunted Hayride, Mr. Allaire's Home, and the Haunted Village itself! Enter if you dare!
Note: For safety reasons, visitors (over the age of 10 years old) will not be permitted to attend this event in costume. If you have young children or your children are afraid of the dark, we recommend coming earlier in the evening for a hayride at twilight. The village gets scarier as the sun sets and the night darkens. Monsters have been trained to fear the phrase, "Monster's Go Away."
---
Boo at the Boardwalk
October 21, 22, 28, 29, 2017; Noon - 4pm
Jenkinson's Boardwalk
Point Pleasant, NJ
Website
This family event with activities for young kids features attendees dressing up in costumes , trick or treating, free face painting and crafts, stilt walkers, pumpkin patches, a beach maze, and underwater pumpkin carving in the Aquarium (Four Shows!)
"Howl-O-Ween Dog Festival & Pooch Parade"
Saturday, October 21, 2017; 12:00 pm - 3:00 pm (rain date Sun. Oct. 22th)
Riley Park
615 Main St
Bradley Beach, NJ
732-775-7297
Website
Live Music featuring the Tom Petty tribute band, Damn the Torpedoes! Join the pooch parade at 2:00 pm , Canine costume contest and talent show. Win big prizes from local establishments!
Ocean Grove Halloween Parade
October 28, 2017
Fireman's Park
Ocean Grove
(732) 774-1391
Website
Prizes for best-dressed pets. Parade starts at Noon followed by trick or treating downtown.
19th Century All Hallowق€™s Eve

October 29, 2017 @ 11:00 am - 4:00 pm
The Historic Village at Allaire
4263 Atlantic Avenue
Farmingdale, NJ
Website
Come out to the beautiful Historic Village to celebrate the fall and the early traditions of Halloween. All Hallow's Eve is a time of year when the boundaries between teh supernatural world and the human world are at their thinnest. Its a time for magical creatures to roam about and people can see into the past and future. Traditionally, it was a time for young people to try and use divination to identify their future spouse. There will be pumpkin picking (limited quantity), tractor and wagon rides, historic games, storytelling, and a costume parade and contest for children 12 years and younger.
$5 admission for adults and $3 for children under 12 years of age.
Point Pleasant Boro Halloween Costume & Float Parade
Sunday, October 29, 20171:00 - 3:00 pm
Bridge Ave
Point Pleasant, NJ
732.295.8850
Website
Open to all ages, groups, and businesses that wish to celebrate the Halloween season. Fun for all ages - Pets - Groups - Motorized Floats - Pull Floats - Trophies and participation ribbons for all. The parade marches down Bridge Avenue to Community Park where the winners are announced and trophiesآ
Bradley Beach
Halloween Parade
Monday, October 30, 2017 @6pm (آRain date آ Oct 31st)
Riley Park
Bradley Beach, NJ
732-776-2999
---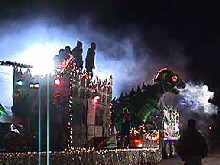 Toms River Halloween Parade

Tuesday, October 31, 2017; @t 7pm (Postponement Date: Wednesday, November 1, 2017 at 7pm)
Toms River Center
Main Street and Route 37,
Website
Reported to be one of the largest Parades of it's type in the world, it's a parade with plenty of floats and decorative Halloween themed attractions. Arrive early. It is recommended you arrive about 2 hours prior to the start of the parade. This allows time to get settled and comfortable so the parade can begin on time. In the past, people have put chairs out even earlier. Parade starts at 7:00 pm, from the Toms River Center located at Main Street and Route 37, proceeding South on Main Street, then east on Washington Street and concludes at Hooper Avenue. Most trophies will be distributed at 101 Hooper Avenue, Ocean County Administration Building
More New Jersey Halloween Events
---
---