Cucharamama Restaurant
A Hoboken, NJ Restaurant Review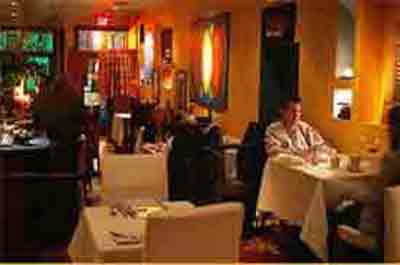 Cucharamama Restaurant
233 Clinton St. (3rd St.)
Hoboken, NJ 07030
(201) 420-1700
Website
Restaurant Highlights
---
Fare: South American
Price: Expensive
Food Quality:
Service:
Decor:
Overall Rating:
Note: Four star Rating System from
"no stars" = poor to
Four stars
= Best in Class
---
Well prepared food with a wide variety of exotic South American specialties.
Warm ambiance with a large wood burning oven behind the bar. A good place for a date.


Service is below the quality of food and decor. Tendency to be erratic, sometimes insensitive, and less than professional
Value: Excellent


Noise Level: Moderate - High


Dress: Casual
---
Recommended For: Diners who enjoy well prepared South American food in a warm, attractive setting

Not Recommended For: Diners who prefer simpler, non-ethnic food in a more family oriented casual setting.

Recommended dishes: When available, The Entrant (Churrasco) con Chimichurri Rojo y Papas Chorreadas con Hogo Bogotano - Argentinean-Style Skirt Steak with Chimichurri, Colombian-Style Potatoes with Tomato and Cheese Sauce; The Encocado de Mariscos with assorted Seafooda and Fish in a Spicy Coconut Milk  Sauce Laced with Culantro from Ecuador's Esmeraldas Province, White Rice; and The Ojo de Bife con Chancho en Piedra Chileno, Yuca Gratinada y Nabo Salteado Rib-Eye Steak with Chilean Garlicky Tomato Salsa, Yuca Gratin and  Stir-Fried Broccol Raab.

Liquor: Full service bar with a wide variety of Latin cocktail selections
---
Restaurant Review
Cucharamama is the creation of chef and co-owner, Maricel Presilla, and her business partner Clara Chaumont.

Celebrity chef Maricel Presilla holds a doctorate and uses her knowledge of tropical crops, especially vanilla and chocolate, to enhance the flavors of the dishes on the menu that are influenced by the food from many South American countries including: Argentina, Bolivia, Brazil, Chile, Colombia, Ecuador, Peru and Venezuela.

She is an author having published the New Taste of Chocolate: A Cultural and Natural History of Chocolate with Recipes, and a winner of the James Beard Foundation 2009 Middle Atlantic Best Chef Award.

Cucharamama means "Mother Spoon" and serves a dual purpose of being a cooking utensil and as a symbol of the power the women wield in their communities. It is sometimes used in the community to "scold their husbands if they have too much to drink." A large replica of the spoon serves as the restaurant's front door handle.

The decor is attractive with the centerpiece of the dining room being the el horno --- the large wood-burning stove. The dining room has soft, dim lighting and earth toned walls adorned with vivid tropical oil paintings by Presilla's father.

The atmosphere is vibrant, homey with elegance, and romantic, accented by Latin music. The bar is stocked with an excellent selection of American and South American Cocktails and is considered an upscale "sexy bar scene" often crowded with diners standing three deep waiting for a table.

Even with a reservation, on busy weekends, expect a lengthy wait for a table, and a high level of noise.

Cucharamama is a great place for a date offering great ambiance, good drinks, and many tapas or small plate dishes.

The first thing you'll receive when seated at Cucharamama is the delicious South American style flat bread from the wood-burning oven, lightly sprinkled with ground Andean peppers, and manchego cheese served with a wooden spoonful of butter laced with white-oak honey.

The fires of wood burning stove produces many tasty exotic dishes including thin-crusted, six-inch "pizzas" with distinctive South American toppings.

During the warmer months there is outdoor seating.

Open for dinner six days a week and for Sunday brunch.

Cucharamama is not recommended for kids.
(updated February, 2016)
How Do We Rate and Review Restaurants?
New Jersey Leisure Guide provides unbiased New Jersey restaurant reviews. Data is gathered from our viewers e-mail restaurant comments, Internet research, and professional restaurant critics. The data is analyzed and a review created. Staff personal visits are sometimes made to corroborate and/or tweak results.

Learn More
---
Comments
Have a comment about what you just read! Leave a comment in the box below.
---