The Best Central Jersey Fireworks Displays
2017 Year Round Fireworks at festivals, concerts and events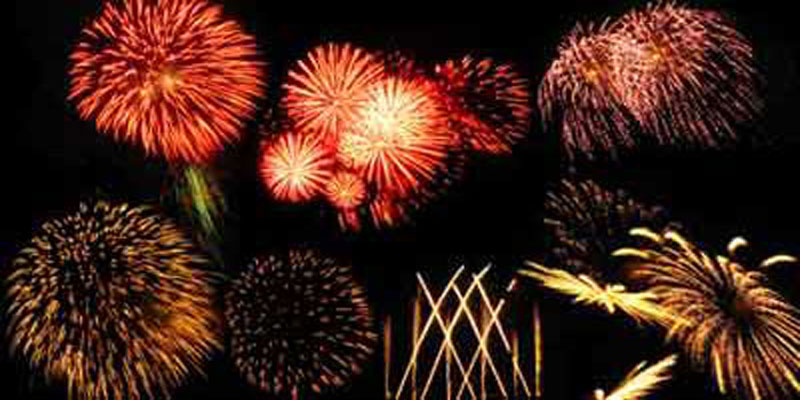 Year round Central Jersey Fireworks displays cover a range of awesome displays and rank amongst the best in the world.

While pyrotechnic displays are often associated with Independence Day - July 4th celebrations, and New Years Eve, many of the fireworks displays accompany a popular event to either kick it off, such as the beginning of the New Year, or as a finale such as a festival or a minor league baseball game.
Note: This information is provided by event sponsors as a free service to our viewers. Sometimes conditions require cancellations or changes of dates, times and location which are not reflected in the original schedule. Before planning a trip to visit one of the listed events, it is suggested that you call the event sponsor to confirm the event schedule or for additional information on the event.
Stay tuned --- we will be updating this list as the event sponsors confirm this year's event

2017 Central Jersey Fireworks Events

Multi-date Fireworks Events

Trenton Thunder

Arm & Hammer Park
One Thunder Road
Trenton, NJ 08611
(609)-394-3300
Website
Post-game Fireworks Nights at the Ball park
April 29, May 11, 13, 20, June 1, 8, 10, 17, 28, 29, July 4, 5, 6, 8, 20, 22, August 5, 17, 24, 26, September 2, 3, 2017
July 2017 Central Jersey Fireworks Events
Freehold Township Day

Saturday, July 8, 2017; 4-11pm
Michael J.Tighe Park
65 Georgia Road
Freehold, NJ
Website
A great family fun day with live entertainment, food, classic car show (starts at 4pm) & Fireworks at dusk.
The live entertainment will feature Screaming Broccoli and The Phil Engel Band. In addition kids will enjoy free kids rides and a free teen center with DJ.
15th Annual Freedom Fest State Fair

July 12 - 16, 2017
Horse Park of New Jersey
626 Rt 524
Allentown, NJ
Website
(Check out Live Entertainment Lineup)
This 5 day long family festival is packed with plenty of fun activities. The featured events include Live entertainment by top performers, racing pigs, a magic show, pony & camel rides, a petting farm, horse shows, carnival activities, food vendors, crafts, wine tasting, agricultural exhibits and
a fireworks display on Saturday


The Quick Chek New Jersey Festival of Ballooning

Friday - Sunday, July 28, 29 - 30, 2017
Solberg Airport
39 Thor Solberg Road
Whitehouse Station, NJ
Website (Events Schedule & Tickets)
One of the largest summertime hot air balloon and music festival in North America. Features twice daily mass ascensions of up to 125 special shape and sport hot air balloons, headlining music concerts, continuous family entertainment, crafters and vendors, food, and a balloon glow. The concerts feature top performersfor each of the three nights.
Fireworks are at dusk on Friday evening
,
Annual Monmouth County Fair
Wednesday - Sunday, July 26 - 30, 2017
East Freehold Park Show grounds
1500 Kozloski Rd
Freehold
(732) 842-4000
Webpage
(Check for schedule of events & live entertainment)
Opening night fireworks
, 4-H events, animal shows & exhibits, rides& amusements, free stage entertainment, racing pigs, home & garden competition.
Check out the 2017 North & South Jersey Fireworks Events

North Jersey Fireworks

Year round North Jersey Fireworks displays cover a range of awesome displays including the popular State Fair at the Meadowlands, the Hoboken Italian Festival, and the Morris County First Night New Years Eve celebration.
Learn more

South Jersey Fireworks

Year round Central Jersey Fireworks displays cover a range of awesome displays including the popular Atlantic City New Years Eve Fireworks, Tropicana's Multimedia Light and Sound Show, and Wildwood's Summer Fireworks on the Beach.
Learn more

---