The Best Central Jersey Fireworks Displays
2017 Year Round Fireworks at festivals, concerts and events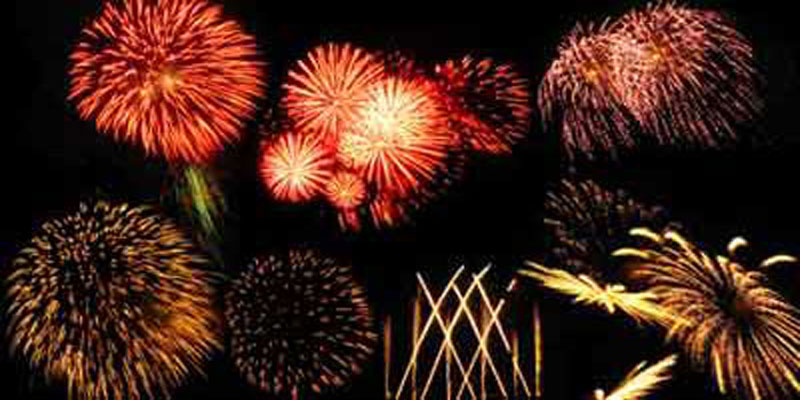 Year round Central Jersey Fireworks displays cover a range of awesome displays and rank amongst the best in the world.

While pyrotechnic displays are often associated with Independence Day - July 4th celebrations, and New Years Eve, many of the fireworks displays accompany a popular event to either kick it off, such as the beginning of the New Year, or as a finale such as a festival or a minor league baseball game.
Note: This information is provided by event sponsors as a free service to our viewers. Sometimes conditions require cancellations or changes of dates, times and location which are not reflected in the original schedule. Before planning a trip to visit one of the listed events, it is suggested that you call the event sponsor to confirm the event schedule or for additional information on the event.
Stay tuned --- we will be updating this list as the event sponsors confirm this year's event

2017 Central Jersey Fireworks Events

Multi-date Central Jersey Fireworks Events

Trenton Thunder

Arm & Hammer Park
One Thunder Road
Trenton, NJ 08611
(609)-394-3300
Website
Post-game Fireworks Nights at the Ball park
April 29, May 11, 13, 20, June 1, 8, 10, 17, 28, 29, July 4, 5, 6, 8, 20, 22, August 5, 17, 24, 26, September 2, 3, 2017
Lambertville Friday Night Fireworks
Friday June 2, Friday, July 7, Friday, August 4, and Friday, September 1, 2017@ 9:30pm
Viewed from Downtown Lambertville
(609) 397-0055
Website
The fireworks will coincide with the Chamber's popular "First Fridays" program, featuring special promotions and events from dozens of galleries, boutiques, and restaurants on both sides of the Delaware River.
June 2017 Central Jersey Fireworks Events
Church of the Immaculate Conception Carnival
June 13 - 17, 2017
18 South Street
Spotswood NJ
732-626-0486
Website
Fireworks will be held on Saturday, June 17th at dusk.


13th Annual Freedom Festival
Saturday, June 24, 2017; 3pm - 11:00PM (rain date June 25th)
Mercer County Park
1638 Old Trenton Rd.
West Windsor, NJ
Website
This fun family festival features attractions for the whole family. The highlights include live bands on the outdoor stage, food, carnival rides, a car show, pie eating contests, dog races, and a
fireworks display @ dusk
Hopewell Valley Concert & Fireworks
Sunday, June 25, 2017: 7:30 pm
Woolsey Par (formerly Alliger Park)
On CR546 near Hopewell Twp Municipal Building
Hopewell, NJ
Website
Beginning at 7:30 pm, the 63 rd US Army Band will perform a variety of music prior to the Fireworks Display at dusk. Bring your lawn chairs or blankets. The Classic car show opens at 5:30 pm with food vendor(s) on site
July 2017 Central Jersey Fireworks Events
Freehold Township Day

Saturday, July 8, 2017; 4-11pm
Michael J.Tighe Park
65 Georgia Road
Freehold, NJ
Website
A great family fun day with live entertainment, food, classic car show (starts at 4pm) & Fireworks at dusk.
The live entertainment will feature Screaming Broccoli and The Phil Engel Band. In addition kids will enjoy free kids rides and a free teen center with DJ.
15th Annual Freedom Fest State Fair

July 12 - 16, 2017
Horse Park of New Jersey
626 Rt 524
Allentown, NJ
Website
(Check out Live Entertainment Lineup)
This 5 day long family festival is packed with plenty of fun activities. The featured events include Live entertainment by top performers, racing pigs, a magic show, pony & camel rides, a petting farm, horse shows, carnival activities, food vendors, crafts, wine tasting, agricultural exhibits and
a fireworks display on Saturday


The Quick Chek New Jersey Festival of Ballooning

Friday - Sunday, July 28, 29 - 30, 2017
Solberg Airport
39 Thor Solberg Road
Whitehouse Station, NJ
Website (Events Schedule & Tickets)
One of the largest summertime hot air balloon and music festival in North America. Features twice daily mass ascensions of up to 125 special shape and sport hot air balloons, headlining music concerts, continuous family entertainment, crafters and vendors, food, and a balloon glow. The concerts feature top performersfor each of the three nights.
Fireworks are at dusk on Friday evening
,
Annual Monmouth County Fair
Wednesday - Sunday, July 26 - 30, 2017
East Freehold Park Show grounds
1500 Kozloski Rd
Freehold
(732) 842-4000
Webpage
(Check for schedule of events & live entertainment)
Opening night fireworks
, 4-H events, animal shows & exhibits, rides& amusements, free stage entertainment, racing pigs, home & garden competition.
August 2017 Central Jersey Fireworks Events
Middlesex County Fair
Monday, August 7 through Sunday, August 13, 2017
655 Cranbury Rd.
East Brunswick, NJ 08816
732-257-8858
Website - Events & Fireworks Schedule
This fun family event features a discovery of the state's agriculture, enjoy crafts, food, watch competitions, go on rides, listen to live entertainment. With awesome
fireworks on Monday and Sunday nights.
Hunterdon County 4H and Agricultural Fair

Wednesday, August 23 through Sunday, August 27, 2017
Hunterdon County Fairgrounds
1207 Route 179
Lambertville, NJ
Website
973-948-5500
Admission is Free
This event features many popular 4-H county fair farm activities along with live music, fun games, thrilling carnival rides, delicious food and the always popular
fireworks extravaganza on Friday @9pm.
Long Branch Jazz & Blues Festival
Saturday, August 26, 2017; 12:00 -10:00 p.m. (Rain or Shine)
The Great Lawn on the Long Branch Promenade
Long Branch, NJ
Website
This music festival features a mix of strong national and local musicians performing live Jazz and blues on stage, kids activities, and food vendors with exotic and regional NJ food and crafts and Fireworks.
The lineup of jazz and blues includes seven great bands. Lawn chairs are encouraged, coolers forbidden, sunscreen a must! Fireworks from 9:30 to 9:45 .
The festival is free to the public, dog friendly and all ages are welcome to attend.
September 2017 Central Jersey Fireworks Events
Annual Mercer County Italian American Festival

September 22 , 23, 24, 2017, 12 noon to 10pm
Mercer County Park
Old Trenton Road
West Windsor, NJ
609-631-7544
Website
Italian cultural festival features authentic Italian and Italian American music; a Food Piazza including some of the region's best Italian restaurants; wine and beer gardens; amusement rides; children's activities; bocce; fireworks; Italian Market Tent with traditional Italian products; Heritage Pavilion with art and memorabilia; and Cultural Theater with cultural presentations.
Fireworks Spectacular Display, Saturday at 9:30 PM, immediately following the headliner performance.
Convenient on-site parking is Free.
More 2017 New Jersey Fireworks Events

---