Hotels with Casinos in Atlantic City, NJ
Casinos are the driving force behind what Atlantic City is all about.
The fantasy and fun of gambling is big business with players dreaming of striking it rich and spending over $8 million dollars each day at slot machines and gaming tables.
While casino gambling continues to be the main Atlantic City attraction, this Jersey Shore resort destination is becoming increasingly popular with the multi-night getaway tourists and less as a destination for day trippers who find the Philly, Poconos, and New York casinos more to their liking.
Resorts Casino with it's new Jimmy Buffett's Margaritaville entertainment complex and the opening of the new Claridge in the summer of 2014 with it's 1920's-era (Boardwalk Empire inspired) décor is making a statement that Atlantic City, despite a number of casinos closures in 2014, is committed to being more than a gambling destination.
The New Jersey Hotel - Casino Complexes


Bally's Casino
1900 Pacific Ave.
Atlantic City, NJ
(609) 340-2000
Website
One of the older hotels, it has 1,753 rooms, A Family Fun Center, spa, shopping, nightlife, and an indoor pool to for fun for all the family.


Bally's has more than 222,000 square feet of gaming area, making it a gambling Mecca. It has fine restaurants that rank with Atlantic City's best. The dining options feature traditional Italian and Asian fine dining cuisine as well as less expensive casual restaurants. as well as the culinary delights of our award-winning steak house. Their top restaurants is Arturo's Italian restaurant. All hotel guests are invited to take advantage of Bally's Spa & Health Center
Borgata Hotel Casino Spa
1 Borgata Way
Atlantic City, NJ
Website

This 43 story hotel completed a $50 million face lift in 2012 to maintain it's position as the the most beautiful, upscale hotel in AC. Located in the Marina district, this resort has 2000 rooms with huge windows and an attractive European design.
reviews/bookingThe Borgata Casino has a 161,000-square-foot casino with 3,475 slot machines and over 250 table games with table games; poker, blackjack, roulette, Baccarat, novelty games, Racebook, Pai Gow tiles and Sic Bo. Borgata's Poker Room is the largest in Atlantic City.
They offer venues, top restaurants including the Old Homestead Steak house, Bobby Flay Steak, Wolfgang Puck American Grille, Izakaya and Fornelletto.
The hotel also features big-name entertainment, nightclubs, a European-style, 54,000-square-foot Spa. Like the other Marina district hotels, they are 2 miles from the other boardwalk hotels and are easily transported back and forth by Jitneys for a small fee.
Caesars Hotel Casino
Website
2100 Pacific Avenue
Atlantic City, NJ

The hotel has 1,100 rooms, with a Roman theme, Italian art and a 17 foot replica of Michelangelo's stature of David The casino has over 135 table games.
reviews/bookingCaesar's is also noted for it's 1,100 seat luxury Circus Maximus Theater, which hosts boxing matches, floor shows and performances by top entertainers. They also have a relaxing spa, and for shoppers the popular The Pier Shops at Caesars, with three levels of shopping, dining and exciting nightlife. Their dining options feature Mia, an Italian and Mediterranean restaurant, seafood at Phillips, sushi at Souzai, and The Continental.


Claridge Hotel & Casino
Park Place & The Boardwalk 
Atlantic City, NJ 
Website

This 84-year old hotel with a 1920's-era décor received it's inspiration from the hit HBO's series Boardwalk Empire. Nucky Johnson, the Atlantic City political boss whose life the show is loosely based upon was at one time a guest at the hotel.
reviews/bookingThe makeover will include a state of the art cardio health club with pilates, and a venue for "world class" entertainment in the 600 seat Las Vegas style cabaret showroom.
Note: While the Claridge will not have an on-site gambling casino, through an arrangement with neighbor Bally's, guests will be able to access Bally's through a second-floor entrance.


Golden Nugget Casino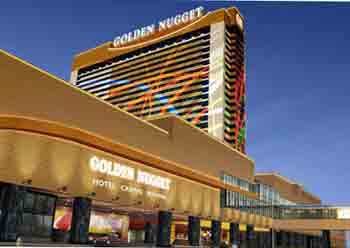 Huron & Brigantine Blvd.
Atlantic City, NJ
Website

This 728 Room, 26 Floor resort has been recently completed a $150 million dollar renovation, has an awesome view of the bay and the magnificent 640-slip Senator Frank S. Farley State Marina.
reviews/bookingIn addition to the huge gaming casino, they have many dining options that feature the Chart House, Vic & Anthony's Steak House, and Michael Patrick's Brasserie. It also has a fitness center and an indoor pool.
Harrah's Resort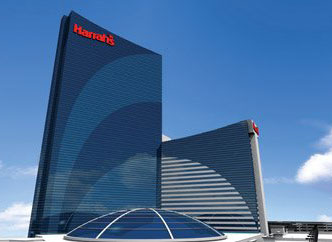 777 Harrah's Blvd
Atlantic City, NJ
Website
Situated in the Marina district, across from the Farley Marina, this hotel has 1,626 rooms. A featured attraction is their 150,000 sq-ft casino offering more than 2,800 slot machines, including all the latest and greatest games, and the searing action of our fast-paced table games and Poker Room, and is host to the World Series of Poker.
They also can boast of having one of the best night spots in AC, The Pool at Harrah's Resort is an ultra exclusive indoor oasis by day and a very chic party spot at night. The hotel has excellent dining and features some of the top restaurants in AC with Bluepoint, Dos Caminos, Luke Palladino, McCormick & Schmick's Seafood Restaurant, and The Steak house. Like the other Marina district hotels, they are 2 miles from the other boardwalk hotels and are easily transported back and forth by Jitneys for a small fee.
Resorts Casino Hotel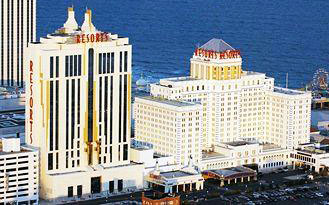 1133 Boardwalk
Atlantic City, NJ
Resorts inaugurated New Jersey gambling in Atlantic City with being the first casino. It has a sleek art deco design and 1920's theme and a casino with more than 2,500 slot machines and table games in more than 100,00 square feet of casino space.
In addition to the gaming, they feature the Superstar Theater with 1,400 seats, and two of the top fine dining restaurants in AC, Gallagher's Steak House and Capriccio's gourmet Italian cuisine. You can enjoy sweeping views of the ocean from the indoor-outdoor pool or visit the fitness room
The resort complex is also home to Jimmy Buffett's Margaritaville The restaurant features a stage for nightly live entertainment, a tiki bar and Buffett-inspired accent pieces throughout including a giant blender at the restaurant's entrance. A seasonal exterior deck on the Boardwalk will allow guests to enjoy alfresco dining or a drink topped off with a gentle ocean breeze. Local residents and visitors looking for a cool, casual place to have a good time as well as devoted Parrot Heads "looking for their lost shaker of salt," will all find what they are looking for and much more.
Tropicana Casino and Resort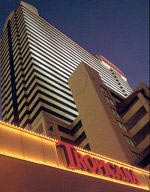 831 Boardwalk
Atlantic City, NJ
Website
The Tropicana has 2,100 rooms making it the largest hotel in New Jersey. They are known for their excellent assortment of package deals that includes entertainment, gifts and room rates that are surprisingly economical.
reviews/bookingThe hotel has two top rated restaurants Fin and Il Verdi. The casino has 150,000 square feet of gaming space and is known to cater to the mid-range gambler. For serious slot machine players, the Tropicana is a slot-machine paradise. The Tropicana also boasts of it's 1,700 seat theater, The Showroom, which hosts many top rated entertainers and shows.
Trump Taj Mahal Casino Resort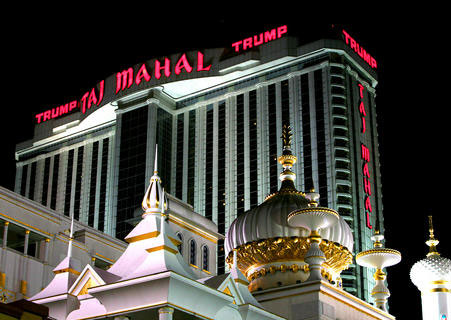 1000 Boardwalk at Virginia Avenue
Atlantic City, NJ
Website
The 51 story Hotel is one of the largest complexes in Atlantic City. It has 1,250 rooms, and the casino with more than 147,000 square feet of gaming space, including 4,200 slot machines.
reviews/bookingLocated on the northern end of the boardwalk, away from the hustle and bustle. The casino has 3,500 slot machines, 200 table games, a Baccarat Pit, Simulcast Facility and a smoke free poker room that hosts the United States Poker Championship. The multi-purpose and entertainment Mark G. Etress Arena ranks only second in space to the Atlantic City Convention Hall and has enough seating for 5,200 people. There are many top casual and fine dining restaurants and features the Il Mulino New York, the Safari steak house, and the 210 seat Dynasty
Other Atlantic City Resources